Nuun, Hood To Coast Relay & Speedy Shanna
Last weekend speedy SMACKANISTA Shanna embarked on one of the wildest and most prestigious running adventures–the Hood to Coast Relay. The event covers 199 miles starting inland at Mt. Hood in Oregon where 12-person relay teams split up and cover the distance to the coastal finish in Seaside, OR. The event is part team sport, part serious endurance event and part PARTY. Former Division 1 Collegiate (Colorado University) runner Shanna Burnette was up to the all-around challenge.
Earlier this year Nuun Hydration accepted applications from all female bloggers who were dying (yes, seriously dying) to be a part of Nuun's Hood to Coast Relay teams. The applicants went all out, submitting amazing videos and plea bargins to make the team. We aren't surprised that several of our SMACK! Media blogging Superstars made the cut including: Dorothy (Mile Posts), Sarah (OUAL), Emily (Sweat Once a Day), Jess (Blonde Ponytail), Jessica (Pace of Me), and Sarah (Running Starfish).
Nuun had three teams complete the relay. The fun group of ladies traveled in decked-out vans and munched on Picky Bars, Kind Bars, Sandwiches, Nuun, Beer and whatever they could get their hands on. Each runner completed 3 running legs in 24 hours that ranged from 6 to 12 miles with a mission to have fun and "get chicking" (that's code for passing guys)!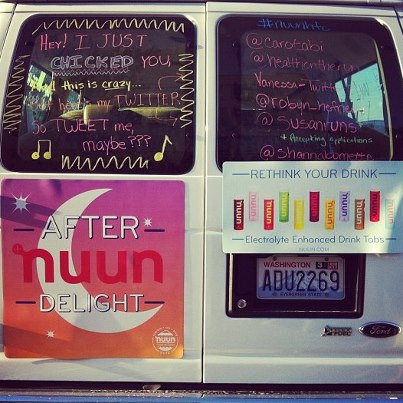 The highly anticipated Nuun Team meeting at Oiselle Headquarters in Seattle
The Start: Shanna and @robyn_hefner at Mt. Hood
Shanna, @SarahOUAL and @caitlinbonney looking sparkly, fast and fierce! (The 110% Flat Out Compression Sox are a great fashion statement and leg saver)!
Afterwards everybody enjoyed an incredible party by the Sea!