The After-Nuun Rehydration Experience
This past Thursday, June 10th, 27 of Southern California's best running and triathlon writers, bloggers, athletes and personalities hopped aboard a tricked out woody bus (yes school bus sized) to join Mason Reay (CEO and President of Nuun Hydration) and the SMACKANISTAS for the "After-Nuun Re-hydration Experience". The plan was simple: sample Nuun Hydration's three new (unreleased) flavors: Lemonade, Watermelon and Cherry Limeade in between stops for some beer and burgers all mixed with a generous serving of socialization and fun!
The first stop was at the Competitor offices where we were joined by Julia Polloreno (Editor in Chief, Triathlete), Jené Shaw (Senior Editor, Triathlete), Aaron Hersh (Senior Editor, Triathlete), Bethany Mavis Leach (Senior Associate Editor, Triathlete), Jessie Sebor (Editor in Chief, Women's Running), Linzay Logan (Senior Editor, Competitor) and our event photographer Nils Nilsen (Photographer-at-large, Triathlete). We sipped on Cherry Limeade Nuun (which is pleasantly caffeinated), had fun with the on-bus photo booth and enjoyed some 60's tunes as we cruised down the coast.
The iconic Seaside Market in Cardiff made for stop number two where we were joined by Jen Ward (Online Senior Editor, LAVA), some of our favorite bloggers: Sarah Boone (Once Upon a Lime), Sarah Moore (Skinny Runner) and Shannyn Allan (Frugal Beautiful), pro triathlete Beth Gerdes, Tina Wilmott of Endurance Sportswire and freelancer Lizzy Coghill. The conversation on board the bus drifted quickly from work related chatter to everyone's various training and racing schedules and by the time we reached Stone Brewery everybody felt like best buds sharing a good laugh and a fun adventure on a sunny San Diego winter day.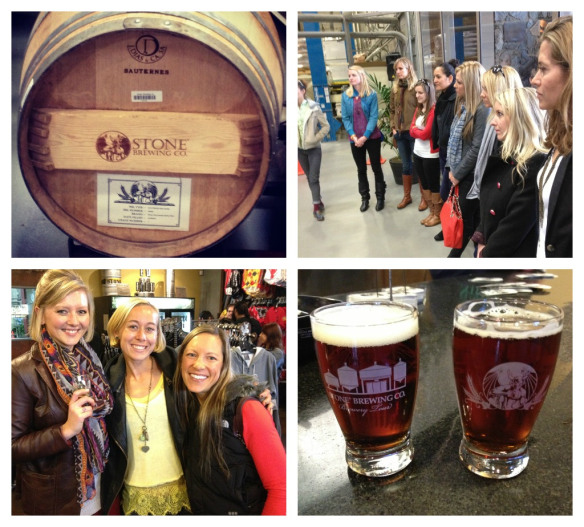 (Photo Courtesey of Sarah Boone)
At Stone Brewery we took a behind the scenes look at one of the world's premier craft beers is made. From smelling the hops, to watching the bottle line (the Laverne and Shirley moment according to Mason) we all took a step outside of our endurance and work comfort zone to learn about something we all enjoy–beer! Everybody's favorite part was the tasting room where we sampled four of Stone's beers in cute tasting glasses we all got to keep: Stone Pale Ale, Stone IPA, Stone Arrogant Bastard and the 12.12.12 Stone Vertical Epic Ale. At Stone we were joined by the remainder of the crew which included blogger Kristin Stehly (Stuft Mama), Bob Babbitt (Co-Founder of Competitor and the Challenged Athlete Foundation), Olympian and Mile Legend Steve Scott (his PR is 3:47.69–beat that!) and Sergio Gonzalez (Saucony Tech Rep, top San Diego runner and Morgan's husband).
By the time 5:30 rolled around everybody had enjoyed their conversations and beer so much that we never wandered out of the tasting room to explore the beautiful gardens–that's what happens when you bring together such a fun group! We hopped on the bus and sipped on some Lemonade Nuun to rehydrate en route to Churchill's Pub and Grille. At the British style pub (note how many runners can squeeze into the British Telly Boot with Mason above!) we enjoyed an entire room to ourselves and were greeted with Mason's favorite beer, Pliny the Elder, on tap! Betty Designs creator Kristin Mayer made it just in time to enjoy one of Churchill's premier craft burgers, and we all enjoyed the delicious food, great company and plenty more beverages of all kinds.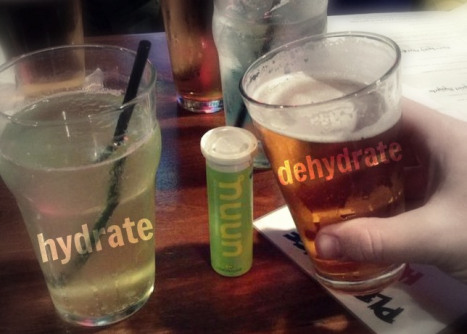 (Photo courtesy of Sarah Boone)
It may not seem possible to keep having more fun (this is how Mason and the SMACKANISTAS roll), but even the bus ride back to the original stops was a blast with the final new Nuun flavor, Watermelon, in everyone's hand. We took advantage of the photo booth and photographer Nils on board to celebrate an endurance event that involved no exercise and an afternoon well spent (and hydrated) with such good friends.
SMACK! Media would like to thank Mason at Nuun for making this event possible and joining us for such a fun afternoon.
Thank you to all who attended and were willing and able to take a few hours off work for some fun in the name of PR (public relation[ships])!
Much love to our bloggers for not missing a beat and blogging about how much fun they had before we even woke up the next morning!
Once Upon a Lime: "When Nuun and Beer Call You Answer–A SMACK! Media Event"
Stuft Mama: "After Nuun Rehydration Event"
Fresh Cracked Pepper: "Banh-Mi" (Plus how the event sparked Jen Ward to get back into blogging!)
And finally, anytime we can get all of the SMACKANISTAS together in once place we know magic is about to happen!