Between Two Finish Lines: 110% Founder and Executive Chairman David Green Captures the Spirit of Two Historic Boston Marathons
One year ago, David Green (Founder and Executive Chairman of 110%) toed the Boston Marathon starting line alongside the thousands of eager runners who, like him, earned their place on the coveted, exclusive and historic start line.
Eli Carlson shared the bus ride and nervous anticipation with David.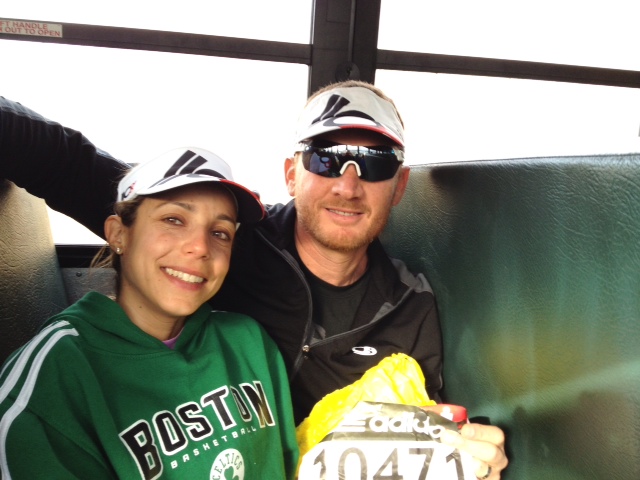 Just a few hours later, David witnessed firsthand the tragic bombings in Boston and with the quick-witted snap of an iPhone photo, captured something still more rare than a fast race finish–he captured the photo that would later be used  by the FBI to help identify "Suspect #2" Dzhokhar Tsarnaev.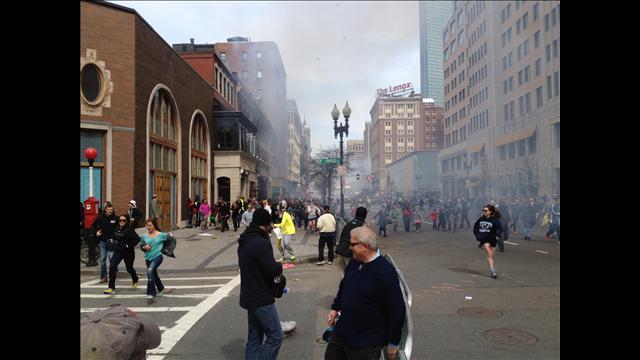 Like so many runners, David felt determined, if not compelled, to race Boston again this year to honor the victims and their families. The 36,000 runners were unified by their feet and spirits, making a statement that they would not be victimized by this tragedy.
David, however, an ultra-marathoner who has completed the infamous Badwater Race, is not 'everybody else' and he set his goal to run the course twice! We caught up with David post-race to talk about the emotional journey between last year and this year's finish lines.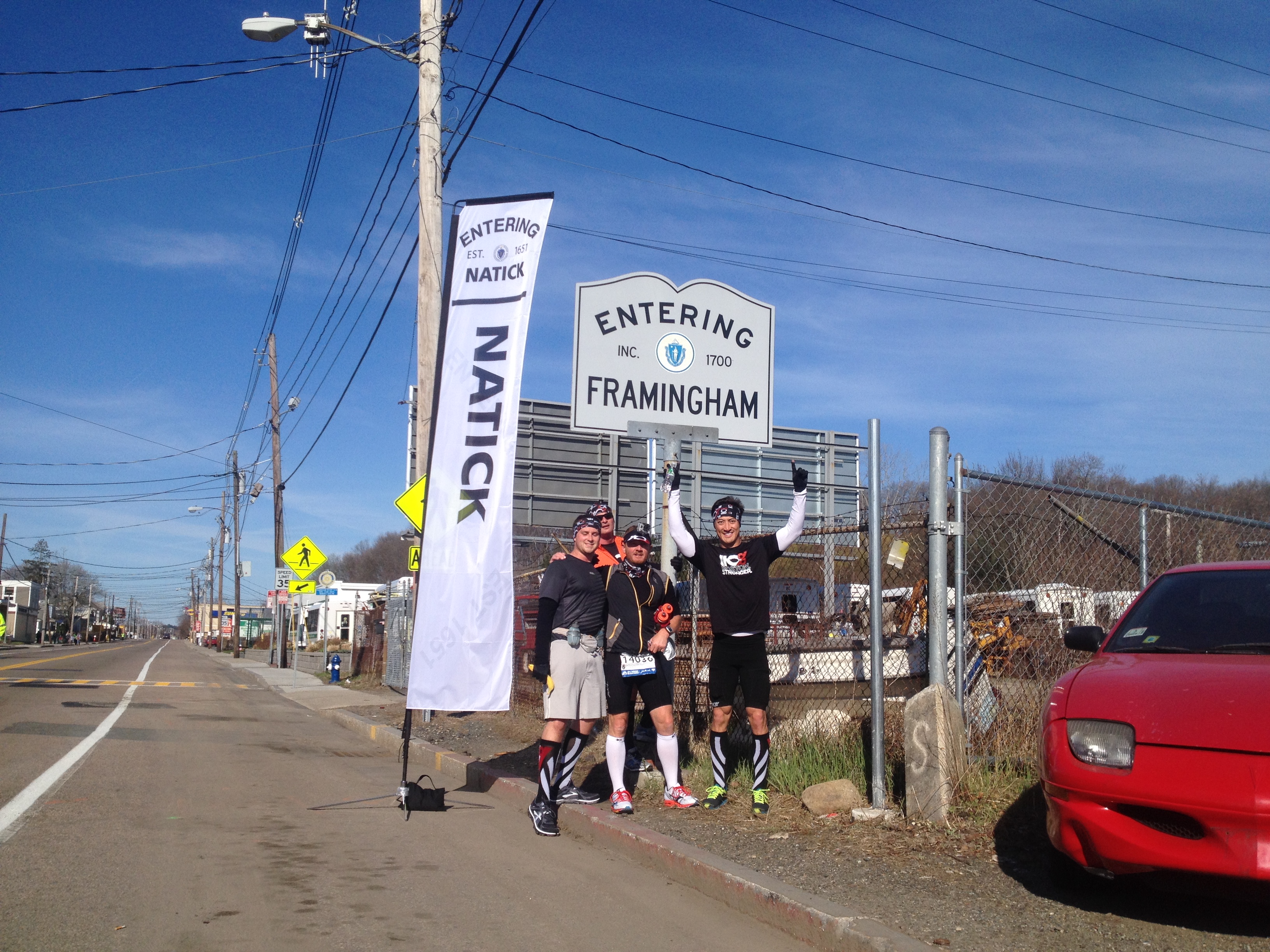 You famously captured the image that includes who would later be identified as Dzhokhar Tsarnaev. Describe that moment.

It was a moment of fight or flight and for me, it was a moment where time stood still for that one second, hearkening back to 9/11 in NYC that there was an event of global proportion that called for one image and that's what I took, one photo.  Nothing less and nothing more.
In your interview with Dead Spin you share the following: "I was in New York during 9/11, and I think there are singular moments that are angles of repose of world-changing events. Maybe it was that experience that I had, that at that moment, time slowed down for me and I knew that something gravely bad was happening. So I pulled out my camera and took a picture. I can't tell you what I thought I was trying to capture. I don't know. I thought, I just need to take a picture of this." Share your insight on how events like these, and especially being present in these moments, have shaped your world (and the world of others)? 
I believe we are all "training" in some form or another to live life better – be better human beings, compassionate, happy…as athletes we train to make it to a start line and adapt to what the day brings.  We can never be sure of what will happen at any given time even though everything has gone right and we are confident things will go to plan.  So in that singular moment when things go off track what do we do?  I am always thinking about this in the context of athletics, business and even life.  I even dare say I look forward to challenges that push me to make good decisions and sometimes you get lucky in doing the right thing at the right time in the right place and help in a way that is meaningful.
Where did you get the idea to run the Boston course twice? 
That's a 2 part question.  The reason I ran the Boston marathon was to come back and prove that "it can go forward" and that last year's race wasn't a forever race. In my mind, my finish line image was running up to Jane Richard (Mother of Martin Richard) and I desperately wanted to reframe the image with the beautiful banner of the Boston marathon finish line.Everyone at 110% wanted to figure out how they could move forward so I suggested that we all start by lining up at the finish and begin running together to show that the race was here, it's safe, it's for real, and it's moving forward.  And why not make it a double!  The first marathon (from the finish to start line) was with the 110% team and 3 people on the had never run more than 10 miles before which was absolutely something that could create a memory!
David at a 4:30 am pre-race interview with WBZ FOX News Boston.
The 110% Team proud to run start to finish together.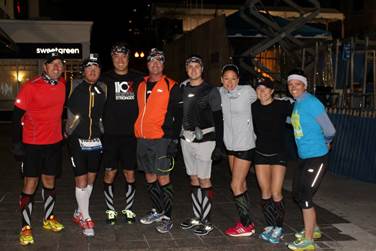 Although you have run the Badwater Ultramarathon and the Brazil 135, running two marathons back to back is no small feet (especially on a course as tough as Boston)!  How did you prepare, fuel and run through the emotions of the day?
(Laughing).  Well, I kept my drinking under 4 beers the previous night because a little bit of carbo-loading is important.  I am currently training for the Keys100 so was using this as a training run.  From a training standpoint, the run was really more about how I paced myself and I was very diligent about hydration and nutrition especially on a day that we knew was going to be warm.  I told my team to be patient with pace and not to let ourselves go to fast.  We drank a combination of sports drinks and water, and ate gels, bananas and pop tarts.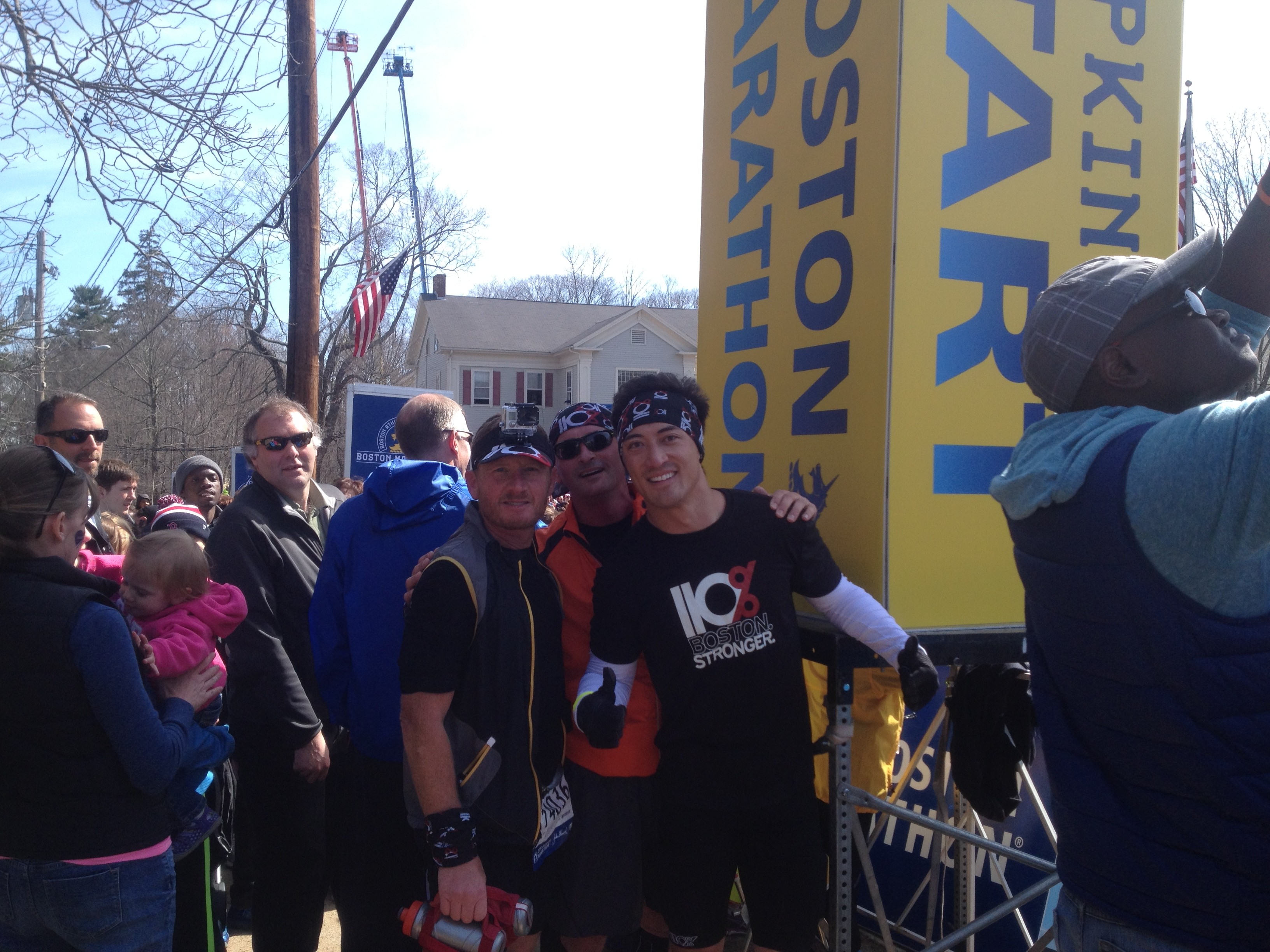 How did the atmosphere of this year's race, filled with the emotions of honoring the victims, differ from years past and especially last year? 
First, There were record crowds. There were lines from start to finish. You could have high five'd kids, and adults and teenagers the ENTIRE way. From a racer's perspective, I've never been to a race were so many people weren't focused on the PR side, but were more focused on the experiential side which made it feel like an ULTRA. People were really coming together to experience something together. Lastly, there was a collective force of will in the Boston community unlike anything I've ever seen before. I felt that feeling to WILL everyone on, from the 2013 bomb victims who have had 30 surgeries, to my colleagues with me who had never run 10 miles, yet completed a marathon. It's like everyone had endless energy and when we finished, everyone on the street was saying, "Congratulations!"  It was really spiritual.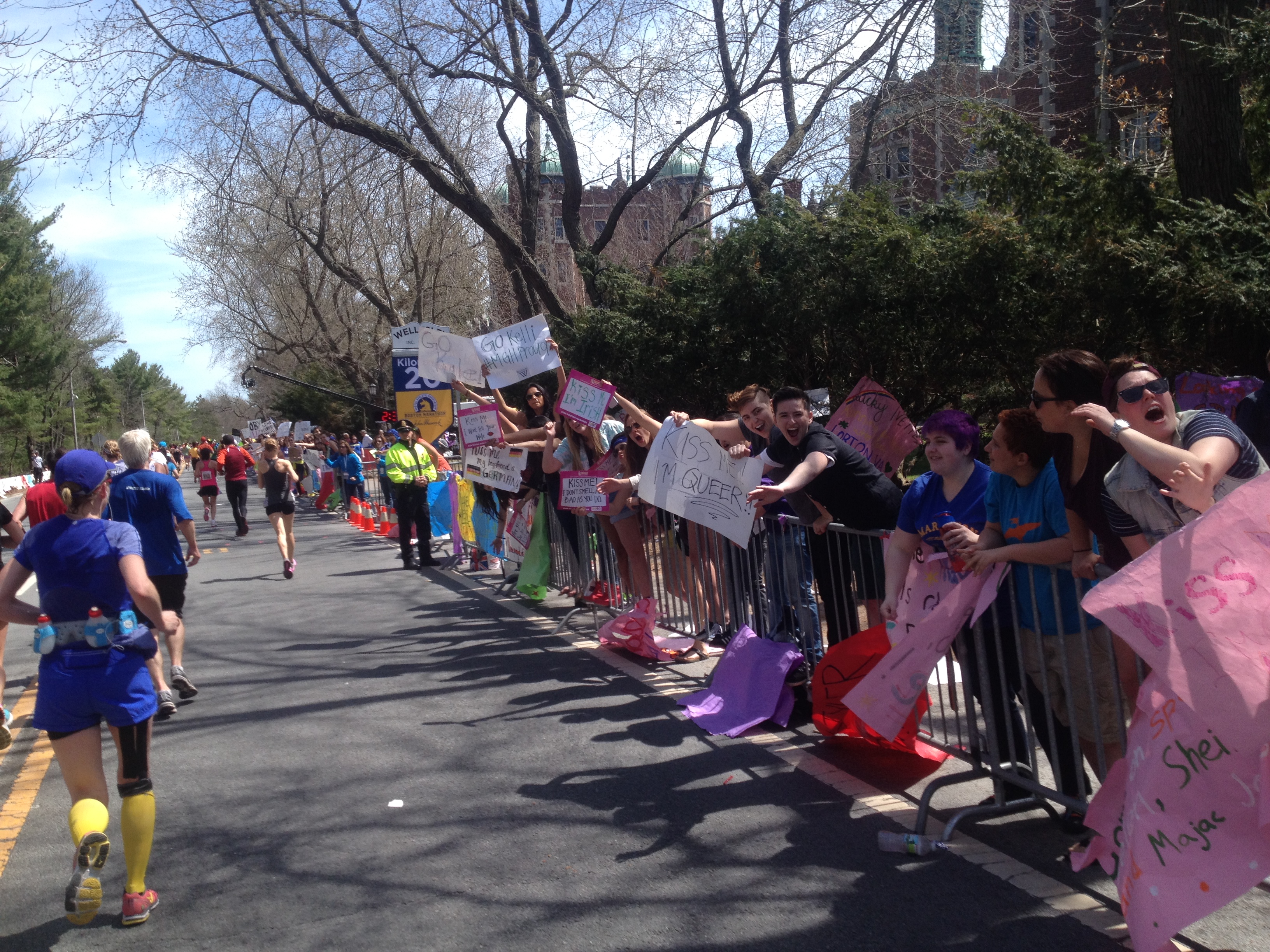 What does it mean to you to have an American (Meb) win Boston this year?
I am happy for Meb and I am happy for Boston that an American won, but it's an international race and I am happy when anybody gives a winning effort.
Winning effort (below): Father-Son duo Dick and Rick Hoyt ("Team Hoyt") complete the Boston Marathon for the 32nd and last time.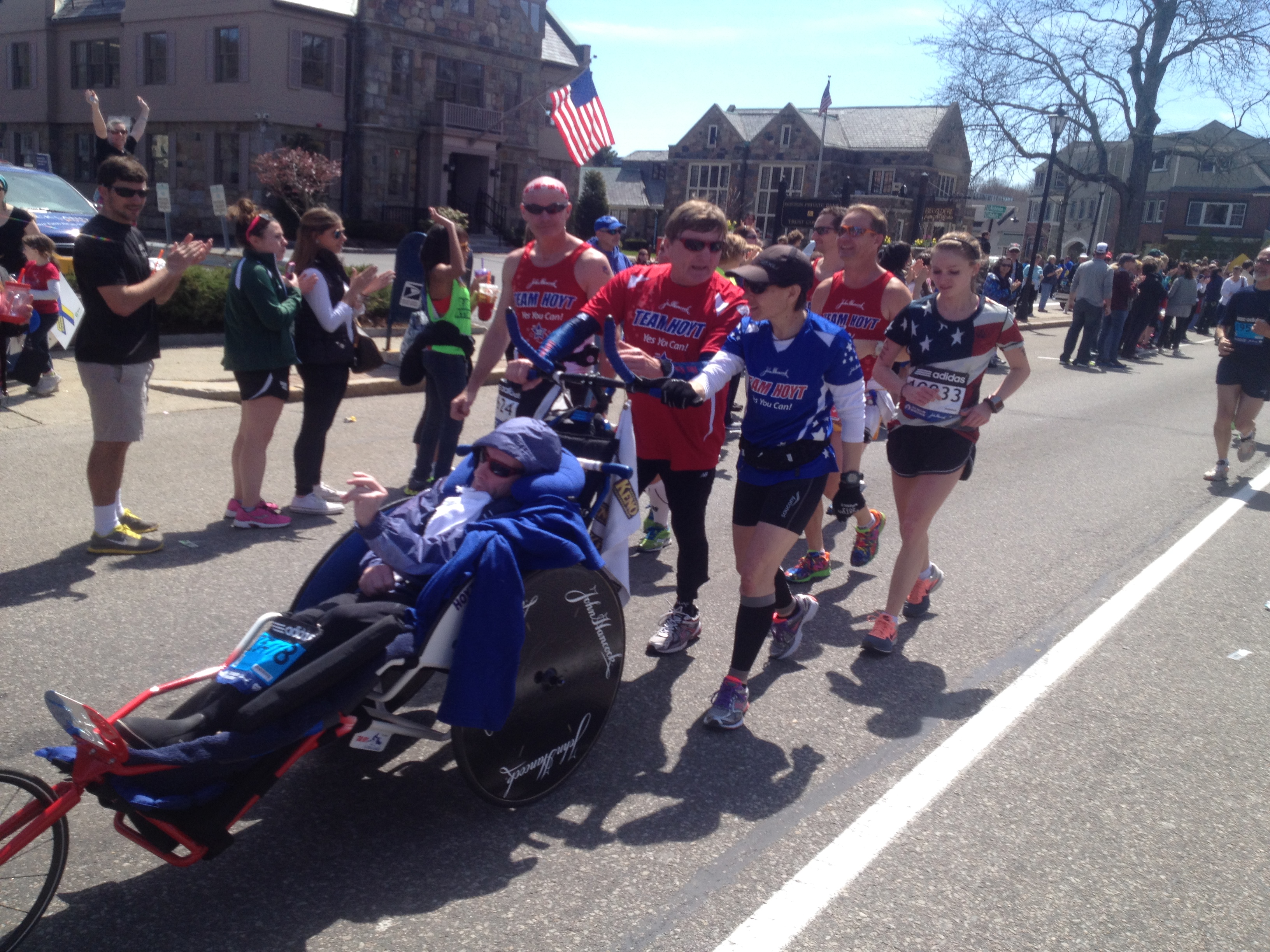 What is the highlight of your experience at Boston this year?
WOW! The #1 takeaway was not one specific instance rather it was the glow, like the Milky Way in the sky where all points in the sky are connected and create something beautiful. It felt like millions of Bostonians shining brightly and propelling everybody forward. It was beautiful. One highlight was running with three friends and finishing smiling, uplifted and watching the start of the Boston Marathon. It was amazing to watch that and be a part of it.  A privilege. Another highlight was watching the servicemen as I was running out–I recalled seeing them when I watched the second bomb go off, and they were the same guys who took the barricades and threw them out of the way last year. It made me think that these were the folks that were incredible heroes.  Also, I loved running by Boylston and Fairfield and that there were NO bombs.  The corner was instead filled with Boston fans and runners and I ran right into the crowd exactly on that corner and I jumped into the crowd and everyone said, "What the hell are you doing?"  I also took a photo from the exact spot where I took the photo last year and  compared it to one year ago.
Be it through his inspired runs or his philanthropic missions, we've always known David to be a loving, energetic and helpful person. Here he is (pictured below) at mile 22 massaging his buddy's sore calves! His passion for running, the spirituality of sport and the camaraderie that can be shared with other runners inspires us to look at our own running and lives from such a powerful lens.