CNN Hero Robyn Benincasa Transforms Women's Obstacles Into Opportunities Through Adventure
The definition of "obstacle" according to Webster's Dictionary: A thing  that blocks one's way or prevents or hinders progress.
The definition of "obstacle" according to Robyn Benincasa: An opportunity to "climb back up."
We could not be more proud to work with our dear friend Robyn Benincasa who is being honored as a 2014 CNN Hero! Robyn is a San Diego Firefighter (heroically on the scene of the current fires in San Diego), who has used her own battle with osteoarthritis to inspire and empower women who have survived medical trauma to cure their spirit and take on the challenge of a lifetime. She founded Project Athena, "a 501c3 non-profit foundation that encourages women who've endured life-altering medical setbacks to "unleash the Athlete and Adventurer within" and complete the journey of a lifetime—whether that's "to climb Mt. Kilimanjaro, cross the finish line of an Ironman Triathlon, or fall into the arms of a proud family at the end of a local 5K."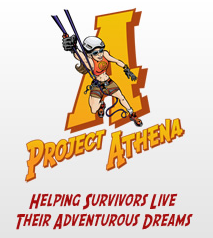 You can read the full story here or learn more on facebook and twitter.
Watch Robyn and Project Athena in action: