No Sugar, No Problem–Meredith Loring and Sami Inkinen Spill The Secrets Of Their World Record (And Marriage)!
By Elisette Carlson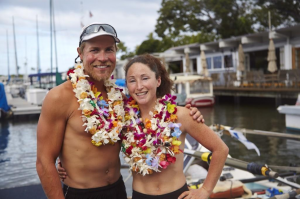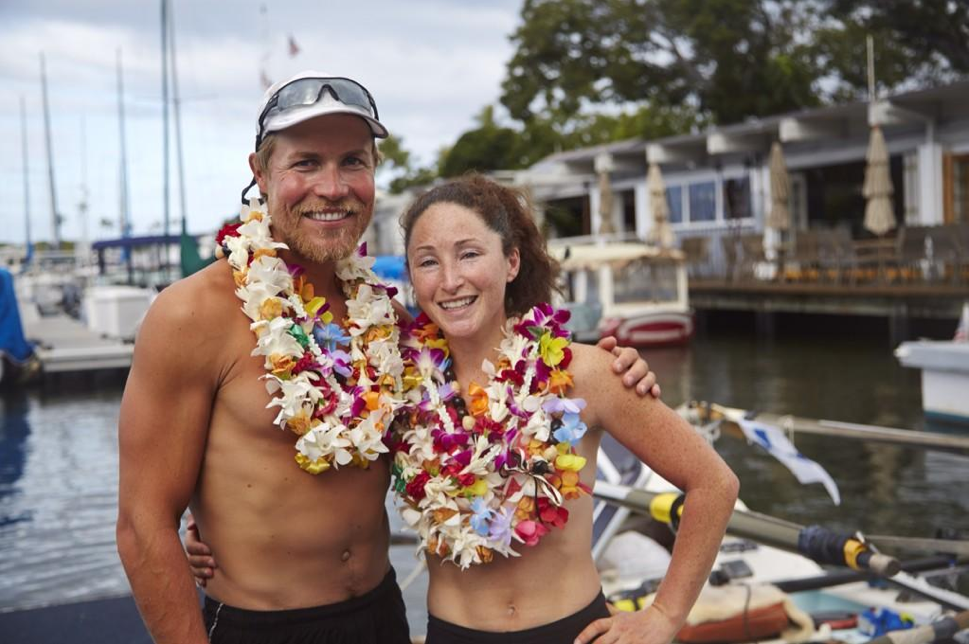 This past Spring, I had the pleasure of meeting Meredith Loring and Sami Inkinen in person. My husband and I had a visit with them at their home and aside from being welcoming friends, they told us all about their future adventure to row 2,400+ miles across the Pacific Ocean, unsupported, in hopes to raise awareness about the silent killer – SUGAR!  Meredith and Sami first met paddling a double canoe and their first 'sleepover' date was to climb Kilamanjaro, so why not step it up a notch and take on this challenge to break a world record and row from California to Hawaii (2,700 miles) as a couple and do some by fueling on good fats, clean fuel and NO processed carbohydrates nor sugar. In other words, no sports drinks, gels nor energy bars.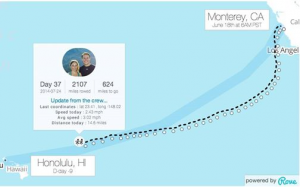 We loved following Meredith and Sami on their journey via their almost daily blog posts (check them out here: http://www.fatchancerow.org/blog/) and were thrilled to see them reach Honolulu in an impressive 45 days, and as they joked to us, divorce papers untouched!  We spoke to Meredith after they had some R&R (and showers!) and she answered a few questions for us  below:
How long did you both anticipate this trip would take you?
We thought it would take 60 days, it ended up taking 45 despite serious bad weather for several weeks.
Give us an example of a few challenges you hit while out at sea and tell us how you overcame them?
1. Headwinds that would keep us from landing in Hawaii: We each rowed 18 hours (6 alone and 12 together) covering a 24 hour period so that we could make headway when rowing together and at least maintain our position when rowing alone (we would have been pushed in the wrong direction if neither of us rowed).
2. Electronics breaking: we lost all of our electronics in the first week, we were pretty depressed! We had such severe weather that we couldn't spend the time to try to fix it though, so we just rowed without them for 3 weeks using a handheld GPS and ropes on the rudder to navigate. Once we got to light winds, Sami gerry-rigged them so that at least the auto-helm was working. That chafed 10% off our speed and distance traveled.
What kept you mostly motivated day after day of the adventure?
We just settled into the routine and got used to it. We also love to work out. Hearing from people following the journey and their stories about life and in some cases, cutting out sugar, gave us a morale boost as well.
What was your highest point of the journey? Why?
I think in the beginning when we were getting absolutely battered by the waves and wind, Sami and I really needed to work together to make sure we didn't capsize, and we were able to do that without bickering. That was a pretty great accomplishment for us. It gave us a lot of confidence early on that despite the conditions, we would be able to deal with them and each other without question nor argument. That's valuable for a relationship in the boat and in regular life.
What was your lowest point of the journey? Why? How did you handle it?
The low points in the journey came more from our own expectations than anything else. We repeatedly would get fixated on a event happening (e.g. "on Tuesday we'll reach the tailwinds") and when those events didn't happen, we would get seriously depressed. Eventually we were able to see that it was our own expectations causing the problem, so we learned to laugh at ourselves when we started to create expectations that relied on external factors that were out of our control. It's a hard habit to break!
I'm sure every day was different, unless I'm mistaken, but walk us through a typical day of rowing, how many hours you both would row and how you would eat?
1:00am Meredith starts rowing, Sami goes to bed
3:00am Meredith breakfast – Vital Choice Salmon
5:00am Meredith snack – Artisana coconut butter and cacao nibs (Chocolate Garage)
6:00am Sunrise!
7:00am Sami & Meredith row together
8:00am Sami breakfast – Vital Choice Tuna, Olive Oil, Nuts & Mario Olives
10:00am break – snack Bare Apple Chips, nuts
1:00 Lunch – Dehydrated veggies & Olive Oil (Meredith), Dehydrated Veggies, Beef & Olive Oil (Sami)
Swim!
3:00 Break – nuts, Nutzo
7:00 Meredith sleeps, Sami continues to row until 1am
What was your favorite thing to eat?
Bare Apple Chips! Artisana Coconut Butter! NuttZo!
About how many calories would you burn per day and how many were you taking in?  You?  Sami?
I was burning and eating about 4000/day. I was trying to keep my weight steady since I started the row just a couple of weeks after the Everest Marathon. I lost about 6lbs. Sami ate 4-5000 and burned 6000/day. He lost 26lbs but had gained weight in preparation for the row.
We loved keeping up with your daily blog posts. How did these posts help you through your journey?
The blog posts were more about sharing the journey with those on land, the only help they gave us was that each post would result in emails and comments from our friends and followers, and we loved reading those at lunch.
Did you ever cry? And why? Did you guys laugh?  What made you laugh?
We laughed at everything! Seriously, all you could do out there was to laugh and make it as fun as possible.
Did you ever think, "Are we going to make it? And what if we don't?"  
Sami had doubts in the beginning that we might not make it and was preparing to steer us to Mexico if the weather and headwinds were too much for us to get through. We both thought that we might not make it to Oahu at the end, as the weather turned against us again, so we were making plans to land on another island. Luckily we were able to push through and land as planned and earlier than planned.
When did you know you guys were absolutely going to make it?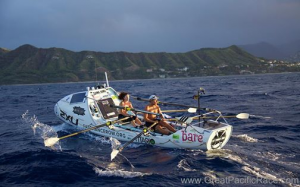 Not until we touched ground!
How did your bodies change throughout the adventure and how do they feel now?  Did you lose weight? Lose muscle?
Unfortunately we lost quite a bit of muscle and strength. It's now one week after we landed and I can't run, our bike power is down 20%. It's really depressing. And we both have flat bottoms now. We had plenty of inflammation and issues with various body parts, but on the whole, we're in remarkably good shape. People who see us say that we look exactly the same as when we left. I attribute the healthy bodies to our diet because in our past multi-day endurance events when we were eating processed carbs, we would be breaking by day 5 and need to recover for weeks after. This feels totally different.
What did you and Sami treat yourself to when you finally arrived in Honolulu? Any special or exciting food?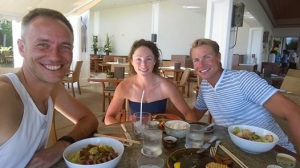 We weren't really hungry, but we did treat ourselves to lots of amazing smelling soaps and hair products! The boat was filthy and we just wanted to be clean!
How much money has been raised to date and how can others help join this cause?
More than $200k has been raised for IRN (www.responsiblefoods.org).
And what sponsors supported you throughout this journey?
2xU
Suunto
Bare Snacks
Artisana
Mario Snacks
Vital Choice Seafood
Chocolate Garage
NuttZo
Kaenon
Native Life
What are your plans now?  And will you continue to row as a sport?
We are just trying to get fit again! No more rowing for us other than an occasional warmup on the erg.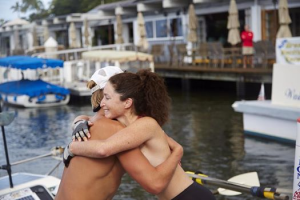 We are so proud of these two endurance love birds and as a team, we have all shifted to cleaner diets and a little less sugar.  And BTW, if you haven't tried Artisana Coconut Butter, you should go out and get yourself a jar. Meredith sent me my very first one this year and alongside my NuttZo Crunchy Power Fuel, it's a staple for me everyday.  Cheers to crazy adventures and we hope we've raised some questions about how much sugar we really need in our diets.