Dream It. Do It. Jen Ator Redefines Her Limits As She Tackles The Ironman World Championships This Fall!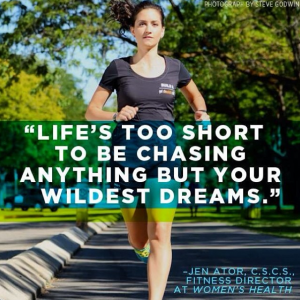 Ask the average Jane what they will be doing a year after having major knee surgery and it likely will not involve the Ironman World Championships in Kona. But then again, Jen Ator (Fitness Director at Women's Health) is not the "Average Jen!" Despite a half marathon being her longest previous race distance, Jen is relishing the challenge of training for one of the hardest competitions on earth all while inspiring other women, maintaining a smile, staying injury free and occasionally wearing high heels!
Her training oin the swim, bike and run sports is clearly pouring over into her professional life as well. She just penned an article entitled, "Dream it. Do it." in the October issue of Women's Health which she boldly claims is the hardest writing project she's ever tackled, but one that she is extremely proud of.
We love that Jen is also inspired by one of our personal heroes and CNN Hero, Robyn Benincasa of the Project Athena Foundation.
We are so proud and excited to be a part of Jen's journey and appreciate that despite her busy schedule, she still makes time to hand write notes to friends like Eli, who is also a stickler for the hand-written note.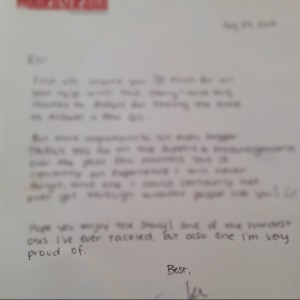 Follow Jen's journey on Twitter and Instagram as she builds towards Kona along with Apolo Ohno for their Chocolate Milk Mission! As she states in her article which is a "must-read," we know this adventure is a decision that she will never regret. We're rooting for you, Jen!