Be Unstoppable: Alden Mills, Navy SEAL and Founder of Perfect Fitness, Summits 14,400 Foot Mt. Rainier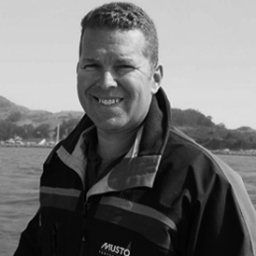 Alden Mills is the Founder of Perfect Fitness, the father of four boys, a former Navy SEAL, a motivational speaker and author of the inspirational book Be Unstoppable. Alden has unshakeable enthusiasm, is guaranteed to motivate anyone he meets (along with giving them a strong bear hug and a "HOOYAH!") and sets the bar continually higher for himself (and others) to pursue lofty goals. Last week, Alden accomplished a long term goal of summiting 14,400 foot Mt. Rainier, a glacier covered volcano nestled outside Seattle, and considered to be one of the most challenging mountains in the U.S. to climb. We had our Vice President and mountain climber Morgan (who summited 14,505 foot Mt. Whitney last winter) talk to Alden about the incredible experience.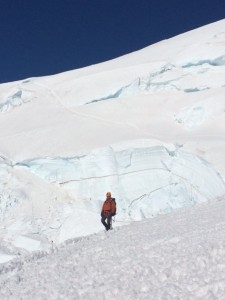 Alden is pictured here descending a glacial field on Mt. Rainier.
Why did you decide to climb Mt. Rainier?
For the past 20 years, I've been visiting the San Juan islands in the summer and I would see Mt. Rainier looming in the distance. It is such a majestic mountain and I would dream of what the views would look like from the top of it. Two years ago, that dream became a goal with a small team of very good friends who climbed Mt. Whitney and Mt. Shasta (both 14,000+ foot elevation peaks) with me.
Describe the experience–How long was it? Weather? Preparation?
Climbing Mt. Rainier was the hardest of the three 14,000 foot peaks that I climbed and honestly, it wouldn't have happened without the exceptional guiding efforts of Seth Waterfall from RMI Guide Services. We did the four day summit climb, where the first day is a gear prep day, second day is mountain safety training at roughly 7,000 feet and the next two days were spent hiking over 20 miles and almost 10,000 vertical feet. We slept at Camp Muir (10,200') for all of about 6 hours before going to the summit which we reached at 7am after leaving camp at 1am. The wind was gusting 30+mph with temperatures hovering at 0 degrees (without windchill) and it was snowing from Camp Muir to 12,500.
Alden traverses the glacier with storm clouds, pictured below.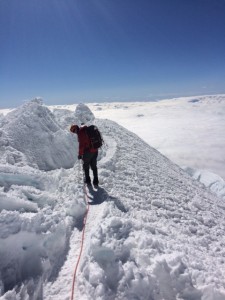 How did you train and prepare to climb?
For preparation, I would take a Perfect Fitness 40lb Weight Vest inside and put it in my back pack and hike up side of Sausalito and Mt. Baldy (two location close to me where I can climb 1,000 vertical feet in less than hour). If I had to do it again, I would train harder!
What was the biggest challenge you faced?
Altitude and weather. Although I trained walking up and down mountains in my backyard, I live at sea level and did not train for 14,000 feet of altitude. I definitely felt the lack of oxygen and it slowed me to one-step/one breath at a time. The second challenge was the weather. While it was difficult, we were fortunate that the conditions allowed us to summit because if the snow had turned to rain, the climb would have been cancelled. Likewise, had the wind hit 50mph gusts, the climb would have been cancelled. The guides put safety first and these were hard lines with no if's, ands or buts about them.
Glaciers with deadly crevasses at 13,000 feet are also not available to train on in the Bay Area!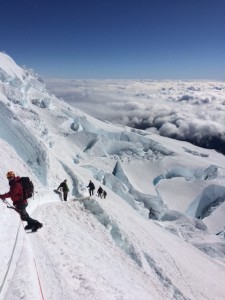 We know you had an ice axe for tricky, steep and icy sections but what mental tools did you access most during your climb?
I took the same approach that I did going through hell week in the Navy (as mentioned in my book Be Unstoppable), I literally would ask myself about taking one step at a time and I kept repeating to myself, "I can take one more step." Everytime I looked up to see how far we had to climb, I could feel myself get tired so most of the time I kept my head down and focused on the next step. 41,000 steps later, we summited and returned to base camp at Paradise Lodge!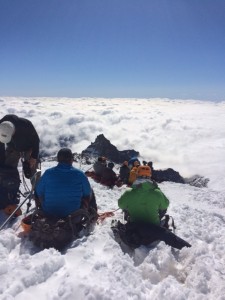 Switching gears:
How did you spend Father's Day?
I spent Father's Day playing with my boys and packing up my house as we prepare to move to Spain for two years. I took three of my boys to watch "Inside Out," a terrific movie about the voices inside your head!
Talk about your motivation behind writing Be Unstoppable and how you hope the goals and challenges you continually seek (like Rainier) will inspire your sons.
I used to have to write "just in case" letters before departing on missions in the event I came home on my "shield," but those letters were only ever addressed to my parents and my younger brother. Then September 11th occurred and I saw teammates returning on their shield and I knew they had to write letters addressed to their children. That question put my mind on a journey thinking about what I would want to say to my four boys (the first of whom was born in 2003). After 7 years of asking the question and drafting answers, I was able to get the book written and I have used the successes, and more importantly the failures, to illustrate the key points of the book. Your life is up-to-you and our only limits are our imaginations and levels of determination. Success comes from our ability to persist. I hiked Mt. Rainier for me, not for my kids, but it's my hope that they will hike their own "mountains" figuratively or literally!
We wish Alden the best on his next journey and have no doubt he will continue to climb higher (literally and figuratively) and inspire everyone along his path. He's certainly inspired and taught the SMACKANISTAS a lot.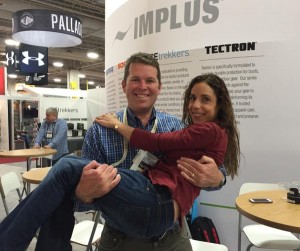 To get to know Alden be sure to follow him on Twitter (@aldenmills) and pick up a copy of Be Unstoppable–we guarantee you will not be able to put it down and take his message to heart.