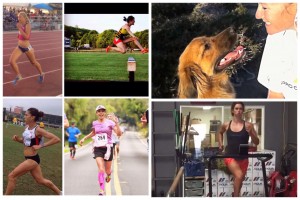 It's no secret that SMACK! Media has a soft spot for running. Morgan, Joanna and Natasha all run professionally and Eli is a Boston Marathon qualifier and finisher! What's more, Olympic rower Sara uses running to improve her rowing fitness and our intern and former LPGA player, Nicole, also uses running to stay in badass shape. Athletics aside, running does so much more for us than help us compete at the highest level. Running can be stress relief, a time for #sweatworking with clients, quiet time to create new ideas and the best vehicle we know for exploring a new trail and beautiful places. Here is what running means to us:
Sara Hendershot (Olympic Rower)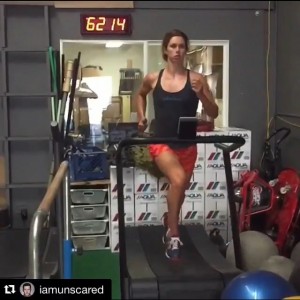 What is your favorite running memory?
My favorite recent running memory is from a really tough workout I did a few months ago. We called it the "Newport Crippler" which was 30 squats at 155 lbs immediately followed by an all out 1 mile running sprint. I had no idea what to expect since I had never done a workout like this and I was completely unsure as to what kind of running shape I was in. I finished the entire workout in 6:50 and clocked a mile in 5:35. This was a huge confidence booster for my strength and fitness!
How has running enhanced your rowing?
Running has been a great tool for me in my rowing training. It is a movement that helps my body awareness, another way to test my brain when thinking about technique, and a great way to test and push fitness when I'm trying to do a movement other than rowing.
Joanna Murphy (Steeplechaser for New Balance Boston)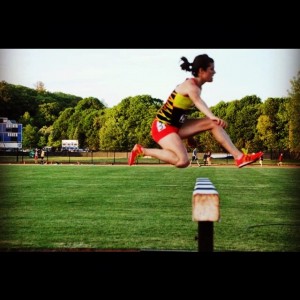 Why do you run?
Because when I run I feel free. And I like the rawness of competition that is experienced in a race.
How did you get started running?
I was always a soccer player. One year when my spring soccer plans fell through my mom wouldn't just let me sit at home after school so I went out for track.
Elisette Carlson (Boston Marathon Qualifier and Finisher)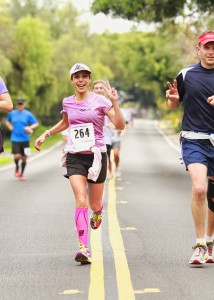 Why do you run?
Running just makes me better at everything. It helps me be a better person, a better mom, a more focused and passionate entrepreneur. After a run, I feel I can take on just about anything. While there are endorphin rushes from riding a bike, swimming or a hard group exercise class, there is nothing better than "The Runner's High." I am healthier, happier, stronger and more energetic because I run.
How did you get started running?
I got started running in college in Princeton where I would run along the "toe path" of Carnegie Lake which is a man made lake built specifically for rowing. I would run on the path alongside the lake and envision race scenarios and pretend I was racing in a boat while I ran.
Morgan Gonzalez (5K Runner For Puma)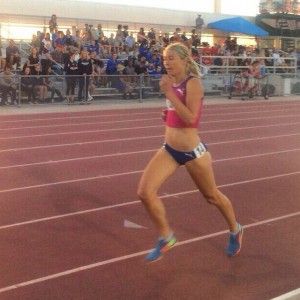 What is your favorite running memory?
I fell down in a mass pile up at the start of a kid's one mile race (age 12). I picked myself up and set my eyes on the kids who didn't fall way ahead of me. Eventually I caught up to them and kept pushing to win the whole race (also beating the boys) in my fastest time at that point in my life. I realized that day that I had the talent, tenacity, toughness and passion to pursue racing for a long time! In fact, this October marks my 20th year of running!
Why do you run?
I run to learn more about myself everyday. Running is also my play time—sometimes that means racing to test my limits, other times I enjoy working out ideas in my head during runs and frequently I shut my mind off and just enjoy the beautiful scenery around me.
Nicole Smith (Former LPGA Golfer)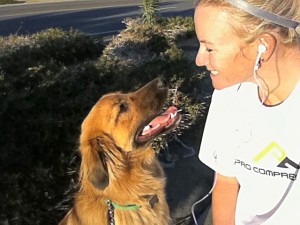 How did you start running?
I started running after college to improve my fitness routine when I turned pro. It was difficult as I had suffered from asthma since I was in middle school, ​and when​ I started ​running​ it​ was ​really ​ tough. ​ ​
What is your favorite running memory?
I really had to step up my running game when a group of friends asked me to partake in a sprint-tri in the fall of 2010. ​ I will never forget the feeling after I crossed the finish line, especially the endorphin-high and the exhaustion, but I was so proud of myself!
Natasha LeBeaud Anzures (5K to Marathon Runner for Team Canada and Brooks)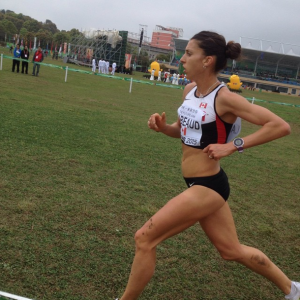 How has running enhanced your life and the lives of others?
Running is part of my everyday life—whether it be through workouts, races, or trying to make a difference with kids through our youth running non-profit organization, 2nd Recess. Running allows me to be the best version of myself.
Why do you run?
I run to inspire through action, to be healthy, and to compete at the highest level and challenge myself.
Love on the run: Both Morgan and Natasha met their husbands while running and continue to share both the competitive and daily aspects of the sport with their significant other!
Morgan and Sergio's track themed wedding is featured in the current issue of Women's Running (on newsstands now).
Natasha and Marco were also recently featured in Women's Running for giving back to the sport together through 2nd Recess.
Want to start running? Here are our top tips:
Natasha: At 2nd Recess, we always teach the kids the importance of the 3 P's: Patience, Perseverance, and Positivity. Whether you are just starting to run, or are a seasoned veteran, the 3 P's can apply to athletics and beyond!
Eli: Try a run/walk plan or grab a friend and just begin to chat away. You'll find that the time flies by.
Morgan: Go to a specialty running store and get fitted properly in the right type of running shoes for your body. It will make running more enjoyable, comfortable and help prevent injuries.
Sara: Whenever I take some time away from running, I always feel like I'm starting again for the first time! My tip for anyone looking to get started is just start off with manageable distances and ignore your GPS watch until you start to feel comfortable again!
We wish you a Happy National Running Day, and also encourage you to celebrate this holiday year round!