Get Outside: Our Favorite Ways To Maximize The Health Benefits Of Nature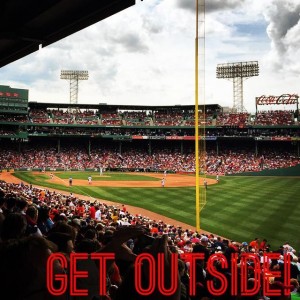 Fitness is a year-round endeavor but during summer it is more important than ever to combine our workouts with another critical health and wellness habit–FRESH AIR! Just 10-15 minutes of exposure to sunlight can boost your vitamin D levels and spending time outdoors is also an incredible stress reliever. According to AARP,productivity, creativity and memory enhancement can increase by 20% with regular exposure to "Vitamin N (nature)."
Here are our favorite ways to boost your health outdoors during training, work, play time and even happy hour!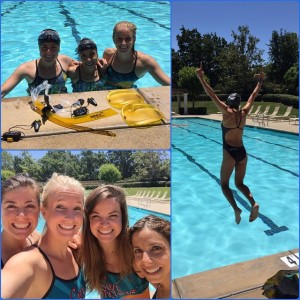 Dive In–Not only is swimming a killer total body workout, it also helps promote circulation to improve recovery from other workouts, eliminates pounding on your joints and is an obvious way to stay cool during hot days. Eli and Joanna are pictured here with the incredible team from FINIS whose performance products are designed to make swimming more fun (think Mermaid Swim Fins, Neptune Underwater Mp3 Player and Animal Head Swim Caps)!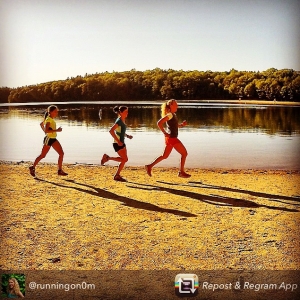 Ditch The Treadmill And Hit The Trails–Summer is the prime time to explore new trails with friends and add new elements to your training (Joanna runs the trails of Boston with her New Balance teammates in the photo above). Not only will you enjoy the views, but you will also recruit new muscle fibers, engage your core and burn more calories as your body stabilizes and balances itself over rough terrain. Or if dirt is not your thing and you still want a challenge, enter a short local road race. Eli admits that short races like the 5K can be intimidating, but once you dive in, you are rewarded with an amazing workout and sense of accomplishment before breakfast. Treat yourself post-race to play time in the pool to cool off and speed up recovery–Eli is pictured below in her pool with her sons Andrew and Luke after a local 5k.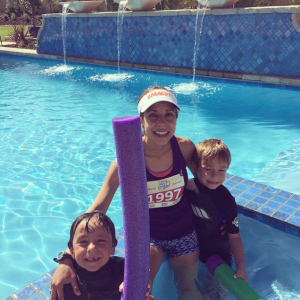 Play Outside–Exposing children to the joys of being outside is critical to their development and fun for the entire family! This week Eli hosted a backyard "summer camp" for her boys and their friends with activities that ranged from drills and running led by Natasha, classic summer games, swimming, water balloon fights and cooking. The amazing memories you create outdoors will last a lifetime and have the potential to create shared passions and improved relationships within your family–Nicole is pictured here with her Dad during a recent boating trip at Big Bear Lake.
.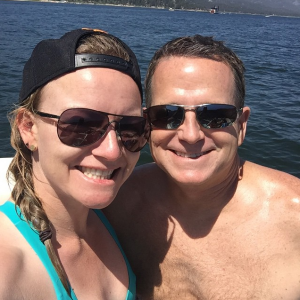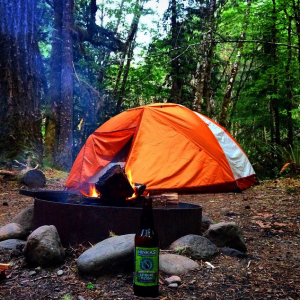 Camp Vibes–Sleeping under the stars is not only fun and good for your soul, it can also improve sleep! The lack of electricity (and dangerous blue light from phones and computers) urges your body to get in sync with its natural circadian rhythm. Consequently, you are more likely to fall asleep when it gets dark and wake as the sun rises. In fact, several studies show that just seven days of camping are enough to completely reset your sleep cycles to healthy levels.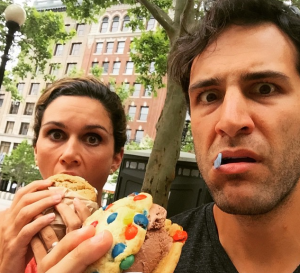 Treat Yourself–There is nothing like a cool sweet treat on a hot summer afternoon, and even Olympians like Sara indulge in moderation. Rather than focus on calories and forbidden foods, stay in the moment and truly savor and enjoy every bite of your treat knowing that your extra outdoor activities will balance out the sugar. This massive ice cream cookie sandwich hit the spot!
Hit The Road–There is nothing like a classic American road trip and summer is an ideal time to head to one (or several) of our incredible National and State Parks. These pristine landscapes will inspire you (like Crater Lake and Yosemite pictured above), and also provide an ideal setting to hike, trail run, camp and learn more about our environment and resources. Find your ideal National Park destination here.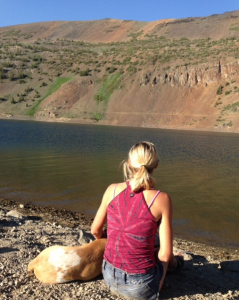 Be Still–A quiet spot outside is an incredible place to meditate, think, solve problems or just relax as it allows us to literally step outside the box. Morgan likes to hike to nearby lakes and then simply sit to recharge her energy and creative juices as she observes the ever changing landscape, animals and weather.
Don't wait for the weekend or the perfect weather to step outside–even if it is a short walk around the block, we encourage you to reap the many health benefits of breaking a sweat in the fresh air!