Natasha Places 8th Overall At Pan American Games 5K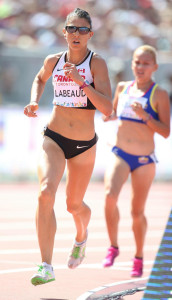 SMACKANISTA Natasha LeBeaud Anzures is having an incredible racing season. She kicked things off earlier this year by competing for Team Canada at both the Pan American and World Cross-Country Championships. Her track season has continued to build momentum with a 3rd place 5,000 meter finish at the Canadian National Championships followed by 8th overall at the Pan American Games in Toronto in the same event. All this while, Natasha balances her training/racing load with good health habits, hard work with SMACK! Media (she sent her client reports the morning of her race!), her non-profit 2nd Recess, having fun with her husband Marco (@TeamAnzures). We got the inside scoop from Natasha about her international championship racing experience this week:
Official results from the Pan American Games: 8th place, 2nd Canadian, Time–16:17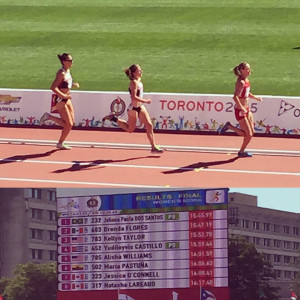 Tell us about the race, was there a pivotal moment/move that secured your strong finish?
Marco and I spoke about taking more risks in this race, and that is what I did. It was a really warm morning with very windy conditions, but I went out hard early, made some aggressive passes during the race and am proud to say that I competed. While I would have liked to finish in a higher position, I know that taking risks is part of the process that ends up paying off later down the line. The times were not very fast, which is typical at championship races.
What was your goal coming into the race?
My goal was to compete to the best of my ability. I wanted have a podium finish, and I went for it. I cannot do more than that!
What was a highlight during the race?
Before the race started, they introduced the Canadians to the crowds, who erupted in applause and cheering, "Go Canada!" It was an exciting experience to be on Canadian soil with so many people cheering for the Canadian team.
What did you learn?
I learned how noisy the athlete village is! There are so many teams onsite that some are finished competing well before others, which leads to celebrations lasting all night. It's a good thing to know for other competitions moving forward!
How does it feel to be selected to represent Team Canada again this year? Particularly, how cool was it to race for Canada while they were also the host country? Home team advantage baby!
This is my fifth Canadian team that I have been selected for since November, and with every selection, I truly am honored. Toronto went all out with their preparations for the Pan Am Games, and the fans were beyond excited to have Canadians competing on home soil.
You brought your husband Marco along—did you two do any post-race sight seeing or indulge in some good food?
My mother, who is a full-fledged Canadian, urged Marco to try the local favorite, Poutine, while in Canada. He got to try some of those gravy soaked fries with cheese curds! With this race, there was not much time post-race for many activities, but the entire experience is coming back with me to San Diego.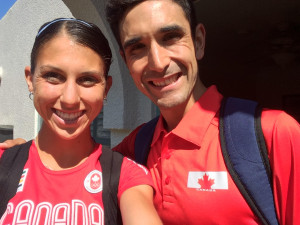 How does having Marco along keep you centered/relaxed or share the joy of running/racing?
As my coach and husband, Marco has an interesting role when we travel for races, as he has to be calm when necessary but also have his game face on. He makes me laugh all of the time, which always keeps me feeling level, even during times of high competition.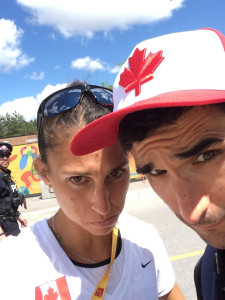 What is next for you?
Stay tuned! There are a few exciting races that I may have the opportunity to compete in, but I will have more information next week! A fall marathon is definitely on the horizon.
How do you balance work at SMACK! Media with the travel and rest required to compete at such high profile events?
Whenever I travel, I like to maintain as much of my routine as possible. Working is part of my routine, and allows me to shift my focus from pre-race notions, to managing great clients and interacting with amazing colleagues.
Stay tuned for more exciting racing updates from Natasha!