Keeping Up With Runner's World Cover Model Amanda Burrill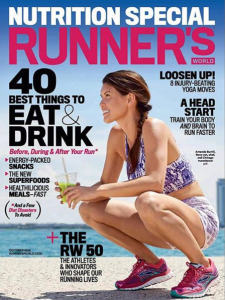 Who is Amanda Burrill? This month's Runner's World cover model is a former Naval officer, attended French culinary school, is a freelance writer (for outlets that include Iron Man and Task and Purpose) and is currently prepping for the second season of  'Tales from the Hair of the Dog' on Travel Channel. However, Amanda describes herself best on her blog  Aprons and Sneakers, "Susie Homemaker meets G.I. Jane, Betty Crocker meets Lara Croft. As much as I like to get pretty, I like to get down and dirty."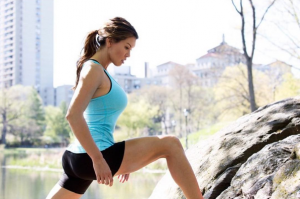 It's an honor to have this rising star takeover the SMACK! Media Instagram for a "typical day" that includes sweaty workouts, glam fashion, delicious meals and a few dirty jokes!
Be sure to follow SMACK! Media on Instagram to check out Amanda's posts along with other exciting SMACK! Media updates.
She's not a coffee snob–"After the coffee I consumed during long nights in the Navy I must say I am NOT a coffee snob AT ALL. I used to drink some nasty a$$ sludge!"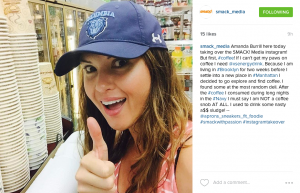 Chicago Marathon Training–"I typically do two workouts a day, and I prefer to lift before I do my cardio. Because I am still training for the Chicago Marathon, I am taking my runs very seriously."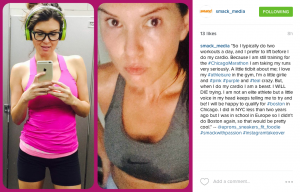 She loves MarcPro–"After workouts I tend to carry muscle knots and tension in my traps so my MarcPro saves me. Daily. Marc and I are getting married."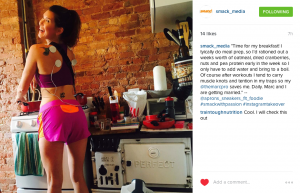 Her thoughts on the Runner's World cover–"My friend saw the Runner's World Magazine at Whole Foods and sent me a snapshot and bought my first copy! That's what good friends are for! I was blindsided because I thought this wouldn't be on stands for a few more days! I like exclamation points!"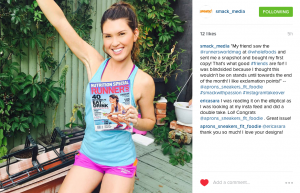 Behind the scenes–"For the Runner's World shoot, I was flown to Chicago for a full day of shooting. I think we did eight different outfits. The photographer, Scott McDermott, sent me a bunch of photos from the shoot that Runner's World passed on. So I was going through them and I almost died remembering this shot. He was on the back of a golf cart and I was running behind it, and the woman driving the cart was going like 40 mph. So this is a true action shot. I was like, 'Slow down woman!' I love the jungle vibe of this top though. RAWR."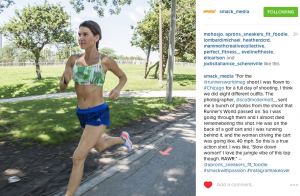 Coming soon to Travel Channel–"Last week I shot season two of my Travel Channel series, 'Tales from the Hair of the Dog' and I got entrepreneurial and reached out to designers for the segments. I am going to do a corresponding blog post for each segment and really play them up because they were awesome. So, I'm reviewing some of the outfits and the styling and jewelry associated."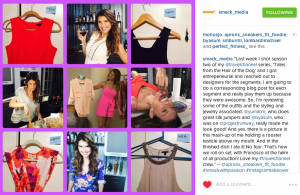 Fancy dresses and comfy kicks–"During long days on set at Travel Channel set for #HOTD I wear fancy tops but running kicks with currexSole inserts to keep it comfortable. This leather top is from Byasum and will be the Tanzania wardrobe."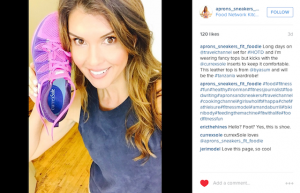 Amanda truly inspires with her strength, beauty, humor and multi-dimensional approach to life! To catch more of Amanda, pick up a copy of this month's Runner's World on newsstands, watch her on Travel Channel or read her blog.