On Newsstands NOW – SMACK! Media Clients Offer Expert Advice For Being Your BEST At Everything You Do
Want to reach your goals, prevent an injury, treat muscle soreness or make fitness fun for the entire family? The latest press for SMACK! Media's clients is authoritative and provides the authentic expert advice you need to achieve optimal health, performance and of course,  fun. Ready, set, GOal:
On A Mission To Succeed: Perfect Fitness founder Alden Mills, featured in the October issue of Muscle and Fitness, shares his tactics to reach any goal you seek to achieve based on his experiences from his time as a Navy SEAL. Top lesson: "The body obeys the brain. Condition your brain to get your body to perform the way you want it to perform." The Perfect Fitness Rip Deck and Ab Carver Pro are also featured in a video interview with Alden online at MuscleandFitness.com. Watch the full video here.
Better safe than Sore-y: Women's Health selects the TriggerPoint GRID X and MarcPro to help speed up muscle recovery and prevent soreness. Cover girl Khloe Kardashian has also been spotted with the TriggerPoint GRID in her out-of-this-world fitness closet featured online at SELF: http://www.self.com/fashion/celebrity/2015/07/khloe-kardashians-fitness-closet/.
Find your perfect foam roller: If you are scratching your head trying to decide which self-massage tool is best for you, Health Magazine has you covered with their detailed review. For happy and healthy feet look no further than the TriggerPoint Nano.
Stop IT Band issues before they stop you: Both Zamst and the TriggerPoint GRID (pictured below) are highlighted by Women's Running to help get rid of nagging IT Band issues that plague so many runners. So what is IT Band Syndrome (or runner's knee) anyways? Dawn Ferreria, Senior Product Specialist at Zamst explains, "it is actually focused on the outside portion of the knee over a bony protrusion called the lateral epicondyle. The IT Band is a fibrosis tissue on the outside of the leg that begins from the hip and attaches to the lower leg (Tibia)." Try the RK-1 and IW-1 from Zamst to combat this pesky injury alongside a routine of rolling out tight muscles and resting.
Break up with Plantar Fasciitis: Run blogger SoCal Runner Gal made a big relationship announcement online–she finally broke up with Plantar Fasciitis with the support of currexSole RUNPRO inserts (which she found to feel extremely natural and comfortable). Get the full (drama free) details in the full blog post (http://www.socalrunnergal.com/2015/09/how-i-broke-up-with-plantar-fasciitis.html) and consider this fact now backed by the most prominent biomechanics lab in the world: Comfort is the number one factor that can be used to determine whether or not your footwear will be able to help prevent injury! It may be time to break up with those stilettos too…
Fitness IS Family Fun: FINIS' adorable Animal Heads Swim Cap graces Freeplay Magazine's website while promoting the So More Can Swim Program alongside fun and creative ways for families to infuse fitness into their daily activities.
Shut Up Legs: Cycling legend Jens Voigt is the latest guest on the Babbitville endurance podcast hosted by Bob Babbit. In addition to discussing the upcoming Jensie Gran Fondo (October 10th in Marin), Jensie discusses some of the mental tactics that helped to propel him to the highest level in cycling. Listen in for a few laughs and to learn mental strength from a master: http://www.kfbk.com/media/podcast-esn-with-bob-babbitt-EnduranceSportsNetwork/cycling-champion-jens-voigt-and-training-26342322/.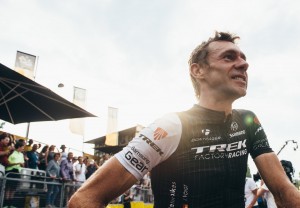 Own Your Journey: Joanna is featured on this week's Running On Om podcast to discuss how to own your journey. "The pursuit of any goal requires tons of hard work, but beneath that must lie a true love, passion and personal desire in order to help that dream flourish and succeed." We suggest keeping this on hand for your next easy run or car commute: http://runningonom.com/2015/09/21/roo-146-joanna-murphy-on-how-to-own-your-journey/.
We hope you are as motivated and inspired as we are by these expert techniques to take the steps necessary or even make a few changes to always aim high, keep your face to the sunshine and achieve your goals!