Ride With Cycling Legend Jens Voigt In Marin!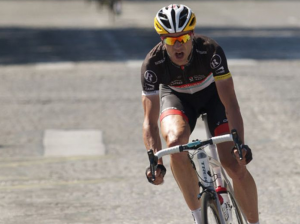 Have you ever dreamed about riding your bike with a cycling legend? If it was a REALLY good dream, it likely included some craft beer, gourmet meals and homemade ice cream along the route! Jens Voigt (aka Jensie) wants your dreams to come true in Marin, CA on October 10th during the first annual Jensie Gran Fondo. The much loved and admired legend of the pro cycling peloton has always had a soft spot for his American fans who seemingly cannot get enough of "The Jensie." So, he's coming back and he wants you to join him!

In its inaugural year, The Jensie Gran Fondo of Marin will take place at the Stafford Lakes Bike Park on Saturday October 10th. The Fondo will host three rides of 45, 70 and 100 miles respectively, offering keen road cyclists of all abilities the opportunity to experience the extraordinary day. "Marin County was chosen because it ticks all the boxes; it's big, it's beautiful and it has all the facilities we need to make a day at my Gran Fondo a really fun day out," said Voigt. "Think Marin's best and most scenic roads & climbs, the best Marin local food and the best beer at the end, my favorite part." The Jensie Gran Fondo sets itself apart from other Gran Fondo events because of the customization and personal experience that each rider will have. Voigt explains, "We're going to try to make the ride with me as interactive as possible. I want to ride and talk to as many people as I can on the day. And going by how many of you riders turn up at these events – that could be a lot of people. I also want to try to share some of the best experiences I've had from my pro racing career around the world to this event – I can't share the details yet, but all I know is that it's going to be great fun."
The ride will also offer a mid-route meal and post-ride lunch from local favorite Farm Shop of Larkspur Landing. Equator Coffees & Teas and Honeymoon Ice Cream have also teamed up to bring cyclists the sweet affogato. Another local favorite, Lagunitas Brewing Company, will provide satisfying beverages for all riders, of age of course, to commend and celebrate their amazing ride while they eat, relax and listen to live music along the banks of Stafford Lake.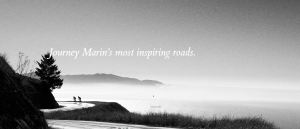 We had a chance to interview Jensie about his current lifestyle, cycling memories and the inspiration behind this incredible event:
Professional Cyclist
The ambiance of the Jensie Gran Fondo is world-class with an incredibly scenic route, gourmet food, local beer and even ice cream! Is this inspired by your personal experiences racing in Europe or a more idealized vision of cycling outside of the racing scene (or both)? What was the creative spark for such a fun and interactive event?
A lot of thinking and planning went into the Jensie Gran Fondo because, let's face it, there is already a lot of them out there. We wanted to create an event that is fun and different. We want the riders who show up for the inaugural event to leave happy, talking about how cool it is and hopefully bring their friends along next year because we want to do this for at least 20 years. In my last year as pro rider, I had the chance to ride a few Gran Fondos and realized that they are a great way to get cycling enthusiasts together and have a great time while we ride together and support some charity organizations. Regarding the food for the event, I learned one thing during my years in the German Army: the quality of food is the most important thing to keep the spirit of the troops high! Riding 100 miles is hard, so we are trying to make it as easy and enjoyable as possible because that is how we believe cycling should be outside of the racing circuit.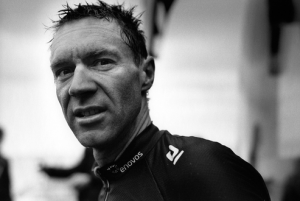 Speaking of interactive, you mention that mingling with ride participants is one of your main objectives for the event. That said, there is one of you and many participants, so how do you envision making this happen? (With regard to your career achievements, we are certain you can accomplish anything you put your mind to!)
We will make sure I arrive early enough to meet with all partners, sponsors and the volunteers before the ride starts. For the ride itself, I will do the 100 miles course ("Shut Up Legs"), which will give me plenty of time to chat to the people around me throughout the long ride. I will be available for photos and autograph signings before and after the ride and I will meet all riders at the finish area where we can have food and drinks together. My goal is to talk to as many people as possible.
What is your favorite memory from your cycling career?
The best moment and the most rewarding moment was helping Bobby Julich win the 2005 Paris Nice. We went into the last stage with Bobby in the lead, and with about 30km to go I was the only teammate left with Bobby. I knew I was the last line of defense between victory and disaster! I chased down the attacks from Valverde, Contador and the other riders as I rode tempo in between the attacks to make sure Bobby was in a safe position and sheltered from the wind. Bobby is one of my oldest friends in cycling, and as I knew he lived in Nice with his family, and Bobby has always given all of his support to me in races, I felt that I owed Bobby this one for him in his hometown. I told myself that no matter what, I would secure the jersey for Bobby. When we won and celebrated up on the podium together; I looked over at his proud family cheering and thought,  "That happy ending was a part of my job!" It made me incredibly happy and proud. Looking back at this day now, I think it was one of my strongest days in my whole career, mentally and physically. Today, I am still sure I could have broken away away from that group to take the stage win and the overall win for myself, but that day was Bobby's day and it felt incredibly right to stay with him and make sure he took the victory in front of his family.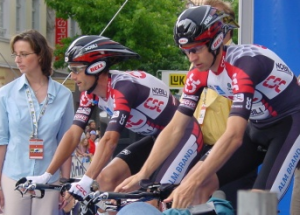 Another great memory was my last win in my professional career–2013 at the Avila Beach stage during the Tour of California. We were in a 25 rider breakaway and I'm sure that everyone who knew me assumed that I would attack at some point, and I did! Yet nobody reacted and with only 4km to go I had a 25 second lead–they never saw me again. The group inlcuded Michael Matthews, Peter Sagan, Thor Hushovd and Tyler Farrar, four riders from Orica Greenedge, four riders from BMC and I still managed to surprise them all with the same old trick I always used throughout my 18 years as a pro cyclist. I couldn't believe my luck, or my cleverness!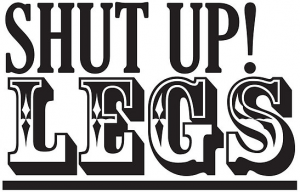 What do you miss the most about racing?!
Clearly the thing I miss the most is the superior fitness, along with the feeling that you can achieve everything and that the sky is the limit, which I still apply to my life today. Another great thing was the camaraderie between the team, the way we worked together, I loved that.
How do you juggle six kids with training and career?
This is always the moment I talk about my wife–she had my back all those years and made sure I could go and try to conquer the world. During my career, my home and children were the part of my life that were safe and constant, and reminded me that life keeps going. During the times that I was home, let me tell you, I was lucky to be built strong and indestructible. You know how the bike shoes with the cleats make a certain noise when you walk? Every time my kids heard that noise in our driveway they all came out running and all yelling at me at the same time, "Daddy, play with me first, Daddy help me with my homework, Daddy walk the dog with me, Daddy lets do a bike tour…!" So at home there was never time for relaxing or recovery, and I just had to push through. My wife and I shared the work pretty evenly when I was home, but as a thank you to the family for supporting me, I always let them choose where went on a holiday. During the off-season I never left them, and I never went to training camps with the boys in warmer countries. I always trained in Berlin, no matter what the weather was like so I could be with my family, and it hardened me up to train and race in bad weather which was a bonus. My advice is family first! Always! Because your sport or hobby  may stop one day, but the family is there for life.
Want to spend more time with Jensie? There is still time to sign up for the 40, 70 or 100 mile rides at the Jensie Gran Fondo! Register here today!