Happy Monday! There is no better way to kick off the week than with inspiring new stories! Here are a few that have us pumped to take on the new week full throttle!
Chicago (Speedway) Marathon
Chicago is known to be one of the fastest marathons in the world and this weekend proved it! We knew an incredible group of inspiring women racing and chasing big goals this weekend and are happy to report that every single one nailed it (read the full Chi-Town Cheer Squad Blog for full details)! Deena Kastor placed an incredible 7th place en route to setting a Master's American Record of 2:27:47, journalist Monica Prelle ran a big Marathon PR of 2:56 as did Women's Running cover girl Sarah Attar who chopped 7 minutes off her time to run 3:11! Eli came in on a mission to have fun and finish strong. As a result she crossed the line in a solid 3:58 (sub-4 baby!) and with a big smile on her face. Highlights from her trip included sharing meals with Runner's World cover model Amanda Burrill and RunHaven's Natalie DiBlasio who also ran through the Windy City (Amanda finished in 3:56 and Natalie ran her 2nd sub-4 hour marathon)!
A Ride With Jens Voigt
We had the honor of working with Jens Voigt on his inaugural bike ride The Jensie Gran Fondo held this past weekend in Marin, CA. Morgan attended as an onsite press contact and had the opportunity to meet Jens and spend quality time interacting with media such as the Spright.com crew who took on the challenge of their first bike event ever with smiles on their faces the entire way. The weekend featured a VIP Founder's Club event in San Francisco along with gourmet treats along the bike course (yes there was even Honeymoon Ice Cream and Equator Coffee at the aid station)! Post-ride, everyone was treated to a classic German feast of Brats (from the Farm Shop of Larkspur) and Lagunitas beer. While Morgan did not ride her bike, she is greatly inspired by the mental tactics that Jensie shared at the event and has adopted his phrase, "Shut up legs!" during her most challenging runs!
Don't Try This At Home!
There are no excuses when it comes to improving your core strength–some of the most beneficial moves can be done at home using only bodyweight as our own Natasha demonstrates in a recent Competitor.com article! We challenge you to tackle the pedestal routine at home this week (full workout here). Natasha will also be channeling her strength this weekend as she races the Toronto Marathon this weekend!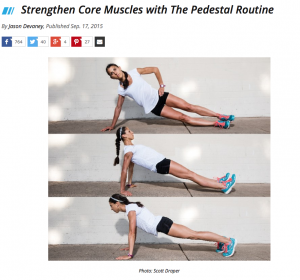 Making Moves
After a recent move to Colorado, Joanna has officially announced that she is a part of the Hudson Elite Training Group in Boulder where she will train with other elite steeple chasers at altitude. We are extremely proud of Joanna's next step and we think her athlete profile is super badass–don't you? (#SMACKwithPassion) Read the full announcement about Joanna joining the group that also highlights her role at SMACK! Media.
Treat Your-SELF (And Your Friends)
Eli shares her advice for sharing post-workout treats with friends and colleagues in this month's issue of SELF Magazine. We totally recommend breaking a sweat with someone this week as a way to stay motivated and connected. And if you have time, give your buddies a chance to freshen up and thrown on some dry clothes first–you will both enjoy the post-workout treat that much more!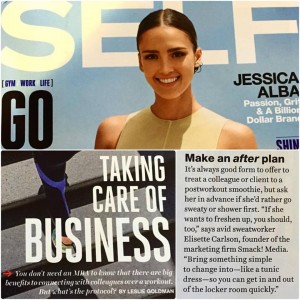 We hope you take these positive stories and run with them this week–whether it is meeting an office deadline, spending more time with your family or pushing your workout just a tiny bit harder. Attitude is EVERYTHING!