Spotlight on SMACK! Media Spring Fashion
Spring is a great time to re-vamp your wardrobe, whether that means putting away your winter coats or adding a few new pops of color to reinvent your favorite looks. When it comes to athletic wear, fashion takes on another level of importance as it plays a major role in dealing with the often mixed emotions of spring weather (rain or snow one day followed by warmth and sunshine). The SMACKANISTAS have all been spotted taking advantage of our clients' latest fashion-forward gear that is guaranteed to put some spring in your step and help you look good while you get your sweat on!
Bamboo: So hot right now–Nicole is so obsessed with the comfy (thanks to super soft bamboo fabric) and cute Market Dress by Tasc that she now owns it in both colors. Warning: Be prepared for endless compliments in this sporty but flirty little number! Where to buy: https://www.tascperformance.com/collections/womens/products/womens-market-dress.
Wild Accessories–Set to launch this spring, the SHIFT™ watchband by EdgeGear promises to make your smart watch smarter to use by helping you not break focus nor stride while you wear it during workouts. Morgan has been wear testing it on the trails and not only does it add sass to her look, she is also better able to notice the wild encounters beneath her feet! Pre-order SHIFT here: http://getedgegear.com/.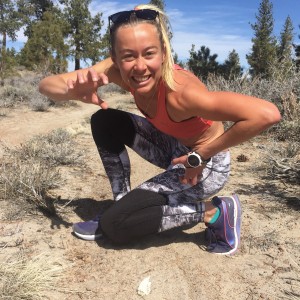 It's okay to be a Handful–Looking hot but, also cool and supported, Eli rocks her Handful Bra during a Yoga Six class. While we know that there is nothing like "letting it all go" during a yoga sesh, being supported by a good sports bra is always a MUST! Eli is wearing: Adjustable Handful Bra in Gettin' Lucky Green.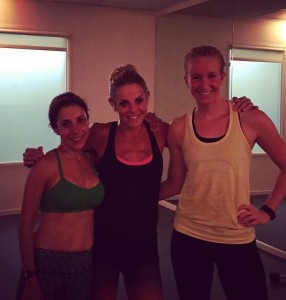 Swim sexy–Take your basic pool workout to the next level with FINIS swim gear. Joanna cross-trains in the pool to elevate her fitness, while her black and yellow accessories are sure to inspire her to "sting" the competition like a spring bee! Swim must-haves from FINIS: FINIS Swim Cap, Bolt Goggle and custom Blade Swimsuit.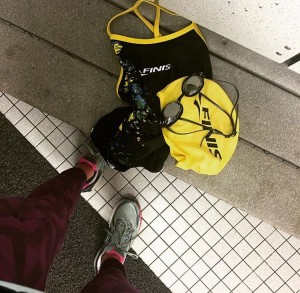 Step up your sock game–Now that the temps are warming up enough to wear shorts in some climate zones it's time to show off your personal style and keep your sock game on point. Stephanie shows off her SMACK! Media Pro Compression socks during a sunny run this week.
Whatever your personal style, we guarantee that taking the time to brighten up your workout look or throwing on a new accessory will give you an added dose of motivation to get out the door and work towards your goals! If you like anything you see, send us a note and we'll fire back a special promo code.