tasc Performance Base Layers Trusted by Melissa Arnot For Her Record Breaking Everest Summit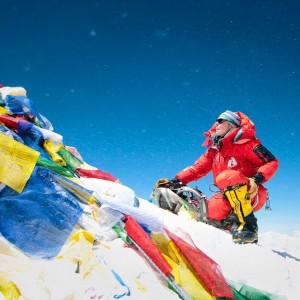 Melissa Arnot is on top of the world–she became the first American woman to summit Mount Everest 6 times, and the first to successfully complete the climb without supplemental oxygen on Monday, May 23rd. Arnot broke her own record for the most summits completed by an American woman, which she set in 2013. The tasc athlete, professional mountain guide, high altitude climber and also a part-time EMT and medicine instructor has been preparing for this accomplishment for the past two years during which she has used the tasc Performance base layer, an original blend of viscose from Bamboo, 18.5 micron Merino and Lycra, to keep her comfortable and to help with temperature regulation during her summit, training, travel and other expeditions.
"It has been an incredible journey towards reaching this long time goal," said Arnot. "This experience on Everest was unbelievably humbling and I feel so fortunate to be a student of this mountain and experience its continued greatness."
Melissa's pursuit of her athletic goals as well as her dedication to the improvement of the communities around her echoes tasc's guiding principles of authenticity and originality. In 2010, Melissa co-founded The Juniper Fund alongside fellow climber David Morton to provide support and resources for those families tragically affected by the earthquakes on Mt. Everest. In support of the fund, tasc will be donating 30% of all online sales that take place on Tuesday, May 24 to the Juniper Fund to further Melissa's community initiatives. Visit www.tascperformance.com to shop. Read the full press release here.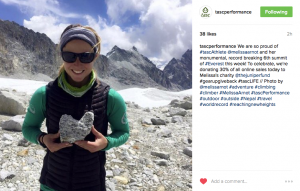 We are so proud of Melissa who inspires us to always keep climbing and to give back to others in need!