"I WANT TO BE A PART OF IT"–NEW YORK CITY MARATHON: Marathon experiences from some of our favorite media runners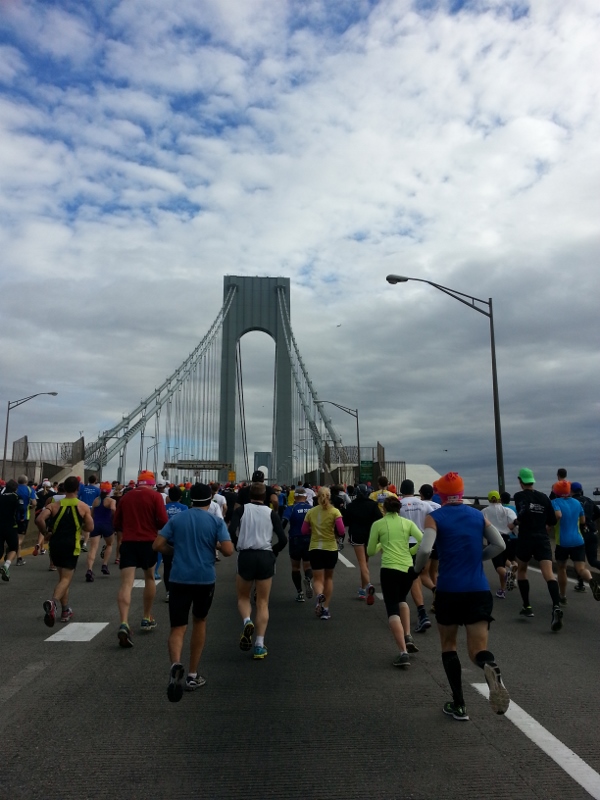 (Start line pic by Skinny Runner)
The first person to run a marathon was Pheidippides, an ancient Greek hero reported to have dropped dead after running 26 or so miles from Marathon, Greece to Athens in order to announce a war victory. It's no surprise that the marathon didn't gain any popularity after that. But by 1970 the "Running Boom" was in full swing and the first ever New York City Marathon attracted 55 runners. This year 50,304 runners completed the ING New York City Marathon while two million spectators cheered them on. Certainly Pheidipiddes would not have predicted this, nor can one fully understand the magic and life changing ability of a marathon until you have run one.
We all know that running 26.2 miles is a BEAST of an athletic challenge.  We always love hearing about everyone's running experiences and know that EVERY race has a story, a lesson and a memory.  Some better than others but in the end, every marathon teaches us something.  As NYC is one of the most famous marathons, we wanted to capture the 2013 NYC Marathon experiences of  some of SMACK! Media's closest media friends. Some of their answers may  surprise you (they surprised us!), and you just might find yourself itching to lace up your shoes and step out the door for a run!
Have you run NYC before or was this your first?
Richard Blais (Celebrity Chef, Juniper & Ivy, San Diego, CA, Television host, Cook Your Ass off, Upwave, HLN): This was my second, should have been my third, but Sandy wiped out the 2nd try.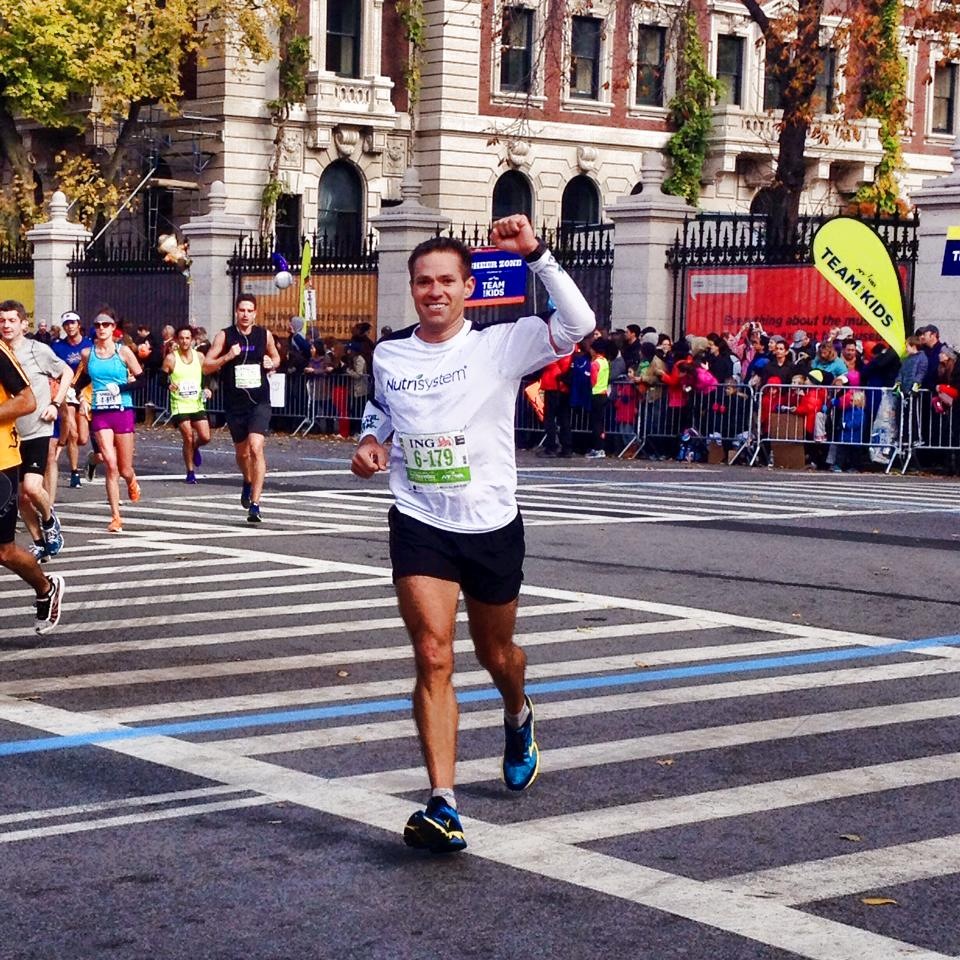 Dr. Andy Baldwin (Navy Doctor, Diver, Ironman Triathlete): It was my 5th time running, 6th year in a row if you count last year which didn't happen.
Skinny Runner (AKA Sarah Moore. Running Blogger, Fitness Magazine Editor's Choice Blog, serial marathoner): This was my 3rd NYCM.  I ran it in 2010 and passed Dr. Andy Baldwin (pictured above) at mile 25 and took a picture of him while running!
Sheila Monaghan (Executive Editor at #QBlog by Equinox): I'm a streaker in NYC! This was my seventh consecutive New York City Marathon, and would have been my eighth had last year's race not been cancelled. I hope to run this race every single year that I am physically able!
 Have you run other marathons before?  How many?
Alison Overholt (Digital Content Strategist, Professor, Writer, Editor, Runner, Wife, Mom): I ran 1 other marathon (Honolulu) 13 years ago. Seems like a different lifetime … I joke that I'm a re-virginized marathoner.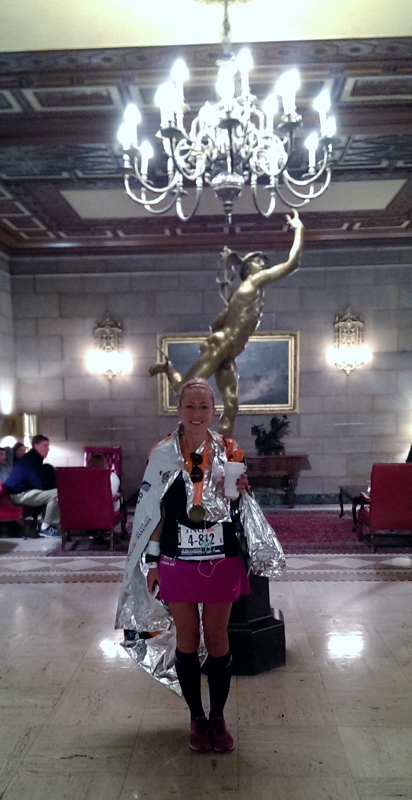 Skinny Runner (pictured above): This was my 53rd marathon, and I started running them in December of 2009.
Matt Allyn (Online Editor for Bicycling Magazine): 3 others–Philly, Marine Corps, Twin Cities (MN)
Dr. Andy Baldwin: This was my 47th marathon.
Jeff Dengate (Runner's World Editor and Gear Guy): I think this was my 23rd marathon.
Dish it out–what was your pre-race dinner?
Jeff Dengate: Orecchiette with broccoli rabe and sausage
http://www.runnersworld.com/recipes/recipe-orecchiette-broccoli-rabe-and-sausage
Matt Allyn: My dad and sister came out from MN to cheer and we had a fancy dinner. For me, scallops and rabbits with a lot of dinner rolls and a little wine. (Editor's note: Matt admitted that he REALLY likes rabbit.)
RunEatRepeat (Monica Olivas is a blogger and marathon runner): Chinese food with lots of rice and soy sauce.
Sheila Monaghan: My stomach is historically finicky, so I keep it pretty plain the night before. I had pasta with just a little bit of butter and parmesan cheese, and some bread. Lots of water. I cooked at home, but when I'm traveling for a race, I'll usually add some grilled chicken.
What was your pre-race breakfast?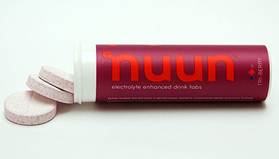 Richard Blais: Bagel with a tablespoon of peanut butter. Half a banana. Nuun spiked water.
Matt Allyn: I ate a toaster waffle with 2 eggs and another toaster waffle with PB&co
Cinnamon Raisin, then a cup of coffee to get things going and a large
glass of water with a NUUN tab.
Dr. Andy Baldwin: Nutrisystem breakfast bar, banana, plain bagel, coffee.
Jeff Dengate: Coffee and donut (my usual prerace eats), plus a bagel with cream cheese and 20 oz. orange juice.  (Editor's note: If you ever want to get anything out of this guy, just buy him donuts.)
Alison Overholt: I think I had about 3 breakfasts! A banana with peanut butter and some coffee when I got up at 5 am. A bagel and water on the bus in from NJ, around 6:30 am. Half a PB&J and a hard boiled egg and more water while I was waiting around in Staten Island for my 10:55 wave to start.
How does NYC stand out from other marathons?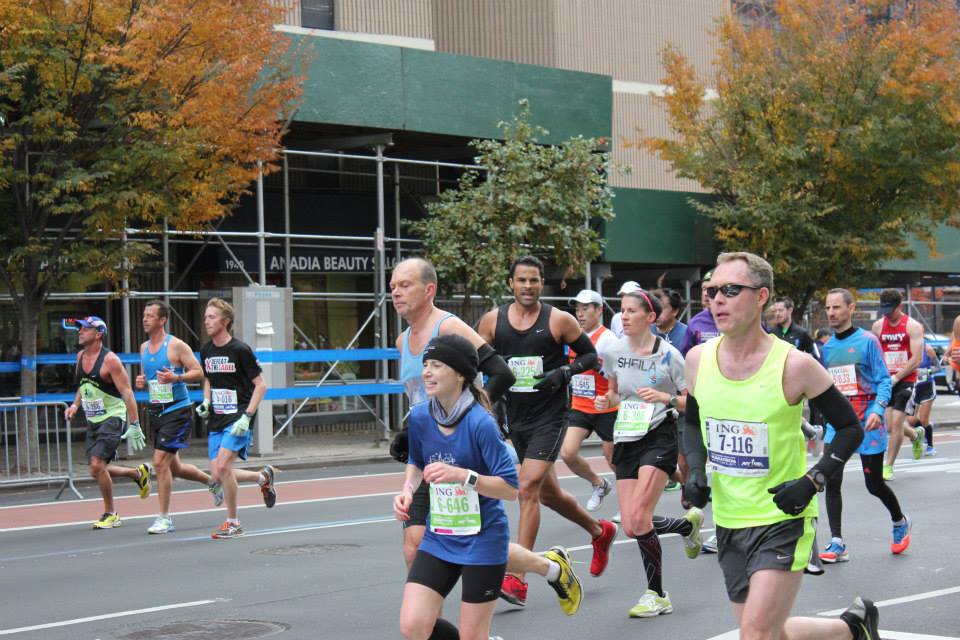 Sheila Monaghan: It's simply the best. I've done races in other cities and you simply cannot compare the crowd support, the energy, the enthusiasm. And each borough is so distinct, so the race literally changes as you progress through the miles. You really experience the city of New York over a few hours, it's incredible. But it's also very honest, challenging course. Very few people come to New York City to set a super-fast PR. There are bridges, there are hills, there are turns — it's a hard day of running. (Editor's note: We love Sheila's 110% Flat Out Compression Socks and shredded quad muscle in the photo above.)
Alison Overholt: All I could think when I was running was what a stunning city this is. I've lived in and around NYC for almost 10 years and never fully appreciated it the way I did last Sunday. How distinct every neighborhood is. How every community has such a clear personality. How beautiful and then how stark the city is. How much attitude New York and New Yorkers have — and I loved it! Seeing and experiencing all of that back to back to back, in a continuous flow over the course of a single day, is just unlike anything else I could imagine, anywhere else in the world.
Jeff Dengate: The energy levels in NYC are off the charts. There are wild crowds from mile 2 to the finish. Big-city marathons can be a bit of a hassle, but NYC is worth every bit of it.
Richard Blais: I'll tell you after Boston…
Dr. Andy Baldwin: It is a challenging course with deceivingly tough hills over the bridges, and cold/wind this year. But it also is the most grand, with the most people of any marathon (over 50000) and the largest crowd through the five boroughs of the best city on this planet.
What did you love about your race experience?
Richard Blais: Over the last year I've been running for time a lot and lost a bit of passion for running. A few weeks before the race, my wife who is seriously into yoga inspired me to not think in terms of time and competition and it had a profound impact on me.
RunEatRepeat: The pizza after party.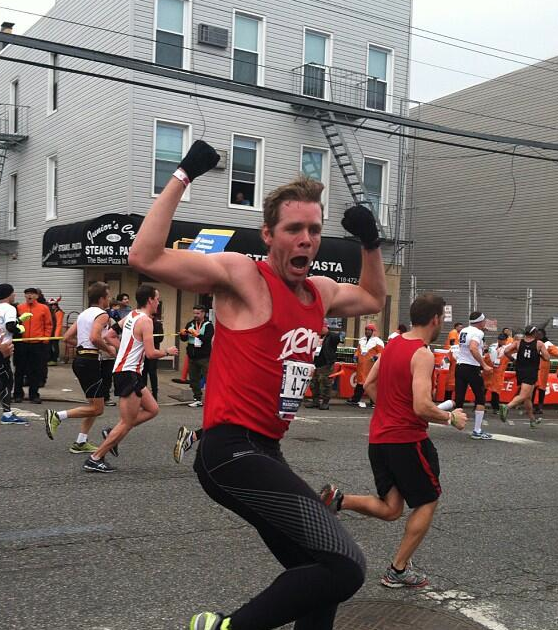 Matt Allyn: Having friends and family cheering for me was the absolute best part. (Editor's note: We think he liked having his photo taken as well!)
Dr. Andy Baldwin: The crowd support was the biggest I've seen it yet, and there was a definite increased focus on the community this year, which in the wake of Sandy was heartwarming to see.
What was the toughest part of the race for you?
Sheila Monaghan: I had a rough go at it this year – from the start, my stomach was off. I knew I was going to be in trouble later on, but I wanted to hold my pace as long as I could. I was suffering from stomach pains and cramps that I just couldn't shake. At about mile 20, I had to stop to throw up (TMI?! Sorry!) and then the rest of the race was a shuffle-fest.
Richard Blais: The waiting before the start is always tough. The 1st mile is tough because you want to run fast ( mistake I made my first NYC.) BUT, actually, it's the 3 mile walk back to the hotel for me that was the toughest, because then it's cold and even the poncho couldn't help me, I was a shivering mess after.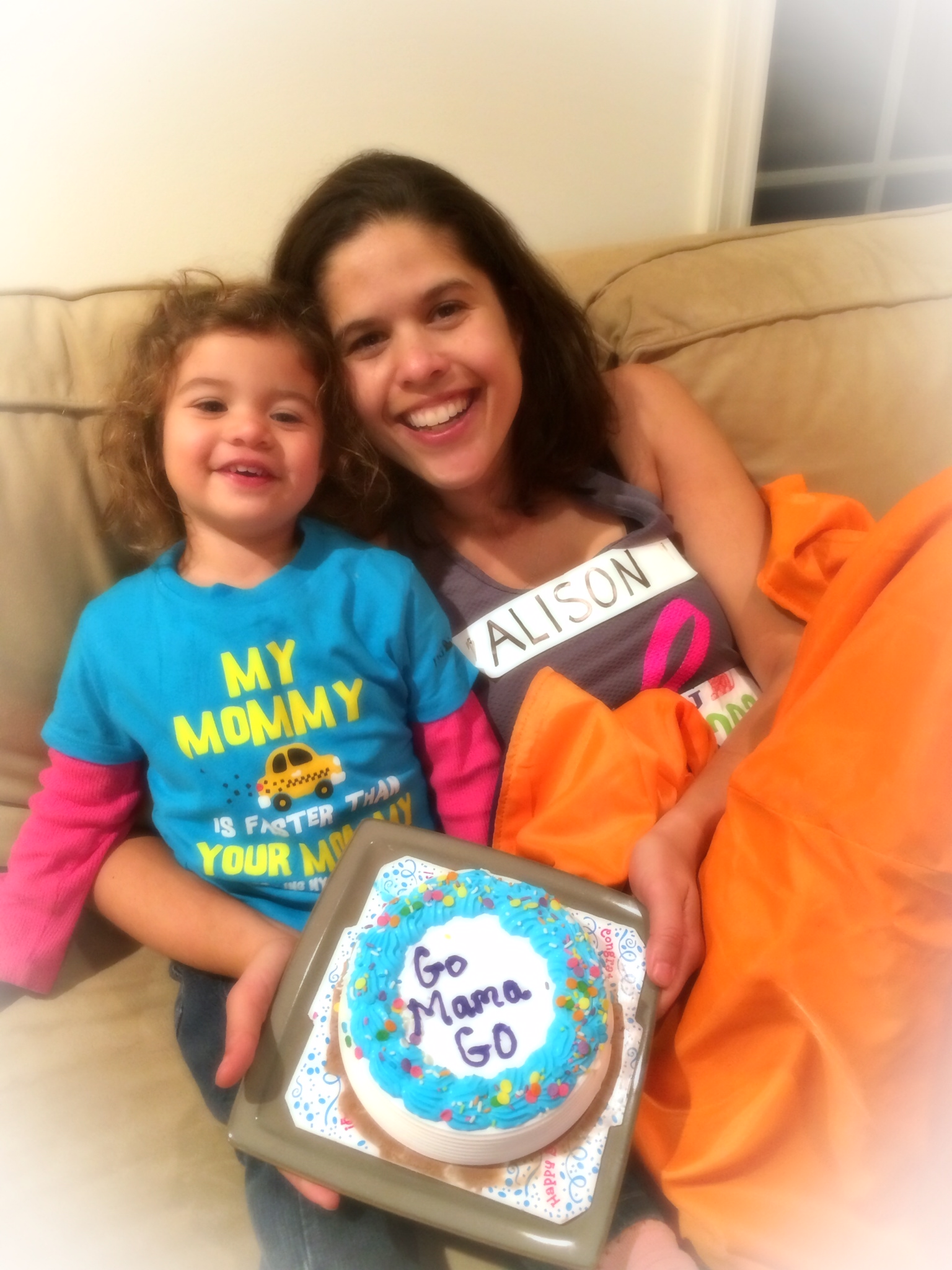 Alison Overholt: I felt like I fell off a cliff during miles 18-19; just lost energy completely. Then I came back and was feeling good again, and thought I'd pushed past the toughest part. But I stopped to hug my family at mile 23 (pictured with her daughter above), just before going into Central Park, and getting going again after that was almost impossible for me. I got so incredibly cold, everything slowed down, my legs felt like lead. I could see the end and still couldn't push to get there any faster.
What got you through the tough parts?
Dr. Andy Baldwin: Positive self talk, and encouraging those runners around me.  Plus there was a guy dribbling two basketballs that went by me on the bridge and I was like "wait a second, huh? no you don't!"
Richard Blais: Vision. Again, for me there was a spiritual part Sunday. I thought of my wife & kids and how grateful I am to be able to run & breath and simply live.
Sheila Monaghan: I wore a shirt this year in honor of my cousin Jimbo who passed away this summer. He is my hero, he was a terrific athlete and a marathoner, and I knew I could not quit, especially not with his name on my back. But I was so disappointed I couldn't post a good time in his honor. More motivation for Boston! (Editor's note: Sheila – we've seen you run like the wind and know that Boston has your name all over it and Jimbo will be proud!)
Alison Overholt: Through the whole race, I was snapping lots of photos and posting them to social media — it sounds ridiculous, I know, but it actually reminded me to look up and appreciate what I was experiencing even when the race got tough. At the end, when I was basically stumbling toward the finish, there was an older guy next to me who looked at my name on my shirt and then barked at me through the last half mile or so, "Alison! Come on! Let's go, you can walk tomorrow! You can do this, Alison!" He was amazing.
Did you have a goal time?  How did that fare?
RunEatRepeat: I didn't have a goal time. I just wanted to soak up the whole experience.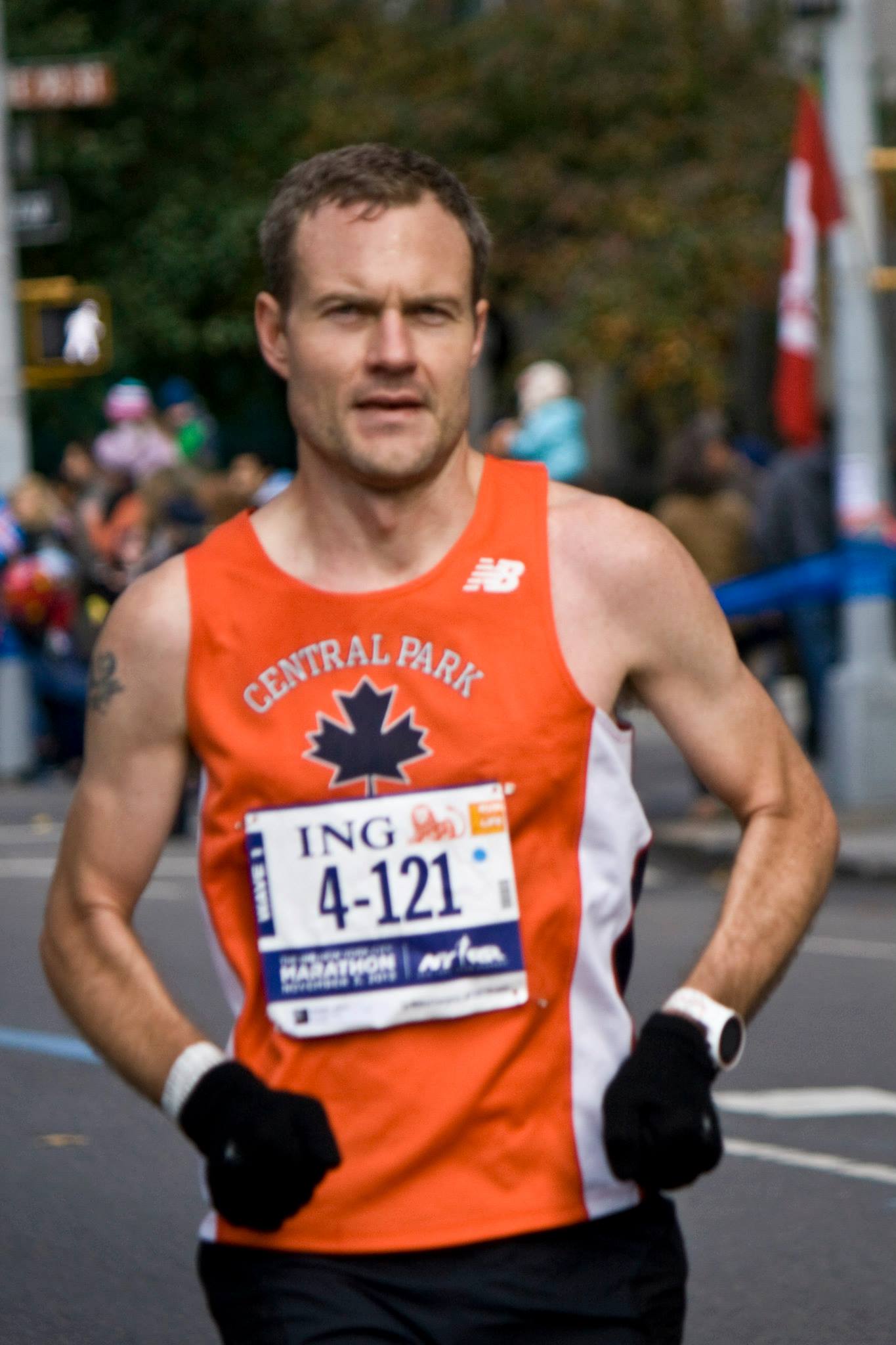 Jeff Dengate: I loosely had a goal of breaking 3 hours. I didn't train specifically for this race, but figured I was in shape to crack that mark anyway. I wasn't very smart in the couple days leading up to the race, and thought I didn't have any shot at it when I awoke Sunday morning. But, I got after it anyway, and nearly pulled it off. Regardless, I'm excited by my 3:03:38. It's not a PR, nor my fastest time on this course, but I had a lot of fun out there. (Image above by Nigel Francis)
Dr. Andy Baldwin: I wanted to go as close to 3:15 as possible, and I ran a 3:17 which is the best time I've run in NYC, so given the tough weather conditions this year, I was pleased.
Alison Overholt: I am a super slow runner. I run 11:45 to 12-min miles, so if I'd had a "perfect" race, I would have run it in about 5:15. I finished in 5:36, with lots of Instagramming stops and many pauses to grab hugs from friends and family along the way — so in the end, I decided maybe I had a pretty perfect race after all.
Matt Allyn: My goal was 3:10 and despite running like an idiot at 3:00 pace for the
first half, I finished in 3:09:48.
Describe your race day experience in 3 words:  
Richard Blais: Definition of community
Matt Allyn: Started fast, ouch.
Alison Overholt: Surreal. Inspiring. Overwhelming.
Sheila Monaghan: Surreal. Inspiring. Overwhelming.
Would you run NYC again?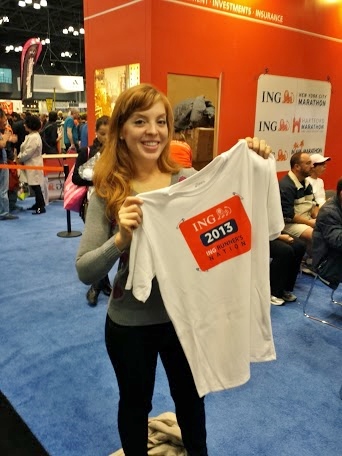 RunEatRepeat: Yes, I would do it again in a New York minute!
Skinny Runner: Yes, I would definitely run it again!  NYCM is my favorite marathon of all of the ones I've run.
Dr. Andy Baldwin: Absolutely, I'll do it every year as long as I live.
Alison Overholt: And … I don't know. I still can't really believe I did this one! But just 3 days out and I find myself thinking about things I'd love to try doing differently, or things I wish I'd paid more attention to along the way, or wondering if I'll ever again experience anything as amazing as those cheers from the crowds in Brooklyn, or the rush of inspiration from the music in Harlem, or how beautiful the Park looked with the fading sunlight coming through the trees and all those runners streaming though. Maybe the only way to find out is to do it again…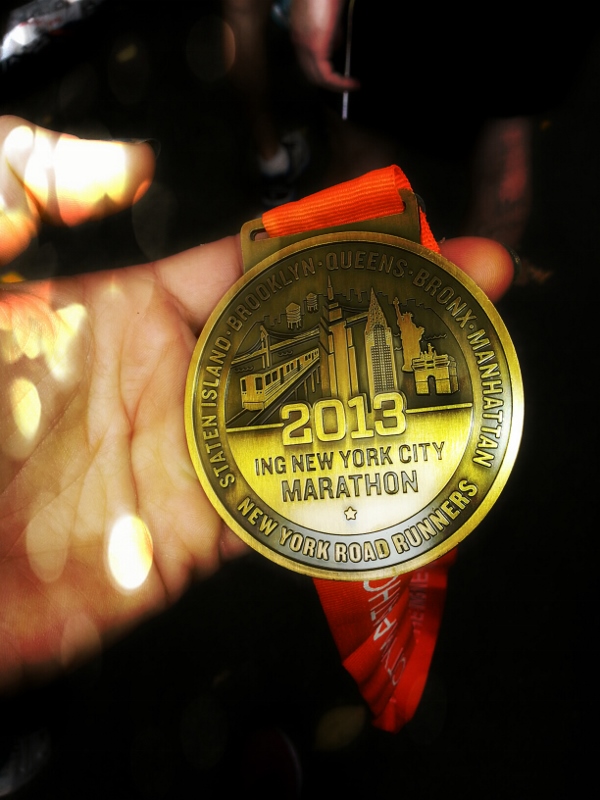 (Finishers Medal by Skinny Runner)
Thank you friends for sharing your stories and most of all, we agree with Richard Blais in that marathons really are a 'definition of community,' and we love being a part of it.  Congratulations to all of you.