How Signing Up For A Race Last Minute Can Change Your Perspective And Your Performances On And Off The Race Course
When it comes to racing, most of us sign up and pencil in our schedule months in advance. While long-term preparation and training is key, there is something fun and refreshing about spur of the moment racing. Much like a spontaneous day trip or even a last minute work assignment, jumping into a race via late registration is a fun way to test ourselves, take away major pressure and enjoy the joy of competition to spice up training! This month both Sarah and Eli pulled the trigger and toed the starting line with this strategy. The result: not only did they have fun, they discovered where their current fitness lies for future goals and even surprised themselves with excellent results. We caught up with the SMACKANISTAS after their races to learn about how they made these races a positive experience and how it can carry over into our über organized lifestyles.
Sarah, our Pro Triathlete based in Tucson, AZ is enjoying a summer of cooler training and relaxed mountain life in Apex, NC. While her major race goals are lined up later this year, she still decided to give the Triangle Triathlon a go. She ended up 2nd place overall and finished with a renewed sense of confidence for racing after an injury hiatus.
What was your favorite leg (Swim, bike or run)?
The Bike!
Pre-race outlook:
I decided to jump in this race to get a better idea of what my fitness level is right now as 4 of the last 6 weeks had been pretty decent training weeks. Unfortunately, I still had numerous days where I couldn't train because of flared up hip pain, but I'm now working with a PT in Raleigh weekly to continue my search for a permanent solution. I figured it would be a fun, local event without too much pressure on myself to compete or win.
How did your outlook change once the race was over?
I'm not going to lie, coming in second by 35 seconds wasn't exactly fun. I was pretty disappointed that I couldn't find any speed in my running legs. But having out-split all the ladies on the bike, including a Cat 2 road racer, helped me look past my disastrous swim and less than stellar run. If anything, it provided motivation to make the most of each training day that I am healthy enough to complete.
We love that Sarah is such a fierce competitor by nature! Although you would never guess with her beautiful and friendly demeanor.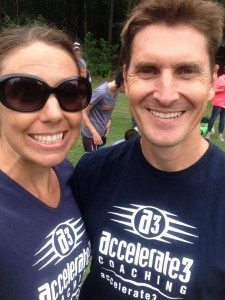 Did you use any mantras or visual symbols when you raced?
I generally tell myself, "Just run, just run, just run," when I'm racing to remind myself that the task at hand isn't worrying about who may be ahead or behind, but to focus on myself.
What is your favorite SMACK! Media product to use on race day?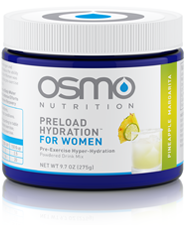 I prep before the race with the OSMO Pre-Load Hydration Mix.
What is your favorite SMACK! Media product to use for recovery?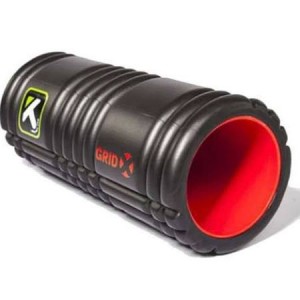 I absolutely love my TriggerPoint GRID® X foam roller.
How did you treat yourself afterwards?
Cookies and a nap!
Functioning as a true team the SMACKANISTAS are constantly pulling inspiration and new ideas from one another. Fresh off her Vineman 70.3 PR, Eli decided to follow Sarah's lead and jump into the Solana Beach Triathlon. The convenient location (down the street from her house) and shorter distance made the event a no-brainer replacement for a Sunday of training for Eli (who finished 8th overall) and her husband Matt (second overall)!
Favorite leg (Swim, bike or run)?
I enjoyed the run even though I wasn't looking forward to it at all. Why?  1) My run at Vineman 70.3 was tough and I suffered a lot and 2) I am not good at 5K's or short runs. I do much better at a marathon or 1/2 marathon, but this girl wasn't made for speed like our fellow SMACKANISTA, Morgan Gonzalez (pictured below in the pink top) or strength, like Sara Hendershot (showcasing her Olympic strength below).
It was so fun to feel relaxed and not even consider it a race. Matt and I didn't even pick up our bibs the day before because we never checked the web site for expo times, registration, wave start time, etc.  Instead, we played on the beach with our kids and didn't even lay out race essentials or prepare for it the morning of.  To our defense, the race was literally across the street so it was fun to wake up early, go rack our bikes in transition, say hello to good friends such as Julia Polloreno from Triathlete and Katya Meyers (who won the whole race for the women!), and then head back home to use the bathroom, apply sunblock and glide, kiss the kids (who spectated) and even put our wetsuits on at home.
How did your outlook change once the race was over?
It was just fun and I was relaxed and so happy to have had a good run on my home turf.  The run was great because it's a 2 loop 5K and you get to see all of your friends along the course.
Did you use any mantras or visual symbols when you raced?
I did. I wore my new Erica Sara Designs "Fierce" bracelet that I absolutely love.  I bought this after Vineman 70.3 because it was my mantra for the run when things got tough.  I love it because it's wearable jewelry and when things got tough, it was a nice reminder to be "fierce."  Aside from that, it looks badass when you're in a business meeting all dressed up and the person next to you sees "Fierce" on your wrist.
What is your favorite SMACK! Media product to use on race day?
My new SMACK! Race kit, designed by Kristin Mayer from Betty Designs. Kristin has an incredible sense of style and we get so many compliments on these kits.
What is your favorite SMACK! Media product to use for recovery?
There's too many to name honestly but top 3 are: 1) Osmo Nutrition Acute Recovery in a protein shake (yum!), 2) MarcPro which is just genius because all you have to do is sit there and the system does the work (great for post race naps or resting), and the TriggerPoint Hip and Lower Back Kit because I can target every muscle in different ways. There is so much education built into these tools.
How did you treat yourself afterwards?
We had a big family FlapJacked Protein Pancake morning, then I took a nap with Luke while I used the MarcPro and yes, later that night….a good stiff margarita. Cheers!
Would you enter a race last minute? Whether it is a triathlon like Eli and Sarah, tackling a last minute project at work or home, or taking off for a spontaneous vacation we encourage you to let go of the pressure, focus on doing your best, have fun and let the results take off!