SMACK! At The Races: Eli Returns To Vineman After 9 Years (Written by Eli Carlson)
My husband Matt and I took off for Santa Rosa, CA this past Friday to race the famous Vineman 70.3 Triathlon. Matt has raced this many times and after so many years of just running and battling some injuries, I figured, "Why not?" I recalled Vineman being my favorite half-Ironman race and decided that after a 9 year hiatus, it was time to give it a go. Here's how it went down:
4:15am – Wake up and pack some food in. Matt is all about bagels, bananas and peanut butter but I can't handle all of the carbs so I opted more for almond butter (you're not shocked, if you know me), some banana and an organic Bonk Breaker bar. We both also consumed our secret weapon, which is amazing for training in the in the heat or for hard efforts: Osmo PreLoad Hydration. THIS IS MAGIC so if you've never tried it before a hard workout or a race, I suggest you check it out. And yes, the body glide.  I did not have ONE single chafe after the race.
Matt and I pre-race. I am absolutely loving my Roka Wetsuit which is the best suit I have ever swam in, and I've tried a lot. The swim went pretty well and I managed to stay pretty straight. I had a bit of a longer transition than I wanted but I suppose that's the life of a born-again triathlete.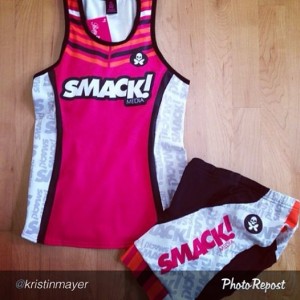 The bike course is gorgeous at Vineman with many rolling hills, some good flat sections, one huge hill and of course, the vineyards. It was a decent bike for me and it was fun to get comments on my SMACK! Kit. A lot of "Go SMACK!" or "Yeah, SMACK!" but my favorite was, "That's the best race kit I've seen all day!" Thank you, Betty Designs for such a kickass kit.
After a bit of chaos in transition (I went to the wrong rack – if you know me well, this doesn't shock you either), the run began and It. Was. Not. Good. My legs felt really heavy, my heart rate was way too high and I just didn't feel right. Be it the 90 degree weather, perhaps not enough calories on the bike or just because, it just wasn't my day for the run. My run highlights below:
Right at the mile 1 marker, I felt like hell: I went into the porta-potty, pee'd, wiped (I mean really, who wipes during a race – but I needed the time to collect myself), adjusted the hems on my shorts and told myself, "C'mon Eli, get your shit together!" I took off running and it was still pretty rough but my head was coming around.
Run through La Crema Winery: I always recall this being fun and different scenery but this time, I couldn't even focus on scenery. I was a bit disappointed with my run splits but again, I stayed positive at told myself to "Run Inspired" and "Be Fierce."
Every Aid Station: I walked them all and thanked the volunteers. I actually enjoyed this because everyone is so friendly and they truly make the race.
My favorite quote of the run: The volunteer at mile 10 said to me, "Cola?" My response with a chuckle was: "Sure, I'll try it. Might as well." At that point, anything would have been good.
FINISH: I stopped looking at my watch and despite a tough run, I was proud to finish 1 minute faster (5:55.20) than my 2005 time.
Of course another highlight is always reuniting with family and friends at the finish line:
With Matt and our friend Brooke who won her age group (25-29) and is headed to Worlds. She also received many great comments about her SMACK! Kit.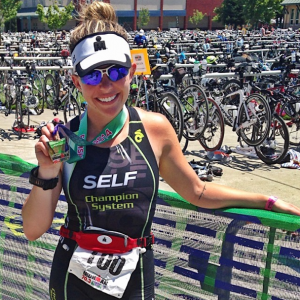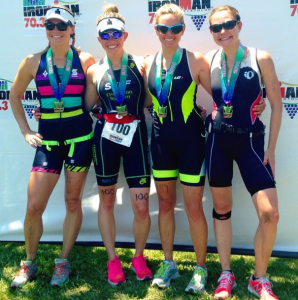 It was also fun to hug and celebrate with Jaclyn Emerick (top image and second from left in group picture) from SELF and Marissa Stephenson (far right in group picture) from Men's Journal, two good media friends that I am so proud of as they tacked their first ever Ironman 70.3.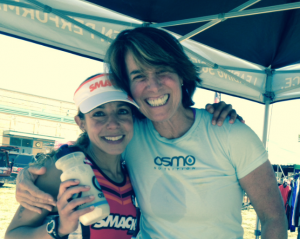 Then there was Lisa from Osmo Nutrition. The Osmo booth was not far from the finish and she greeted Matt, Brooke and I with ICE COLD Osmo Acute Recovery Protein Shakes. I had some time to catch up with the wonderful Emma-Kate Lidbury here as well who is terrific.
Post race: My TriggerPoint GRID Mini was perfect for the morning after, as was the MarcPro. Thank heaven for these because neither Matt nor I ever felt the DOMS kick in. These incredible recovery tools really did just 'suck the soreness out,' and it's why we're so happy about representing them.
The entire time throughout the run I thought, "Why the heck am I doing this?," but that very next morning, I thought….."That was not a fun run and typically I at least smile for part of the run. I've got unfinished business and will be back next year!"
Next up is NYC Marathon!