SMACK! Media Insider: SMACK! Talks Ironman, Alaska and Deployment with Dr. Andy Baldwin
After competing in the San Diego International Triathlon on Sunday (a good tune-up for her 1/2 Ironman next month), Eli had the opportunity to chat with the incredible Dr. Andy Baldwin, U.S. Navy Doc and a long-time a long time friend, about his amazing Ironman Couer D'Alene performance this past Sunday, and more important, his very unique preparation for it! He trained on a ship where he served as Senior Medical Officer.  Eli has known Andy for almost 10 years and they first met when he helped her with some ad campaigns at Zoot Sports.  This FINISH ad below perhaps is one of her favorites because Eli says, "the expression in Andy's face says it all!"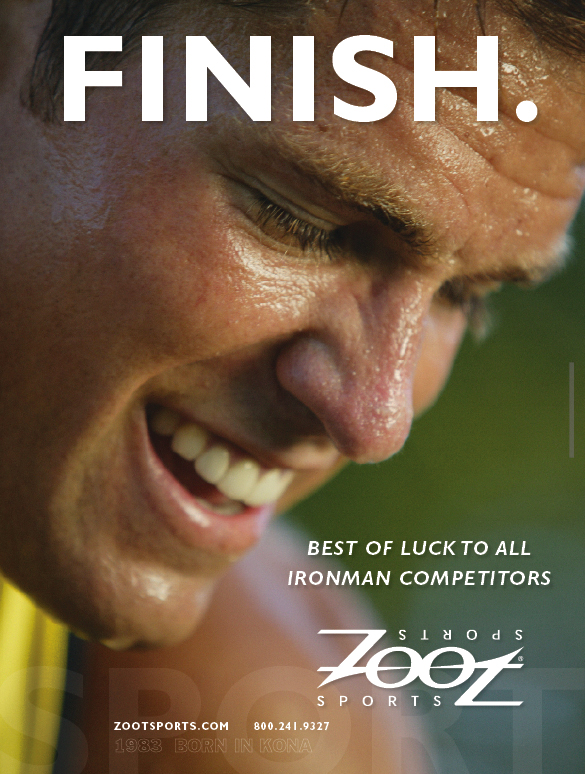 Eli jumped on the phone with Andy on Monday morning (the immediate morning after his race!), and below are some of the questions he answered for us:

How are you this morning?
Sore. I went for a stroll. I can never sleep very well after big races like this.
How do you feel about your performance at Ironman Couer D'Alene?
I'm super happy with my performance. (Finishing time 10:06 with a 3:43 marathon.)
Describe your Ironman Couer D'Alene experience.
The chop in the water was like a washing machine. The swim was a little tough with a strong onshore wind and it was tough to get into a rhythm headed to the turnaround. I'm a strong swimmer and still had a tough time with the swim, despite a 57 minute swim which I am pleased with.
I was very excited about my new wetsuit from Roka Sports (Eli just tried one too and she can't get enough of it) and loved that. They are definitely onto something with wetsuit technology and using real science in their testing. I tried to settle in on the first lap of the bike and focus a lot on hydration and nutrition. The one big hill on the course was tough. On the second lap of the bike, I started to drop the hammer a bit more and had some buddies that yelled at me, "you're biking like a beast," which gave me some good confidence! I loved the energy and cheering on the course.  I dreaded the marathon a bit but had focused on a lot of marathon pace training on the treadmill while on the ship. This race had one of the best crowds I've ever encountered. It was encouraging to see my girlfriend Natalie and my roommate, Zoltan along the course. And of course, it never gets old to run down the final stretch and hear Mike Reilly say, "you are an Ironman."  12th in my AG. It was certainly vindicating to hear that.
What made you decide to race Couer D'Alene and what was your training like?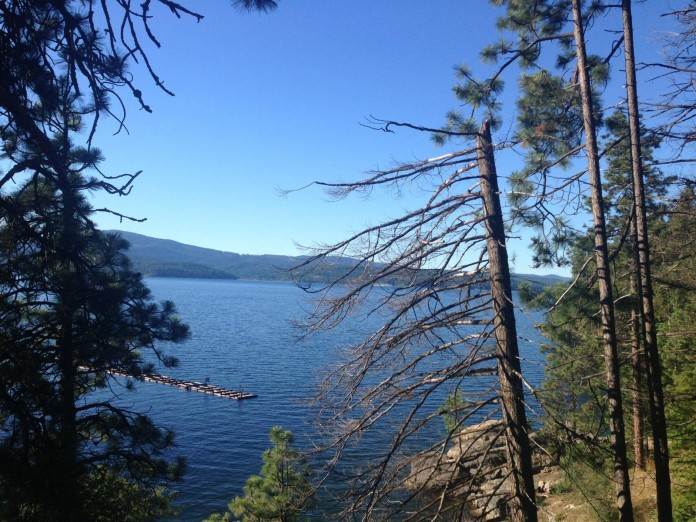 My last Ironman was in 2007, Kona, almost 7 years ago.  It had been too long without racing an Ironman and after racing 8 consecutive Ironmans, I wanted to try some new things–I did some ultra marathons, focused on work obligations and didn't have the drive inside me to train for another Ironman. Last year, I was trying to figure out when I could train for the full 140.6 and based on my deployment schedule (my next date is July), CDA seemed like an ideal time frame, but it presented a quandary because the majority of the last couple months I was out at sea preparing for the deployment. Could I train on a ship for an Ironman?  Who says you can't do that?  When there's a will, there's a way.  I ran the Boston Marathon in April and raced Oceanside 70.3 in March, which was a good wake-up call for the training I needed to do. Then I called up my buddy, Jimmy Riccitello, and asked for some basic workouts and received a bike trainer on the ship to put in my stateroom aboard the ship. I asked my room mate if he would mind if I rode for hours on end and he was really cool about it.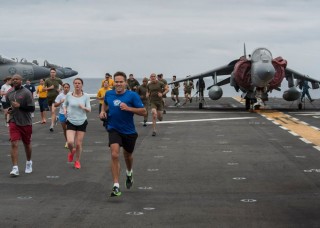 Photo via Triathlete Magazine
You can read more about my full Ironman training while aboard the USS Makin Island (LHD-8), an amphibious assault ship, and check out sample workouts (oh yes, 4 hours on the bike, without going anywhere!) in this interview with Triathlete Magazine.
That certainly is not a typical Ironman build-up! How did you stay motivated?
I took trip to Senegal end of May and tried to figured out how to get on a exercise bike and do some running. Between Jimmy helping me out and keeping me honest about following a program, I reconnected with friends in the past from San Diego (for example riding with Katya Meyers), and the more I got into it, the more my fitness improved–it was addictive.  It was fun to reconnect with the San Diego tri scene and stay in touch with them as encouragement towards my Ironman goal. I wanted to train and have a good performance and prove to myself that I could still finish in the mix of a competitive field while having fun. You know, not tri-geeking out and focusing on a healthy combination of enjoying the experience and putting in hard work.
And what does it feel like running and riding your bike on a ship at sea?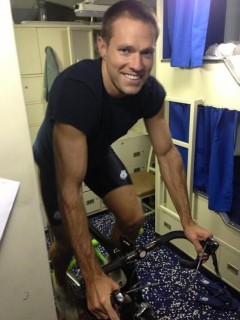 Photo via Triathlete Magazine
The ship is actually very structured and conducive to training.  There is no booze on the ship. (Enough said!)  I never really trained on a bike trainer before but I found it to be very efficient and as a result, I felt really powerful on race day. I know Andy Potts does a lot of training on his Computtrainer so there's definitely some merit in there.
What did you do to celebrate after the race?
We went out for a nice dinner afterwards, enjoyed some beers and cheered people on in late into the night. I smiled all day and all night thinking, "I've still got it in me!"
What did you have as a pre-race meal the night before the race?
Pizza! There's a local place in Couer D'Alene and It's so good I actually ate it 2 nights in a row.
Tell us about being on the Chocolate Milk Team. 
They helped get me into the race and I'm a big fan of Chocolate Milk and the people behind it. I drank 2 chocolate milks right at the finish line and appreciate their support so much.
What's your on course nutrition? 
I use an assortment of things. I like GU's Rocktane, and also ate CLIF BARs and Power Bars on the bike. I even took Red Bull a couple times on the run.
Any unique treat in your special needs bags?
Extra gels and bars but I was definitely craving hot dogs!
What's next? Do you have anything fun planned while you recover form your race?
I'm headed to Alaska later today. I've never been there and have always wanted to go, and I will do some kayaking and hiking with my girlfriend Natalie. Denali National Park is on my to-do list along with white water rafting and keeping it active. Hopefully I will see some moose and bears too!
What's next for you after Alaska?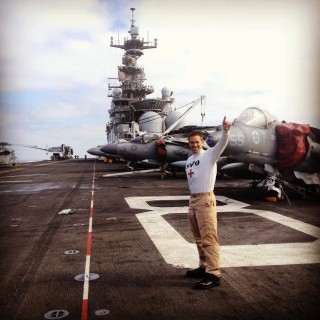 I'm getting deployed to the Arabian Gulf for about 7-9 months.
How does Natalie deal with it?
It's definitely hard to be away from friends and my girlfriend who I love very much, but luckily we can communicate with the technology these days.
Do you plan to do more tri-specific training while you're away?
I'll be running NYC Marathon again this year so will get back into more strength training and running focus.
Eli will be meeting up with Andy at the NYC Marathon as she has it on her schedule for later this fall as well. His advice to her?  "Do a lot of hill training!" We'll stay in touch with Andy and really admire how he carries himself as an physician, a serviceman, an athlete and most of all, a really caring individual. He has always been that way and had that "how may I help you" mentally. Congrats again, Andy!
To keep up with Andy's adventures, follow him on Twitter @drandybaldwin and Instagram: http://instagram.com/drandybaldwin