SMACKANISTA Sara Hendershot Navigates Her Way Towards The 2016 Olympics in Rio
Smooth sailing is not always the name of the game–on a boat nor in life. SMACKANISTA Sara Hendershot (2012 Olympian) is not only a pro at rowing, but she also rocks at navigating the waves as training, health, work and competitions move with the inevitable ebbs and flows that come with high performance. After battling serious injury last winter and making major coaching and location changes, Sara is finding her groove and setting her sights on, "Being Her Best Self" in hopes for a shot at the 2016 Rio Olympics. A constant source of inspiration on our SMACK! Media team, Sara tells us about the last race of her season and how she plans to navigate the waters between now and 2016!
Name of Race/Location:
Royal Canadian Henley Regatta in St. Catharines, Ontario, Canada
Type of event/distance:
All spring and summer racing for rowing is a 2,000 meter race. For this regatta, we had some of our races with a heat and final, and some with just a final.
Result:
Taylor (her rowing partner) and I entered the Senior Women's Pair, the Championship Women's Pair, and the Championship Women's Eight. We won gold in all three!
How did the race play out?
The week was pretty windy, and the final day of racing came with very choppy water as well. This slows down a rowing race quite a bit, and even a 5 mile per hour wind can slow down a race by 15-20 seconds over 2,000 meters. It is actually great to be able to get practice racing in choppy water and tough conditions, because often our most important races are like that! We tried to focus on having a very strong and offensive start and then shift towards making more technical focuses throughout the remainder of the race.
Current outlook and goals heading towards Rio 2016:
First and foremost, Taylor and I want to become the best possible version of ourselves. I believe the way that we are currently training will give us the best chance to reach our full potential in fitness, technique, and execution.  We are looking forward to making the Pair move fast with the goal of making the 2015 World Championship team.  
What SMACK! Media client products do you use in your pre and post-race race routine and how do you incorporate them?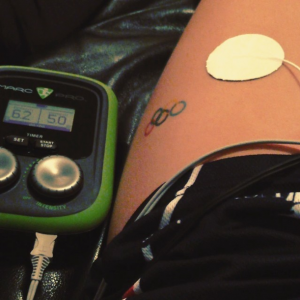 Two of my favorite products that I can't go anywhere without are the TriggerPoint GRID® and Marc Pro. They are a huge part of my post-race recovery routine, and this past week I was even using them during my warmup. They both offer great ways to isolate muscle groups that might need a longer warmup than the rest of your body.
What's next after this race? Do you get a break? (From training, competition and diet?)
Usually while I am training and racing, I am pretty strict with my diet and hydration. Taylor and I have about three weeks of downtime coming up, so I'm allowing myself to eat whatever I'd like for one whole week! Yesterday I had a McFlurry…shhh, don't tell my coaches!
Outside racing did you see or do anything fun or noteworthy in Canada?
We got to visit Niagara Falls on a day in between races while we were up in Canada. It was amazing to see!
When is your next race?
We are hoping to race in Head of the Charles this upcoming October in Boston, MA.
You suffered some major injuries earlier this year—what do you do daily to maintain health and how did your mental outlook change or focus to stay in the game when things got tough?
The biggest lesson that I have learned since facing a major injury last year (even walking and sitting hurt!) is that you have to identify and alter the root of the problem if you want to see real change in your health and performance. My hip injury was coming mostly from biomechanics, and this is usually the case when people get injured. Instead of just relying on time to heal and physical therapy sessions to get me pain free, I have made a huge effort to actually change the way I move and the position I row in. Moving and competing, even at a high level, shouldn't hurt if you're allowing your body work the way it was designed to function. When something hurts, instead of continuing to do the same motion and hoping it goes away, I now make a body position change.
I was very close to retiring this winter when I wasn't making any progress in my health. I feel so lucky to be working with my new coaches Brian and Erin and the whole team at Athlete Cell, because they have given me a second chance at rowing!
How does your competitive drive and dedication carry over into your work at SMACK! Media?
I find that my rowing training is very similar to the work I do with SMACK! I believe that perseverance is the most important quality in reaching success, and I try to bring that perspective to SMACK! When something doesn't work in rowing, I alter my perspective and try a different route of attack. The same goes for our desire to get our clients great PR!
We wish Sara a very relaxing break from training and can't wait to see what the future holds for this superstar!