Something Is In The Water! Osmo Nutrition Makes a Media Splash With Science-Based Gender Specific Formulas
Every athlete knows that hydration is an essential part of their nutrition and performance game plan. However, until recently, nearly all research studies had been conducted on males, leaving women (with their own unique physiology and nutritional needs) left to drink formulas silently created for guys.
Enter Stacy Sims, PhD. This former pro cyclist, Ironman and XTERRA World Championships Qualifier based her career on one word: WHY?.  As Dr. Sims tells us, "As a female athlete, I was always given training/nutrition/recovery information based on science, but the science was always from a population of 18-20 year old college-aged males. Until the 1980's, it was widely assumed that the physiological responses to exercise did not truly differ between men and women; thus all the training, nutrition, recovery schedules I've seen, (and for the most part still exist), are recommendations that have been generalized to women- without really questioning if this direct transfer was viable. Since the 1980's very few studies really consider true sex differences; because of the menstrual cycle, women have been deemed "too difficult" to include or they are included when they are "most like men" (when estrogen and progesterone levels are lowest).
So as an athlete, I began to ask "WHY?" Why did women have less heat tolerance when they were just about to have their period? Why did my female crew teammates recover less quickly than the guys after a heavy intense workout? Why does it seem harder for women to "lean up" when following the same advice as their age and fitness matched male counterparts? And why are we women supposed to follow the same nutritional guidelines as men, especially when it comes to training, racing, and recovery nutrition?  Utilizing her background as a exercise physiologist and nutrition scientist alongside research performed at the Stanford Prevention Research Center, Dr. Sims co-founded Osmo Nutrition.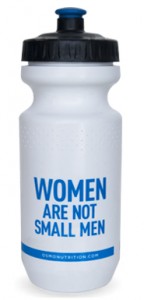 Osmo's science-based formulas now have a mainstream place in the fitness and athletic world where men and women alike trust a company that recognizes and creates products geared towards specific athletes. The media has taken note as well and we are pleased to share the latest press highlighting the products, expertise and unconventional story that Osmo offers.
Meet Stacy Sims, PhD: LAVA Magazine goes in-depth with the Osmo co-founder. Find out where her passion for creating performance drink mixes stems and why she is a Super Mom!
Drink Like a Lady: Women's Health takes a cue from Sims and educates its readers with the science behind female hydration alongside practical tips.
Your Legs Will Say Wow! Bicycling Magazine testers used Osmo Acute Recovery for Women after a 5,000 foot climb and found their legs felt noticeably more recovered the next day! Oh, and it tastes great too!
No sketchy sugars or artificial flavorings: Oxygen.com loves Osmo Active Hydration as a smart alternative to store-bought sports drinks that fall short nutritionally and in terms of quality ingredients.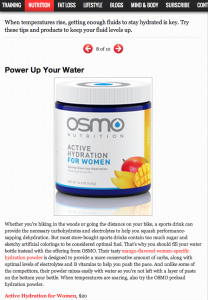 Say, "Yes!" To Fats: Sims shares the slimming science behind healthy fats and what foods they are found in with Dr. Oz Magazine.
Osmo comes in 3 formulas, Pre-Load, Active Hydration and Acute Recovery for both men and women and they are about to launch Osmo for Kids as after all, Children are not small adults. Learn more about Dr. Sims and Osmo here: http://osmonutrition.com