24 Things You Probably Don't Know About Ironman Champion Mirinda Carfrae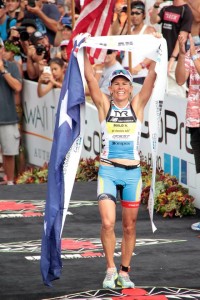 We're blown away, but not surprised, by Mirinda ("Rinny") Carfrae's performance at the Ironman World Championships last weekend. At 33 years old, Rinny captured her third Ironman World Championship title, and impressed us all (and herself!) with her usual "come from behind and hunt them down" style win after starting the marathon with a 14 minute deficit. Rather than make this post about her race or some of the things you may already know about Rinny, we decided to have some fun and ask her questions that you may not already know the answers to.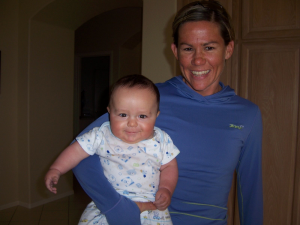 We'll tell you upfront that one things we love and admire about Rinny (and her husband Tim), is that they are grounded, well-rounded and still "have lives" outside of triathlon. Eli learned this upon her first week of meeting Rinny when she had a work commitment and Rinny had no problem saying, "I'll stay home and watch the baby!" She was the best babysitter (pictured with Andrew above), which isn't a shocker as Rinny comes from a large family. Since then, Andrew (now 6), is a huge fan of watching Rinny race and the day of the Ironman, he was yelling loudly at the TV with us, "Go Rinny Go! GO WHEELS GO!" ("Wheels" is what the Carlson's call Rinny.) So here goes, 24 things you may not know about The Champ, Rinny, below: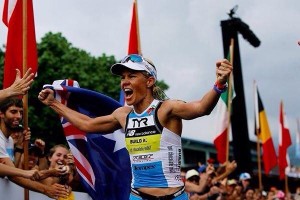 You are a really fast runner – did you ever run in high school or college?
Not really, I didn't see the point in running and definitely preferred other team sports. I was a decent runner though and was always roped into racing cross country for my school (which I did in my basketball shoes).
What was the first triathlon race you ever did?
My first race was a super sprint just north of Brisbane when I was 18. It was a 300m swim, 10k bike and a3k run.
What did you wear during the swim, bike and run and what kind of bike did you ride?
I wore a 2 piece pink bikini and my bike was a blue and black Norco with shimano 105 gearing. I have no idea if they make those bikes anymore.
When did you turn pro to race ITU?
I was put into the Junior Elite Program immediately after my first race and I never really raced age group. I think my first ITU race was in 2003.
You are sponsored by GU. What is your favorite flavor GU? And do you vary your flavors when you race or do you have all one flavor?
My favorite flavor changes all of the time but I always use Pineapple Roctane and Chocolate GU during ironman races. Those are my two go-to flavors.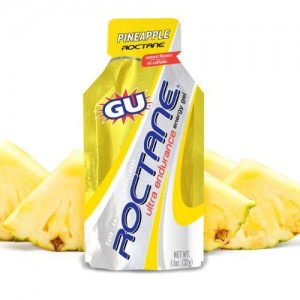 How many hours of sleep do you get per night, average. Do you nap? Any secrets to a good night sleep? Any pre-bedtime rituals?
I sleep about 7-10 hours per night and if I have an early session, I usually take a 1-2 hour nap, so I try to get about 9-10 hours of sleep per day. I also have some pretty cool sheets I use that were developed for athletes, by athletes, called SHEEX. Aside from that, I have no secrets. I've been a great sleeper since I was a baby.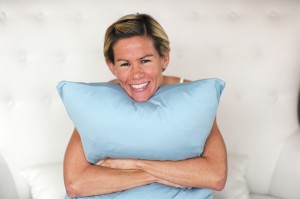 What did you have for breakfast the morning of the Ironman World Championships?
I ate gluten free toast with butter and jam and nibbled on a Peanut Butter and Chocolate Bonk Breaker bar.
Did you have a race mantra this year? Something that you kept on telling yourself? What was that?
I didn't have a specific race mantra or saying but did have a constant thought to be patient. I told myself that it was very important to get in my fluids and nutrition and to just be patient.
How many siblings do you have?
Five.
Do they race triathlon?
No.
What is one of your favorite workouts to do?
I love a good build run on the treadmill.
What book are you reading right now?
Running With The Mind of Meditation
What 3 songs get you pumped up right now?
Sia – Chandelier
Pink – So What
Taylor Swift – Shake It Off
What kind of car do you drive?
We have two. Our little Audi TTS and an Audi All-Road wagon which is great for bikes and toys.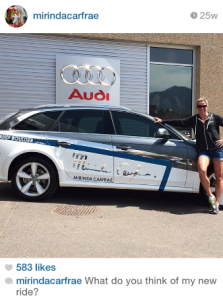 What's your go-to breakfast at home before a workout?
A Bonk Breaker bar. If you haven't tried Peanut Butter Chocolate Chip, that's my favorite.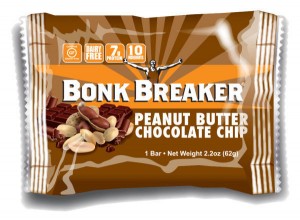 What did you eat after the race?
My stomach was pretty upset so I couldn't eat much immediately after, although a chocolate milkshake went down nicely. Later than night, I had a burger, fries and a BIG margarita. (No wonder, Rinny and Eli get along – margaritas all around.)
Is there anything you give up the week before the race? Coffee? Alcohol?
You guessed it. I give up alcohol and ice cream for 5 – 8 weeks before Kona. I rarely drink caffeine.
You're in Boston right now. What will you be doing out there?
I was at Sarah Groff's and Ben True's wedding last night and I'll be spending Monday at the New Balance headquarters.
You went to Maui right after Kona. What was your go-to poolside cocktail?
A maui mule. I highly recommend.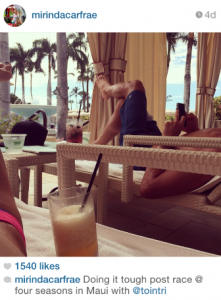 You live in Boulder. What's your favorite place to eat there?
I love just about anything at Pizzeria Locale.
How do you deal with winter training?
I travel to a warmer place such as Arizona or Australia.
Describe a relaxing day in the off season when you're not training.
I like to sleep in then Tim and enjoy going out for breakfast and mimosas with friends. I'll chill for most of the day then have dinner and drinks with the Boulder triathletes who are also on offseason.. I'll admit – it can get messy!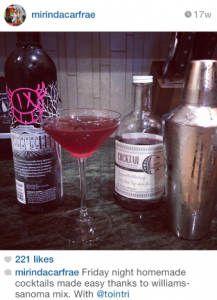 Do you practice yoga or meditation at all? If so, what kind?
Nope. Not of that at the moment. I am not so great at stretching either.
What's your favorite race destination and why?
I love the triathlon in Phuket Thailand. The massages on the beach are heavenly and the drinks are cheap. The post race party is also amazing.
We love that Rinny is an ALL-OUT girl. She knows how to train and race at 100% or more, but also loves life and takes her off-season seriously. Family and friends are a priority for her and this sense of balance might just be why she's a repeat champion, not only in triathlon, but in life.