Sasha Diguilian Knows No Limits: Meet The Incredible Woman Taking The Sport of Rock Climbing To New Heights!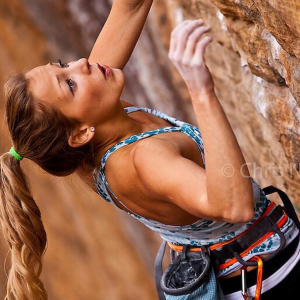 Sasha Diguilian is taking what it means to be a professional athlete to new heights. This record setting climber (she just became the first woman, and one of only three people ever, to ascent Viaje de los Locos in Sardinia, Italy–can you say badassery?) is also a double major a Columbia University, world traveler, gourmet homemade snack bar chef and a down to earth friend who still makes time to enjoy a normal college life with her friends in NYC. Her pictures on Instagram regularly take our breath away, and the opportunity to interview Sasha came with no shortage of questions (yes, we really want to know how she goes to the bathroom during a long climb!) Warning: Reading about Sasha may just have you scouting out your nearest climbing gym or taking on that big adventure you have always dreamed of tackling. We say GO FOR IT!
How did you get into rock climbing?
I started rock climbing after my brother's birthday party at a local climbing gym when I was six!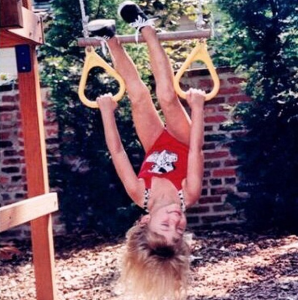 You tweet about your travels all over the world (and give all of us a bit of wanderlust envy). Where have your most notable trips taken you this year?
This year I am most proud of my trip to Sardinia, Italy. I went there this past August. I was attempting to climb one of the hardest climbs that I have ever tried before: a one thousand foot multi pitch (several rope lengths) climb that had never been done by a female and only accomplished by two men about a decade ago. This place was the ultimate paradise to visit, and it was a trip that completely tested my comfort zone. I was uncertain about success, and it was not until the last day there that all the pieces came together and we completed the route!
What is the most incredible place you have traveled?
I absolutely love South Africa and I cannot wait to return! Though, I feel like I am really fortunate to have traveled to many incredible places, so it is hard to pick a favorite.
As a team of PR Pros who are also top-level athletes, SMACK! Media is all about living a balanced, healthy and productive life. You are a full-time student at Columbia as well as a professional rock climber (quite the roll model), how do you balance both endeavors?
Time management is the key to balancing a professional career with school. There are times when I feel really stressed about time due to traveling and or commitments, but for me what really works well is creating lists and prioritizing. It is important to be around people that understand your schedule, too.
What is your major/area of study?
I am studying Nonfiction Writing and Business at Columbia.
So much of climbing relies on being "in the moment" how do you think and react in the following situations:
When hunger or thirst strikes in the middle of an ascent. Do you have go-to items, try to ignore, pre-load?
I love trail mixes, nut butters, honey, and my home made bars!
She sent a batch of her homemade bars to Eli with a personal note–check out how delicious and healthy they look:
When you get scared or stuck in a difficult section how do you move forward?
Fixate on the next step.
Do you ever have to go to the bathroom during a climb? (Yes, we are curious thanks to our own in-sport bathroom experiences!)
Good question. Yep, if you're on the wall for an entire day, of course. Harnesses are actually engineered in the way that you actually can still go to the bathroom while wearing the harness hanging, and if there is not a steep wall that you are hanging from, you can generally venture to the side of a ledge.
How do you recover and recharge between climbs?
I use a roller and massage my forearms to help speed the "pump recovery," and I also make an effort to stay hydrated.
How do you mentally prepare for a big climb or competition?
A lot of climbing comes down to a positive mental game. If you don't believe that you can do something, the chances are substantially less in your favor.
When you are not climbing or studying you can be found:
In NYC hanging out with friends exploring the City (like seeing a Broadway Show, pictured below). Or, hiking, swimming, or skiing.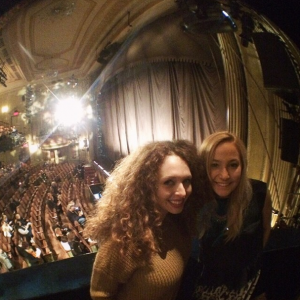 What's the one piece of advice you'd give to someone wanting to try climbing or get into the sport?
Go to a local climbing gym and learn the fundamentals of the sport, mainly by just bouldering or by taking a class to learn how to climb on a rope. For the first two years, especially, the best way to progress and learn about the sport is by simply doing it!
We are continually inspired by Sasha to go after our dreams, face our fears and believe in unlimited possibilities! Give her a follow on Instagram (Sashadiguilian) and Twitter (@sashadiguilian) for a mega SMACK! of positive energy and amazing pictures!