10 Things We Are Smiling About This Week!
Just because it's Friday, doesn't mean you necessarily want to forget about the week behind you–especially if it was filled with goodness! Here are 10 things we are grateful for this week that have us grinning from ear to ear as we unwind into the weekend!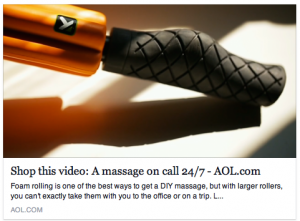 1. Trigger Point on AOL: A Massage On Call 24-7
Athletes have been using Trigger Point to stay healthy and improve performance for years, so we love seeing products like the GRID STK being positioned for people who work in front of their computers at a desk! Read the full feature here.
2. Natasha Is Racing The Pan American Cross-Country Cup In Colombia This Weekend
We will be cheering for Natasha and Team Canada this weekend as they compete amongst the best cross-country (think trails, grass, mud and obstacles) runners from North and South America in Colombia.
3. Osmo's Stacy Sims, Ph.D. Shares Her Top Superfoods With Women's Health
When it comes to food and performance nutrition for sports, Dr. Stacy Sims knows her stuff! We will be adding more ginger, tart cherries and pistachios into our diets asap!
4. Speaking Of Healthy Changes–What's The Best Position To Sleep In?
We love this cool infographic that Sara uncovered that has us all thinking about testing out sleeping on our backs to prevent back/neck pain, reduce acid reflux and minimize wrinkles.
5. How To Not Be A Weather Wimp
We have all heard about the east coast "snowpocolypse" and deep freeze, but true champions don't whine about the weather–they adapt! Joanna put this into practice this week as she and her teammates hammered out their speed session on the track surrounded by snow!
6. currexSole Signs Pro Marathoner Becky Wade
Becky heard about currexSole through Morgan last summer while living across the street from her in Mammoth Lakes to take advantage of the altitude training at 8,000ft. She suffered a knee injury later that fall and tried the RUNPRO insoles and fell in love. Today she is healthy and aiming for the U.S. Marathon National Championships held at the ASICS LA Marathon next month!
7. currexSole Featured In Running Insight 2015 Insole Round Up
Armed with latest biomechanical science, the top awarded insole in Europe is looking to make a big splash in the U.S. retail market this year.
8. SMACK! Media Clients Featured On FOX News Chicago
Celebrity Trainer Andrea Metcalf included the Perfect Fitness Ab Carver Pro and Rip Deck, Red Fox Wireless EDGE Headphones and our good friends at SHEEX in her Valentine's Day Fitness For Couples segment. We love this as we live by the motto, "The couple that sweats together, stays together!"
9. It's All About Perspective
This week the SMACKANISTAS were on an inspirational Instagram roll. Did you know that when you share your goals and apply positive thinking you are more likely to achieve them? Plus, it shares the good energy with everyone around you!
10. Making A Difference
We believe in health and happiness as essentials to living a positive and fulfilling life. That's why it was so rewarding to receive the following message from a close media contact this week:
What made you smile this week? We encourage you to not rush through your day, but to take a few moments to reflect on the things that you accomplished, the moments that got you pumped up and  to celebrate how every day is an opportunity to make a difference in all aspects of life. Enjoy the weekend and treat yourself!