Balancing Act: How the SMACKANISTAS Juggle Work, Sports and Social Life at Full Tilt
A typical week for the SMACKANISTAS is multi-dimensional, much like the constantly evolving field of PR and Marketing–it's not always easy but positive attitudes, challenging work projects, a strong team dynamic and of course, passion (#smackwithpassion) allow us all to balance our fast-paced and demanding work goals with our own personal lives and athletic pursuits.
NYC Event: SMACK! Media recently hosted an Aura Cacia DIY Aromatherapy event in NYC which was attended by our friends in the media including Bryce Gruber from TheLuxurySpot.com, Mallory Creveling from Family Circle, Ariba Albi from SELF and Jamie McKillop from Well & Good NYC. The evening included 4 DIY aromatherapy stations (soothing foot soak, hand gel, face tonic and body butter), Chiapolitan cocktails, , incredible food (including lobster!) and amazing Aura Cacia goody bags, all held at the Tribeca-based gorgeous, organic and "living" event space called Bouley Botanical.
In The Press: Old fashioned press, especially print, is still a major priority. This month we have Clean Energy Patch in Women's Running, Zamst in Gear Patrol (feature here), TriggerPoint in Better Homes and Gardens and a currex MOTIONQUEST feature in Running Insight (article here) among others.
Contributing Writer: Morgan shares her running shoe expertise (she worked at a specialty running store for 2 years) with Livestrong.com. Read the full article here.
Family Time: Eli celebrates the kickoff to summer in her brand new pool with her family–remember loved ones and happiness are essential to this life. Cannonball!
Learning The Trade: In addition to learning the ropes in the field of PR, our intern Nicole is also a production assistant for the Golf Channel where she assists the on air crew for various LPGA events.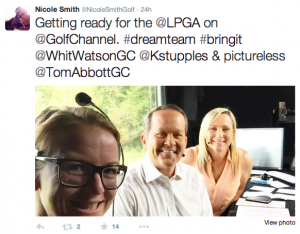 Making Moves: Sara recently made a cross country move to Boston in pursuit of an ideal training set up for her rowing career and Olympic bid. Change is never easy, but champions are willing to tackle them head on and use them to elevate their performance and character. Go Sara! (Watch Sara's killer cardio session here. It'll make your legs burn!)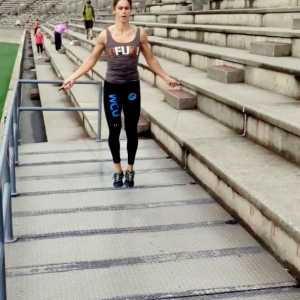 Ready To Race: Natasha, Morgan and Joanna will all travel to Portland this weekend to compete in the Portland Track Festival. This will mark the first time all three of these track-focused ladies are entered in the same meet and we can't wait to watch the action online at Flotrack. Morgan will race the 5K (8:50 pm) and Natasha will race the 10K (9:10 pm) on Saturday night, while Joanna is entered in the steeplechase (6:10 pm) on Sunday.
So, are you ready to keep up? Catch us if you can! Rather than look at our to-do list and goals and feel overwhelmed, we like to focus on the excitement and joy behind a challenge. This week we encourage you to tackle tasks one at a time, don't be afraid to ask for help and be sure to make time for family, fitness and fun! And do it with PASSION! It's a winning recipe for the SMACKANISTAS and we hope it can make a difference in your week too!