National Foam Rolling Day
Happy National Foam Rolling Day!
You've probably seen them at the gym – people rolling around on the floor atop top long foam tubes. Foam rollers provide a simple and effective way to release tension, relax, and unload painful trigger points that develop in stressed out muscles.
Since most of us don't have a professional masseuse on-call, self-massage with a foam roller is the next best thing for relieving tension and relaxing the body. The benefits of foam rolling far outweigh the time commitment and cost. Most people can start to feel results of foam rolling with just about 10 to 15 minutes per day.
The type of foam roller you purchase will depend on your goals, and TriggerPoint is a company that offers a variety of long-lasting and high quality foam rollers and self-care tools, complete with step by step education for how to use them. For deep muscle foam rolling, choose a firm hollow core roller such as the GRID X from TriggerPoint.
Best of all, EVERYONE can benefit from foam rolling ANYWHERE! Read on for more foam rolling inspiration:
Olympian Deena Kastor's healthy pre-run choices influence her daughter Piper to prime her muscles for recess!
Giada shows anyone with work related tightness and tension that the foam roller is the ideal way to stretch your back and unwind.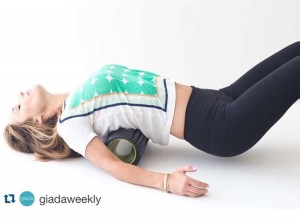 Fitness trainers and enthusiasts like Lisa Reed and Fit Kitty Vivy know that the foam roller is a great way to warm up and cool down from a workout.
The foam roller can be your personal track side masseuse as shown by Irish steeplechaser David Flynn while his Mammoth Track Club teammates fly around the track! The GRID STK also doubles as a relay baton as demonstrated by Joanna.
Kids and dogs naturally find foam rolling entertaining–Eli's son Luke and Morgan's puppies all think they are toys!
Stephanie is not a kid nor a dog, but she sure knows how to make foam rolling fun so she doesn't miss a beat during her track training.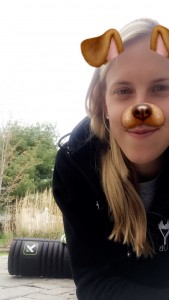 Natasha seamlessly massages her calves between workouts and work calls to keep her muscles refreshed and healthy.
Being a model like Sergio is more than just being ridiculous good looking–he foam rolls to keep his assets healthy and ready to shine in front of the camera.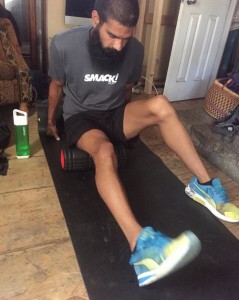 Take your foam roller along on your next camping trip, as Morgan does, to ensure you feel great for every single adventure!
Self-care is an important part of maximizing wellness and health. Adopting a foam rolling routine is a simple way to start on a path that leads to a looser, healthier, happier and more relaxed body and mind!