Emmy Winning TODAY Show Contributor Katie Linendoll Talks Running And Makes No Excuses For Fitness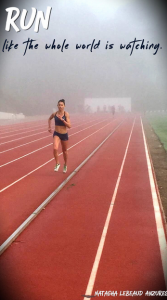 In the midst of the track season, with a focus pointed towards Rio, Natasha had the opportunity to sit down for a podcast interview with Today Show and Fox News tech contributor Katie Linendoll. The two discuss the #RoadToRio and had so much fun talking training and workouts that Natasha even contributed a 3-week running program to Katie's blog. It is truly inspiring and we encourage you to give it a listen here!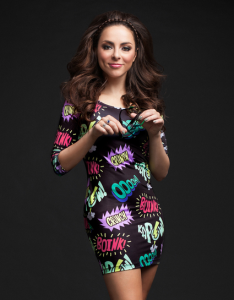 We were also thrilled when Katie gave us the green light to turn the tables and chat with her about career, gadgets, running, her WWE obsession and the Batcole Foundation. (Plus who can resist her adorable tongue and cheek cartoon fashion style?)
How did you get into the gadget world and TV?
I have been fascinated with technology since I was very young. I always had my hands on the latest gadgets and was intrigued with the inner workings of a computer. I earned networking certifications in high school and a degree in IT New Media from the Rochester Institute of Technology. While I was a student I was already working behind the scenes and on camera for a university station with a sports show called "SportsZone" that aired on ESPN2. After graduation, I directly went to work at ESPN headquarters. I worked behind the scenes as a production assistant and as a national event marketing coordinator before going back on-air.
Katie is pictured after reviewing Summer Gadgets on The View.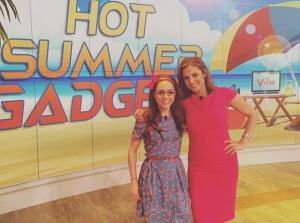 How did you get into running?  What's your greatest running accomplishment?  Whats' your favorite race?  
I have always enjoyed running! I always wanted to move ahead and in my mind it just got me from point A to point B faster. My favorite race of all time was probably the Presque Isle Half Marathon in my hometown Erie, PA. I think I was just 17 years old the first time that I ran it. I grew up in Erie, PA and this was my first half marathon. It was beautiful to run around Lake Erie and I felt so accomplished. I held on to that race longsleeve for like 10 years!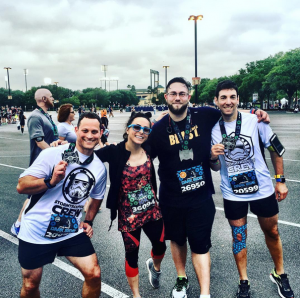 What other workouts do you do?
I am consistent with cardio and strength workouts and also private gymnastic classes.
How do stay in shape when you travel?  Do you like to work out by yourself or with others?
I like to say no excuses. I am usually on the road for 250+ days out of year. Even though it feels like every minute of my day is scheduled, I always find time to work out. On the road I always look for hotels with a gym–even if I'm getting in at a late hour. But, my ideal work-out location is the outdoors. Last week, my "gym" was the sandy shores of Tulum Mexico (it was extremely hot)! This week I discovered some new neighborhoods while visiting my family in Boston. I like to think that some of my best adventures and sight seeing is done on foot!
And why the fascination with wrestling?
I have been a fan of wrestling for my entire life! In grade school, I would make my parents take me to the shows and I would spend hours making elaborate signs. I spent my allowance on WWE music tapes, magazines and anytime the ice cream truck came around I always got the WWE ice cream bar — hoping for a good character trading card, which came inside. Decades later things have not changed much. I am still as enthusiastic as ever, and it's been like a childhood dream covering WWE for outlets like Sports Illustrated and co-hosting a wrestling podcast with my good buddy Sam Roberts. I think the drama, athleticism and entertainment factor is what keeps me hooked.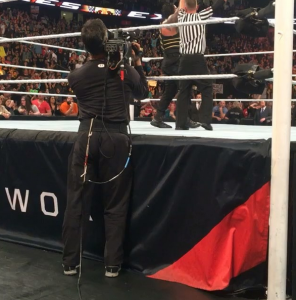 What is your favorite post run treat or what are 3  foods that you eat frequently?
After visiting with a food scientist I totally changed the way I eat. I've been working off a strict matrix for the past 8 months! Its too complicated to try to even explain in a few sentences. However, my mantra is to stay 80% healthy and 20% fair game. I still snack and eat crappy foods once in a while and I like to justify that by how much I work out!
What's your favorite drink?
Water with lemon and an iced double espresso from Starbucks!
We have to ask…wearable?  Which one and why?  Headphones?  Which one and why?
Apple watch all the way! I'm all about the data and like to track my distance, time per mile, splits, etc.
Headphones – hands down for years my Jam Fusion Bluetooth headphones. They don't even make the model anymore so I made sure to scoop up like 5 pairs.
Pete Peeve?
People that go on the machine next to me at the gym when there are 400 wide open units. Not cool.
Batcole Foundation – tell us more.
After volunteering for several years for a pediatric cancer non-profit, I have been blessed to spend time with so many awesome kids! We go to movies, fun dinner, shows, etc and I LOVE bringing them gadgets!!
I was really taken back by one of my favorite little boys passing away last July. Fortunately, I got to surprise him in Disney at Star Wars Weekend where he said "I'm C3PO and you're R2-D2." He was my little tech bestie.
I now sit on the board for his foundation (bitter sweet) and am running a huge media campaign during pediatric cancer awareness month (September) with several sponsors. We are proud to say we have no overhead and are funding new cancer trials – something that kept Cole alive and happy for an extra many years. I collaborate with his parents and sister, Lauren, on the foundation. There is nothing that changes your life more than spending time on the pediatric cancer floor of the hospital. It will shake you up, make you appreciate the important things in life.
Advice to publicists, companies and PR firms when pitching you?
Short and sweet emails. Please personalized emails with a few sentences on the product and an image. If I like it, I will immediately respond for testing.
We love Katie's segments on TV, her witty social media content and more than anything her 'no excuse' philosophy to maintain good health and fitness no matter where her adventures take her. To keep up with Katie, follow her on Twitter @KatieLinendoll, Instagram @Katielinendoll and visit her website.