This week we want to challenge you to think far outside the box! Whether it's how you spend your free time, the way you tackle something new, changing the way you motivate yourself to do something difficult or how you generate new ideas, we hope these creative insights will inspire you to new heights!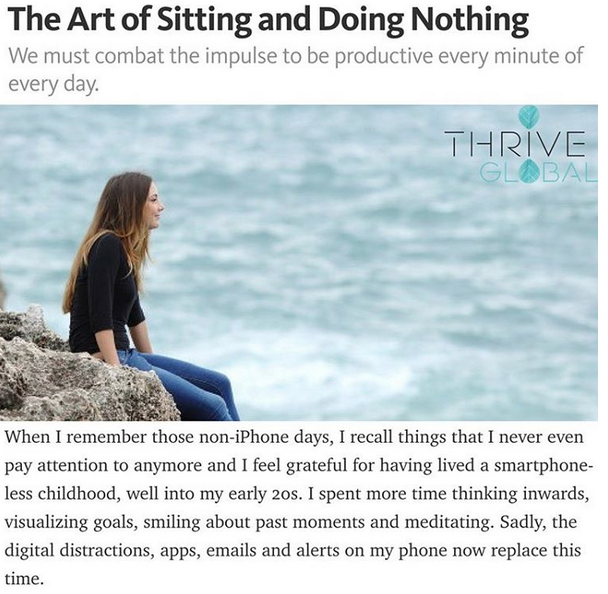 Do nothing. Yeah, we said do nothing. Are you scratching your head yet? Eli's latest article for Thrive Global, "The Lost Art Of Doing Nothing," is an important wake up call in the age of mobile devices. She writes, "When I remember those non-iPhone days, I recall things that I never even pay attention to anymore and I feel grateful for having lived a smartphone-less childhood. I spent more time thinking inwards, visualizing goals, smiling about past moments and meditating. Sadly, the digital distractions, apps, emails and alerts on my phone now replace this time." We challenge you to try it–the brain uses this quiet mode of processing for "self-awareness and reflection, recalling personal memories, imagining the future, feeling emotions about the psychological impact of social situations on other people, and constructing moral judgments."
Be a rookie! Don't call it beginners luck–nearly half the women on the podiums of U.S. Trail National Championships in 2016 (sub-ultra distances) were new to the sport (including Morgan who placed 6th at the Trail Half Marathon and 10th at the Trail Marathon Championships).  Sure, many of them were transplants from track and road racing, but the technical nature of elite trail races comes with a completely different set of challenges. Morgan interviewed the rookies and the pros for REI Trail Run Project providing an exciting look at how this may shape the future of women's trail racing. Bottom line: Don't be afraid to try something new and never doubt your abilities. The first step might take you farther than you think!
Resist the snooze button. Dark mornings, shorter days and cold temperatures can make training through the winter tough even for the pros. Runner's World interviewed some of the best runners in the U.S. and they unanimously agree–you will never regret getting out of bed for a run or workout. Their secrets? Stephanie recommends a coffee maker with an auto-timer for morning motivation along with embracing the treadmill. Olympic medalist Deena Kastor takes on a playful approach, "It can be rewarding to put Yaktrax on your shoes and venture out in the packed snow. You can be running in the same place yet a fresh slamming of snow makes it look like a new environment. Your pace may be compromised, but getting out there and enjoying the elements is very rewarding and so beautiful."
Sweatworking and face to face relationships. We use the term sweatworking at SMACK! Media often because it is so powerful and effective! Moving in the great outdoors can generate some of our best thoughts and sharing this time with people we work with can be a catalyst for new ideas and set the tone for productivity. Last month, we attended the Winter OR Show (which included an amazing Nepalese dinner with Melissa Arnot hosted by tasc Performance pictured above) where we enjoyed some quality face time with Brooks Young (tasc's Head of Marketing) and a fun group of media personalities.  After the showed Eli, Morgan and Sara stayed to ski at Solitude Ski Resort and conjure up big picture ideas for our clients and SMACK! Media (we were also joined by FINIS' Head of Marketing and Sales Jill Dahle). We left Utah energized and ready to kick our goals into high gear.
Do you think you can hang? Remember, our first tip is to simply DO NOTHING! We promise that the balance of chill time, trying something new, resisting the snooze button, spending quality time face-to-face and working out with others will leave you with a sense of calm, energy, positivity and gratitude that will set the tone for you to have an awesome week!