Happy Holidays! For many of us this time of year signals a welcome time to wind-down, recover, indulge and spend extra time with loved ones (and doing the activities we love.) For the more spartan among us, the holidays signal a big flashing road block that stands in the way of our health and fitness routine. As Olympic Gold medalist in the discus Mac Wilkins put it, "I hate Christmas, Thanksgiving and Easter–anything that breaks my training routine!" (Ba-humbug dude!) It's healthy to slightly deviate from rigid fitness and nutrition structure to fully embrace the the "seasonal spirit," but don't go overboard! Below are a few simple tweaks you can apply to your festive practices to ensure that you head into 2017 feeling healthy, happy and ready to tackle new fitness goals!
Try a meal plan. Let's face it, no one wants to start a diet during the holidays. But in between those massive family feasts is a great time to try a delicious and convenient meal delivery that makes healthy and quick meals a no brainer. NY Mag reviewed TryFuel, the only meal delivery company that personalizes your nutritional needs based on your genetics, body markets, fitness goals and lifestyle. Think of a nutrition blueprint for your body! Backed by an MD, a food scientist and accomplished chef, these organic meals arrive ready to eat (just microwave for 3 minutes) and offer a variety that includes paleo and low fat options. Six meal plans start at $69.99. Visit http://tryfuel.com/ for more information. 
Take on a new activity. If hitting the treadmill and following your stringent workout plan doesn't exactly sound "fun" and bring you holiday cheer, use the winter season to try something new or different. It may sound crazy, but Morgan likes to get out for runs in the snow, "You have to move a lot slower, but each step feels like play and it's actually a really tough workout!" Other fun winter workout alternatives include skiing (total quad burner), ice skating (work on that balance) and even going for a simple family walk. Simply getting outside at some point in the day is proven to boost your mood!
Set your alarm–early! We're all guilty – if you hit snooze more than once, that workout is probably not going to happen. Aside from running SMACK, Eli is a mom of two, and whether it's a weekend filled with soccer games or a Monday stacked with phone calls, she knows she must get her workout in first thing in the morning. Eli shares her top tip for making morning workouts happen with Daily Burn, "I make sure I have everything ready so I can just get up and go. That way I'm very fast at getting out the door." It can also help to get creative with at-home workouts—even if it means doing weighted push-ups with your kiddos, as Eli does below.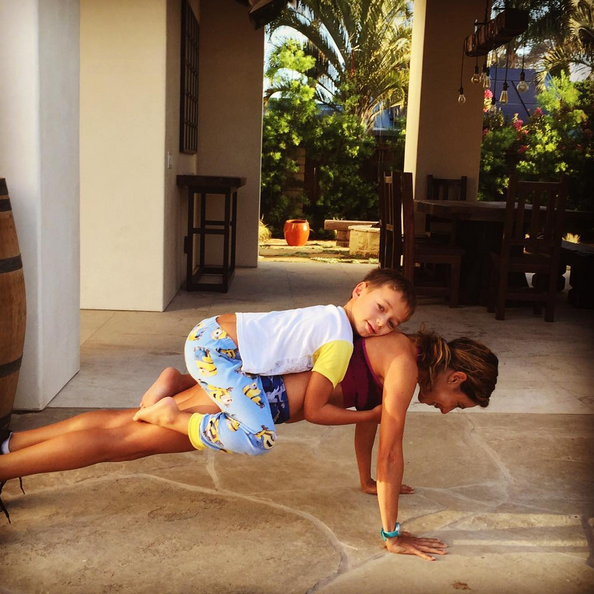 4. Go with the flow. Our mindset directly affects our mood and the results of our workouts. We can choose to see the holidays as a road block or as a chance to throw in some added recovery or variety into our routine. Enjoy this moment to chill because January 1 is right around the corner, which means establishing an exciting year of goals, hardcore workouts and (at least initially) some very sore muscles! (Photo of Sara by Kay Wiese.)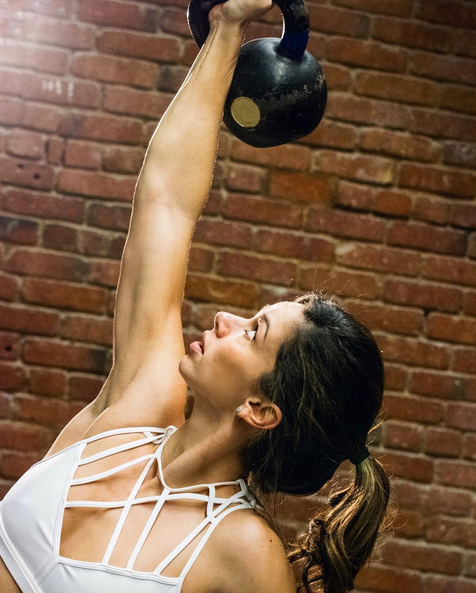 The team at SMACK! Media wish you a Happy (and healthy) Holiday season!
Eli, Morgan, Sara, Natasha and Stephanie