We've all been there–it's the middle of the week, the to-do list (and laundry) keep piling up and it seems easier and more appealing than ever to just order take-out. While there is nothing inherently wrong with that, the taste, convenience and nutrition of a home cooked meal cannot be beat. This week Eli and her husband Matt "winged it" and created a delicious and surprisingly easy Paleo Butternut Squash Bison Lasagna. It's loaded with protein, nutrients, light on carbohydrates and the hour long baking time will free you up to conquer whatever work (or workouts) you still need to check off in the evening.
Ingredients:
1 large butternut squash
1/2 eggplant
1 large mozzarella ball
Couple cloves of garlic
1/2 lb ground bison
1 package cherry tomatoes
1 white onion
5-6 leaves basil
1 package skim ricotta cheese
Parmesan cheese
Tomato sauce or jarred marinara sauce
Salt
Pepper
Directions:

Thinly slice the butternut squash and make the pieces as wide as possible. About the consistency of a lasagna shell.
Start a pan with chopped garlic, onion, tomatoes, salt, pepper and ground bison on low heat. Let that cook for about 20 minutes on very low heat. Keep stirring.
While the meat is cooking, you can slice up thin rounds of eggplant and mozzarella.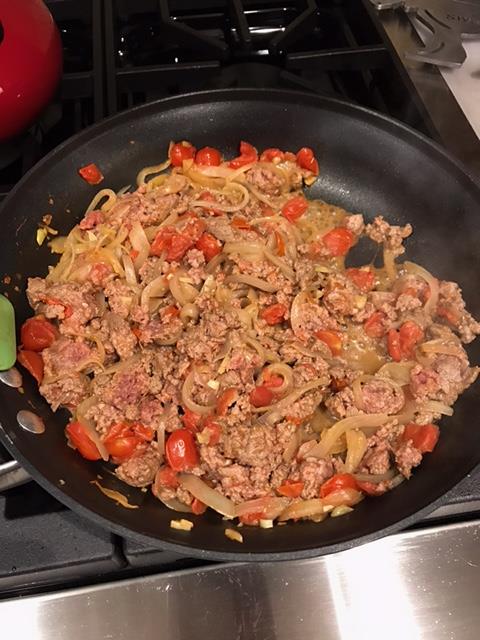 Layer bottom of lasagna pan as follows:
Layer of butternut squash
Layer of mozzarella
Thin layer of basil
Layer of butternut squash
Sauce
Eggplant
Sauce
Another layer of squash
Thick layer of ground bison mixture
Thick layer of ricotta cheese
Last layer of butternut squash
Sauce
Top with Parmesan cheese
Bake for one hour at 375. It's ready when the squash is soft.
Added toppings when it's ready: extra thinly minced basil, crushed red pepper.
You can eat as is or as Eli puts hers on top of a big bed of lightly sautéed spinach.
You can also add a layer of mushrooms or zucchini or another veggie of your choice.
Double up on the batch and throw one casserole in the freezer for a quick meal next time around. Finally, if you haven't checked out the latest on bison, it's one of the healthiest meats you can eat.
Bon Apetit!