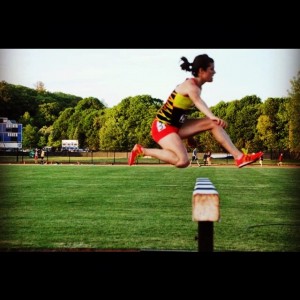 Nearly 5 years ago, I moved to Boston for a job with only 2 suitcases in tow and having never been to New England before. It was one of the scariest leaps of faith I've ever taken. At the time I wasn't sure if I would ever compete as a Track & Field athlete again, but over the next few years I would come to see the Boston running community as an integral and influential part of my life. I am confident that my journey back to running would not have happened without my experience in Boston and I am extremely grateful for the immense support, friendships and memories that mark my time on the east coast.
However, what I am seeking from my life has also evolved alongside my running and I am no longer the same person I was 5 years ago. Today I long to be closer to family (in the Northwest) and crave more day-to-day interaction with nature (without having to fight through 30 minutes of Boston traffic). And while Boston has treated me well, this Northwesterner hasn't ever felt entirely "at home" within the New England culture. More than anything, I feel "pulled" to my next big adventure, and this time the direction is West. I'm not entirely sure where I'll end up for good, but in the near future, I'll be spending some time in Colorado, a location I fell in love with after spending 2 months training at altitude this winter. I suppose in a way this journey is rather prodigal, but it also involves me driving 3000 miles across the U.S.
Day 1: Friday: 4:30am: Boston, MA
Time to wake up Hans the Honda. We are locked and loaded and ready to hit the road before the rest of New England does…well, once we get coffee that is!
Day 1: Friday: 7:00pm: Harrisonburg, VA
We stop for the night in a sketchy Econo Lodge somewhere outside Harrisburg, VA. Traffic through PA delayed us some, so we arrived later than planned. There was no treadmill and it was getting dark, so that means only one thing – a parking lot workout! After some glute activations and some drills I have a surprisingly great workout of on/off loops for 20 minutes consecutively (one loop around the parking lot was about 600m). My "on" pace was around 5:20-25 pace and my "off" pace was around 6:00 pace. I was conveniently cheered on during this workout by the construction crew watching from the second floor balcony of the motel. After the workout, we refueled with my inaugural visit to the Cracker Barrel which was next door.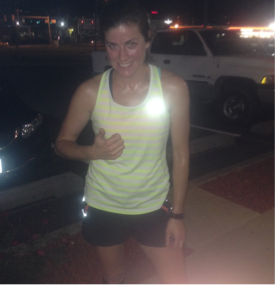 Day 2: Saturday: 10:30am: Roanoake, VA
The Econo lodge didn't exactly have a quality supply of breakfast and coffee, so we make a stop in Roanoke at Sweet Donkey Cafe after 2 hours on the road. This was a surprisingly wonderful find and the cappuccinos and quiches hit the spot.
Day 2: Saturday: 5:30pm: Nashville, TN
I've always wanted to visit Nashville, and after a day of driving and consuming only fried chicken from a random road-side market in the middle of nowhere, Virginia, we are ready for DINNER (like RIGHT NOW)! We check into another "high class establishment" and Uber (which literally cost $6 total) over to The Pharmacy, where I put away one of the best burgers I've ever experienced. It was washed down with some quality brews, of course.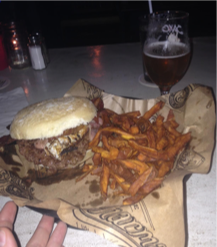 Day 3: Sunday: 9:30am: Nashville, TN
We let ourselves "sleep in" this morning and head over to Shelby Bottoms for a humid Long Run. After a couple beers (and not much water), I put a scoop of Osmo PreLoad into my water bottle en route (seriously, it helps). With ample trails and lots of foliage, it doesn't feel like we're remotely near a city. Afterwards we refuel at Barista Parlor, a cafe that made the coffee snob inside of me extremely happy. Excellent pour-over coffee and quality eggs and bacon left me fully content.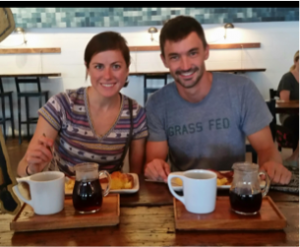 Day 3: Sunday: 11:30pm: Kansas City, KS
We rolled into a super sketchy motel that smelled pretty terrible, but we were too tired to care. The lack of sleep, lack of hydration and over-abundance of terrible nutrition has resulted in a huge (i.e. sexy) zit on my cheek. This is the point in the trip where the novelty of driving across the country was starting to collide with the "we have to drive across the entire state of Kansas tomorrow…" thought.
Day 4: Monday: 1pm: Fort Hays, KS
We stop for lunch and find a cute brewery with some good food options. The only Starbucks is inside the student center of Fort Hays State University, though, so I get to feel really old while I order an iced coffee next to the 18 yr. old asking for a non-fat, double shot vanilla latte. It's cool, people, I totally belong here….just don't look at my license plate.
Day 4: Monday: 4pm: Somewhere near a wheat field, KS:
We stop for a bathroom break and after so many hours of sitting in the car, my glutes and back are not happy. I pull out a towel and do a quick roll out with my bright orange TriggerPoint GRID foam roller (totally normal thing to do). The sign in front of me indicates that gluten free might not be an option here.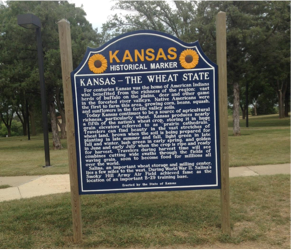 Day 4: Monday 8pm: Boulder, CO.
We finally arrive. I use the TriggerPoint ball on my glute, do some activations and head out for a run with slightly less oxygen. After dinner, I relax with some tea and pull out the mug that my former roommate and teammate, Abbey, gave me – the message ("Make it Happen") is rather fitting for this time in my life. My drive is over, but the journey is just beginning!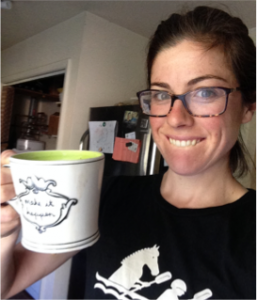 Later in the week as I'm driving someone actually honks at me, rolls down his window and says, "Massachussetts…?!?" Yes, it's true. Please don't judge me (too harshly).