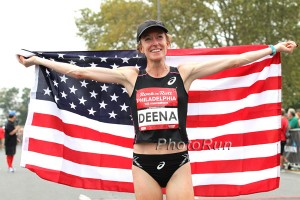 Deena Kastor is one of the greatest runners of all time. Her Olympic Bronze medal, American and World Records, major marathon wins and numerous accomplishments truly inspire us, but so does her zest and enthusiasm to live a positive and full life. This fall, Deena welcomes runners of all levels to Escape to Mammoth for her inaugural running retreat that promises to roll out the red carpet for a memorable weekend of running, dining and adventure!
After a full day experiencing how the best runners in the world live and train, runners will unwind with gourmet beer tastings, carefully hand selected meals by Kastor and fireside chats. The weekend will also include an exclusive cooking demo with Kastor who is well known for her culinary prowess. The final day of the escape will include a leisure run to the top of Mammoth Mountain followed by a champagne brunch and scenic gondola ride.
Limited registration is still available through Deena's personal website, www.deenakastor.com/#escape. Complimentary transportation will be provided by the Westin Monache to guests traveling via the Mammoth Lakes/Yosemite airport. For local guests, the scenic Highway 395 also makes Mammoth Lakes a premier and unforgettable road trip opportunity. Additional information can be found here.
Deena, who trains alongside Morgan, at an elevation of 8,000 feet has graciously given us an exclusive look at her typical day via a SMACK! Media Instagram takeover. Below are the highlights:
Run and Play–Deena runs the gorgeous Mammoth trails with her gorgeous French Mastiff, Zita, followed by a cool dip in one of the regions many lakes.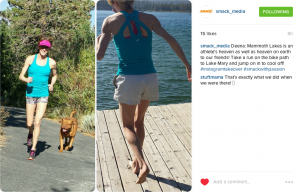 Refuel–Deena shares one of her favorite post-workout recipes.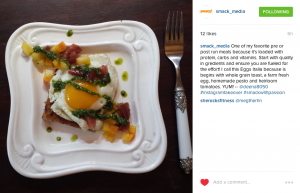 Lace up–Deena is a professional runner for ASICS. We love her brightly colored kicks!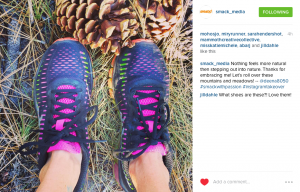 Run to Rainbow Falls–The Mammoth Escape will include a breathtaking trail run to Devil's Postpile and Rainbow Falls National Monument.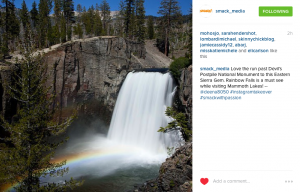 Do work–After a busy day of training, Deena focuses on her many projects including public speaking, contributing to media outlets and planning the Mammoth Escape.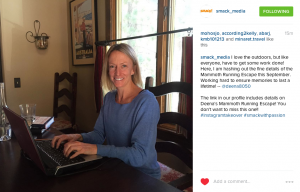 Be sure to check out Deena's beautiful new website, Deenakastor.com, follow her on twitter (@DeenaKastor) and if you are available the weekend of September 10-13, sign up for the Mammoth Running Escape!