Laura Montini's article, "Why Real Face Time Will Always Matter," resonates deeply with the philosophy behind SMACK! Media:
"The greatest business partnerships are purely successful relationships; something that can't be changed by the stroke of a pen. Evolving communication tools such as social media, e-mail and text messaging are essential but they do not make up the DNA of a lasting relationship. The integrity of the handshake, the power of looking someone in the eye and the craft of the handwritten note – are all at the heart of SMACK! We are the five fingers across the rear that will propel your brand forward." – Elisette Carlson
This September, the SMACKANISTAS, who always prioritize face to face meetings, have made an even bigger focus on getting together with each other, clients, media and even old friends. Between two trips to Las Vegas and a few east coast trips, there has been no shortage of laughs, catching up on life and getting a thorough understanding of each individual and company's goals. Below are some of our favorite moments along with some fascinating statistics from Montini's article!
Eli traveled from San Diego while Morgan drove through the desert from Mammoth Lakes to meet each other in Las Vegas for Interbike. With a strategy to "divide and conquer" the duo met with five clients attending the show (including Gary Reinl of MarcPro pictured below with Bicycling Magazine contributor "Fit Chick" Selene Yeager), enjoyed two ladies' lunches with media and caught up on family, running and fun over cocktails and sushi!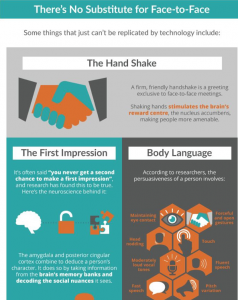 One week later, Eli returned to Vegas along with Sara to attend the Olympia Show and support client 6 Pack Bags. In between meetings and face time with clients, both ladies made time for key workouts and of course catch up time over more cocktails and sushi! Yum!
The ladies had fun spending quality time with Six Pack Bags elite athlete Rita Catolino.
From Vegas, Eli jumped on a plane to meet up with her family in New Jersey for the Ironman Princeton 70.3 Relay. Eli ran the half marathon leg of the relay in a near PR effort, had a blast, helped her team nail the relay win and most importantly, reconnected with her college roommate and friends!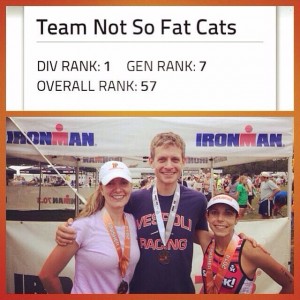 Face time for family is just as important as business, and despite her busy schedule, we love that Eli always puts her family first while still making sure she picks up the phone to connect with those she is close to.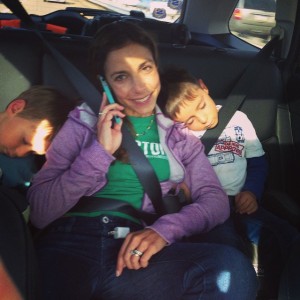 What is your preferred method of communication? Do you love to text or reach for the phone? We challenge you to not only dial up a friend, colleague or business connection but to take the time to meet them for lunch, sweat together for a workout, or even grab a quick drink! We guarantee that it will not only be successful, but that you will truly enjoy it and make it a habit!