It's Monday. You could have a case of the Monday blues and reach for that second cup of coffee to jolt the day into action, or…
You could hop in your car and press play to a rockin' soundtrack called the "Monday Blues" on the way to some quality face-to-face time and healthy eats!
This Monday Eli chose the second route and took the beautiful coastal drive up to Los Angeles on HWY 5 where she was treated to a healthy gourmet brunch prepared by celebrity chef Ariane Resnick who just happened to also cook for Gwyneth Paltrow last summer. After a satisfying raw and meticulously prepared brunch dish of flat paleo biscuit (grain free & starch/gum free) with grilled veggies, a fried egg, and an avocado pistou sauce. (It looked so good that Eli tore into it before she could snap a photo!) The pièce de résistance was strawberries dipped in an avocado based chocolate pudding (one of Eli's favorites)!
Get to know Ariane and her amazing recipes by checking her out at: http://arianecooks.com  She will also be on the popular Food Network TV Show 'Chopped' on May 27th at 10pm PST.  Next up, Ariane will be cooking for Jeff Franklin, the writer/producer/director of the show we all used to watch, "Full House."
The pièce de résistance was strawberries dipped in an avocado based chocolate pudding (one of Eli's favorites)!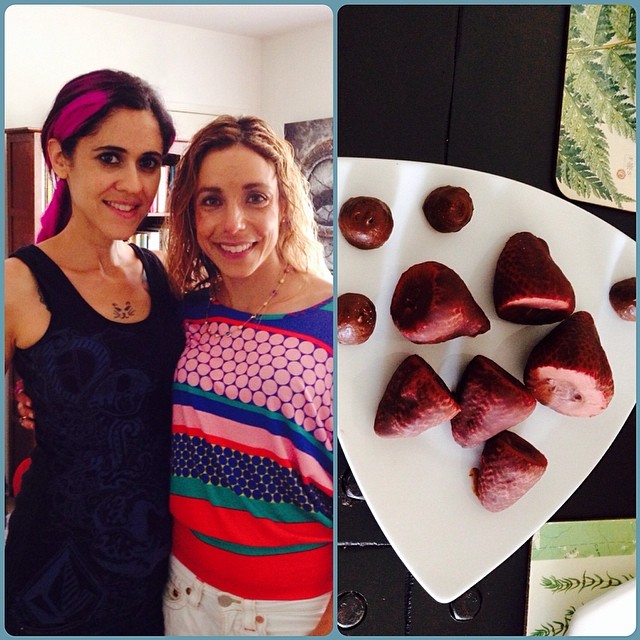 Rather than suffer the dreaded LA traffic on the drive home, Eli used it to her advantage as well–she caught up on phone calls and stopped in Laguna Beach for a quick dinner with SMACKANISTA Sara Hendershot! Sara was deservedly tired after three tough workouts and a busy day of work but looked beautiful and happy as always! They dined on delicious salads and quality time together and giggled at a woman saying to Sara, "Oh my gosh, you're an Olympian!!!  That's so awesome!"  During that same meeting, another women overheard them discussing protein powder and pitched her protein powder company to the SMACKANISTAS before they each headed home to rest after a productive Monday!
Spice up your work week with new scenery, friendly faces, healthy eats and even an upbeat soundtrack and we guarantee you will start looking forward to Mondays (and every day of the week) as the start of something fresh and exciting every week!  For the SMACKANISTAS, it's #TGIM because in some way, shape or form, we celebrate every day and even if it's a rough one, find ways to inspire and motivate each other.