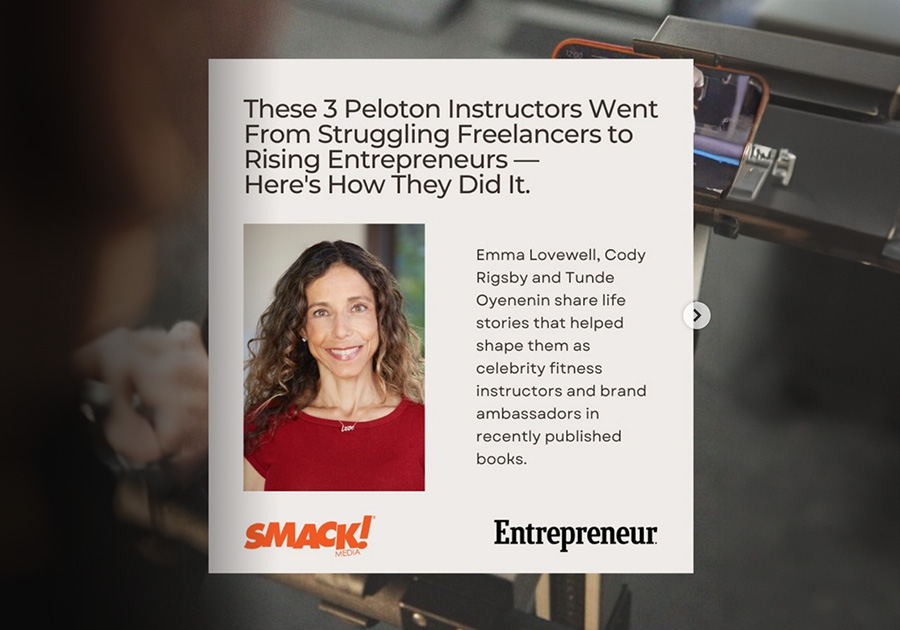 These 3 Peloton Instructors Went From Struggling Freelancers to Rising Entrepreneurs — Here's How They Did It.
At the onset of 2020, a few months before the COVID-19 pandemic, I purchased a Peloton bike. Little did I know that the company would spike in sales later that year, Peloton bikes and treads would be out of stock, and Peloton instructor names would become "household names." My "lockdown" MVPs were my Peloton bike, my Airpods (for talking walks and calls outside) and Amazon.com (for just about everything else!)
Three and a half years later, I still use my Peloton bike regularly and take advantage of their entire digital platform, including strength classes, pilates, yoga and a consistent sleep meditation. I have gotten to know some of their instructors personally, given that they have brought me so much joy, motivation and inspiration. Emma Lovewell, Cody Rigsby and Tunde Oyeneyin are three of the many instructors I workout with, and I admire their authenticity and transparency.
I had the pleasure of connecting with these instructors to learn more about their career beginnings, struggles, motivations and journeys towards becoming successful fitness entrepreneurs and brand ambassadors. In sharing my conversations with them, I aim to inspire with learnings that can help motivate and encourage us as fellow entrepreneurs.
Related: How Fitness Can Ensure a Smooth Entrepreneurial Journey
Emma Lovewell
You are a loved and well-known Peloton instructor, ambassador for many brands, and author, and you have your own business; what "tools" or daily habits do you use to juggle it all?
I religiously use my Google calendar to make sure I'm on top of everything, and I will schedule "me-time" to make time for myself. On top of the fitness classes I teach, I schedule my workouts and bodywork appointments to take care of my mind and body and not burn out. I make time for my friends and family or date nights with my partner, Dave.
Related: How Spending Time Alone Has Transformed My Life
Tell us about one of the most difficult moments during your life. What were your struggles? Fears? And how did you overcome this?
I was living in California at the time and very lost in my career. I had left a fitness career in NYC to try something new and was personal training at a tech startup in Silicon Valley and at a PT studio making $20 an hour. Feeling tired and uninspired, I asked myself — What would I rather be doing? What would bring excitement and more challenge into my career?
After months of feeling stuck, I finally decided to email the Peloton CEO, whom I had met the year prior when I took a $50 Craigslist ad to be a fitness model for the Peloton Kickstarter ad. That email was the catalyst for my move back to NYC and my job as a Peloton Instructor. I was instructor hire number 11.
Related: 4 Tips Every Entrepreneur Can Use To Get Unstuck
What inspired you to write a book, and what are you most proud of regarding your book?
A publisher who had been taking my Peloton classes reached out to me and asked me if I had ever considered writing a book. The idea scared me, and I am an advocate for doing things that frighten you, so I went for it. I'm proud to have taken that leap of faith. In the book, I share many of my personal stories, from past relationships and family illnesses to career wins, failures and insecurities. I'm proud that I followed through and put myself out there.
What are your "non-negotiables" in your day-to-day life?
I start my day with a big glass of water. I take breaks from social media, and I don't read most of my DMS. It's hard to keep up, and there will inevitably be a mix of good and bad messages, so in order to protect myself, I stay out of the DMs.
Related: Is Social Media Making You Less Social?
When you talk about progress and not perfection, what elements of "progress" are you most focused on in your career as an entrepreneur? What advice do you have for aspiring entrepreneurs?
I think about my goals and ask myself, "What's next?" When an opportunity presents itself, whether it's designing jeans with custom clothing company, Sene, or collaborating with a brand on social media, I think, "Does this excite me? Does this challenge me in some way, and does it inspire me or other people?"
Progress means brainstorming and having those dream-big conversations with advisors and friends. If the idea or dream makes me laugh a little or terrifies me, I take a deeper look as to why. Nothing is off of the table!
Related: Pursue Those Scary Dreams and Crazy Ideas to Make Every Day Your Best Day Ever
Cody Rigsby
How did you get your foot in the door at Peloton and land the job as an instructor? What fears or insecurities did you have at the time?
I found my way to Peloton serendipitously – I was at the right place at the right time. I was a dancer at a nightclub, and a director at the club had a connection to someone at Peloton who was looking to hire performers who could teach fitness. I felt insecure in that I had never taught a fitness class, but I didn't know too much about the company so it was very low stakes at the time.
Related: 3 Lessons Sales Leaders Can Learn From Peloton
You speak a lot about Self-Love in your book and encourage readers to adopt this. How do you succeed with Self-Love when focusing on yourself?
Self-love takes a lot of giving yourself grace, knowing that you are not going to be perfect and haven't figured it all out, and accepting that it is okay. Self-love also means spending a lot of time with yourself and your wild thoughts and recognizing that most of these thoughts are not real, nor are they you. I meditate to observe my thoughts and journal to understand what thoughts I need to give attention to.
Is there a specific moment where you knew you had made a turning point in your career? A day something happened when you realized you had succeeded as an entrepreneur?
Unfortunately, something I struggle with is my own inner saboteur. I constantly doubt if I have reached success and judge myself for not being enough, but in those moments, I've learned how to be present and reflect on the richness of my own life. A big acknowledgment of my success was when I purchased my own home, which fed my own inner child that dealt with poverty and evictions growing up.
Related: 5 Ways We Can All Silence Our Inner Crow
What are your "non-negotiables" in your day-to-day life?
A non-negotiable for me, in the words of Nicki Minaj: I ain't skipping no meals. I love food; it brings me joy. I try to stick to a morning routine that allows me to give myself a little bit of self-love, such as a quiet breakfast, coffee and meditation before turning to my phone and emails. I also prioritize spending time with the important people in my life and enjoy dancing, whether in the kitchen or with my friends on the dance floor!
Related: How Practicing Self-Love Can Help Your Business Reach New Heights
Tunde Oyeneyin
I heard that Cody recruited you into Peloton, and despite not making it after your first audition, you went back to do it again. Undoubtedly, not making the cut after that first audition must have been a tough pill to swallow. How did you feel after the first audition, and what actions did you take to prepare for your second one? I'd like to learn about how you embraced the failure to become stronger and go after the audition again.
Not getting the job the first time around felt extremely heavy because I had gone into the audition with such certainty. I had visualized myself there and fully trusted what I believed to be true. I was certain and saw it so clearly that when it was time to audition, I didn't see it culminating in any other way other than landing the role.
A mentor of mine, Iris Navarrette, once told me, "While you are in the role that you're in, always perform as though you are in the one that you want. So that when the opportunity presents itself, you will be ready."
When I didn't get the job the first time, I didn't go home and act less. I used every opportunity as an audition. I still acted and performed and instructed like each class was the one that would lead me to my next chapter. I took the time between the two auditions to build up my 3 C's: Courage to believe that I still could, my Competency in the art of being an instructor and lastly, Confidence in my skill and ability.
It was a matter of staying ready for the opportunity to come around again. Sometimes, it's not that you aren't ready for the opportunity, but rather, sometimes the opportunity just isn't ready for you. It wasn't that I wasn't ready for Peloton. Peloton wasn't ready for me.
A longer version of what was originally published on Entrepreneur.com on 9/7/23 at this link.