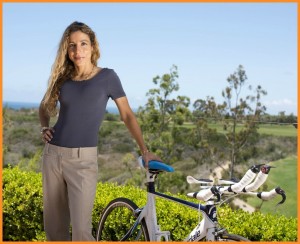 The last time Eli chatted with Deborah Mitchell of Entrepreneur it got Mitchell thinking, "Now that the weather is getting warmer, I am considering new ways to connect with clients. Carlson is a big advocate of what she calls sweat-working with clients. She says that going on a hike or a conversational run instead of a coffee date is a great way to build relationships. You connect with someone on a much deeper level because getting out of work mode allows personal sides and passions to show through."
You can read the full interview here, as well as our favorite tips below:
1. Make Time To Workout. This concept seems simple, but Americans notoriously don't make time for their own health and fitness–even Time took note this week in the powerful article, "Why Exercising Is More Important Than My Career." Eli adds that, exercising is also important FOR your career. And if your schedule is busy she recommends, "Lunchtime is a good time to get out, be it for a walk, a group yoga class or a boot camp event. " Or if not in a group setting, take a walk during a call.
Eli maximizes her lunch hour with celeb fitness trainer Kristin McGee "The Bendi Girl" during a core workout class.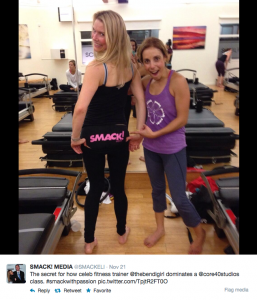 2. Approaching a client to workout. Don't be nervous–go for it!  Eli shares, "The worst response you can get is, 'No, thank you.'" However, more often than not, people will be more than happy to take a big step outside the office to break a sweat, smile and think outside the box with a colleague or client.
3. Figure out the best workouts. Let's face it, not everyone enjoys going for a run. Likewise, a yoga class will send some folks running! Eli loves most physical activities, so she focuses on catering to needs and interests of those she is meeting, "Use good judgment about whom you ask and what you ask them to do. Consider workouts that encourage social interaction and light to moderate aerobic activity such as walking, hiking at a scenic spot, cycling, running or basketball. "
Cristina Goyanes works on her boxing moves and Roz Frazier (Health Magazine) rolls out her sore muscles during a SMACK! Media organized sweatworking event in NYC to promote TriggerPoint's new foam rollers.
4. Practice workout etiquette. The goal of sweatworking is to deliver fun and efficiency in a low stress setting where business can be discussed, and personal relationships can be forged. . With that in mind, "make the workout convenient and appealing to the client. Suggest a place near their home or office and offer them options. Don't force a run onto someone who might only be able to handle a good power walk. Don't ask a client to drive 30 minutes to meet you at your favorite mountain bike trail."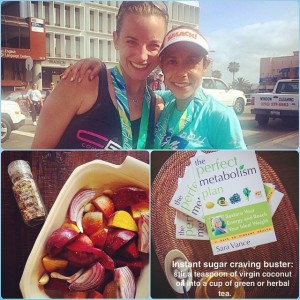 It is still possible to set up sweatworking with someone out of the region–Eli and Katie of She Rocks Fitness (based in Texas) enjoyed an entire sweatworking weekend in San Diego filled with a Betty Designs fashion event, yoga, racing a half marathon (pictured above) and cooking healthy meals together.
Below Eli is pictured with Kristin Mayer, good friend and Betty Designs founder, during a sprint triathlon they both competed in.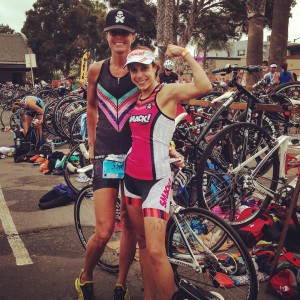 SMACKANISTAS Eli and Morgan ceased the opportunity to break a sweat, bond and have some fun during Alpha Warrior San Diego (2013).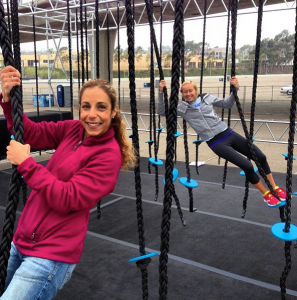 "In the end, some of your greatest friends will become those you sweat with, and in business, the best partnerships are the ones where people enjoy one another's company and respect each other."–Eli Carlson