This week we were honored to have Olympian Sarah Attar takeover our Instagram account for a day. Sarah is a game-changer for women's sports world-wide after being the first female athlete to represent Saudi Arabia, at the first Olympic Games (London 2012) that hosted women from every participating country! Sarah is more than just a runner–she is also an amazing artist and photographer gleaning inspiration from her new home and training base in Mammoth Lakes, CA. For an exclusive look into Sarah's life, mindset and artistic eye head over to the SMACK! Media Instagram account and be sure to give Sarah a follow for daily images that will take your breath away.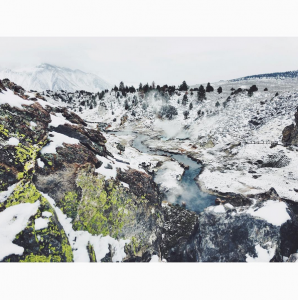 As a big fan of healthy and delicious treats just like us, we asked Sarah to share one of her favorite recipes. Sarah passed along this Green Smoothie recipe that is one of her go-to snacks after a run in the mountains. Recipe and images are from foodie blog Deliciously Ella.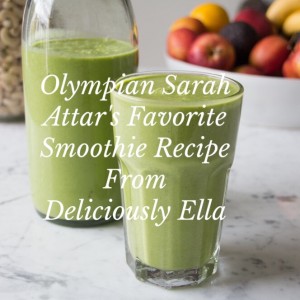 Serves 2
– 1 mango
– 2 ripe bananas
– 2 cups of spinach
– 1/2 a cup of cashew nuts
– 2 cups of almond milk, coconut water or water
– 1 lime
Optional: a tablespoon of chia seeds
If you can then leave the cashews to soak in a glass of water overnight, then in the morning drain them and add them to your blender once you're ready to make your smoothie. If you don't have time don't worry though, if you have a strong blender it should still be able to blend the cashews into a smooth, creamy deliciousness!
Once you're ready to make your smoothie, peel the mango and then add it's flesh (discarding the stone) to your blender with the banana, spinach, cashews and lime juice.
Blend until smooth and creamy.