In the snowy mountains of Estes Park, CO, SMACK! Media planned, organized and hosted a snowshoeing expedition sponsored by  Zamst, Tasc, and TriggerPoint led by five-time Everest Mountaineer, Melissa Arnot (Zamst and Tasc sponsored athlete) and adventurer and mountaineer, Jeff Evans ( Tasc sponsored athlete).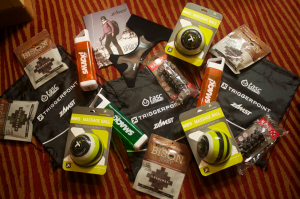 We started the morning at the Estes Park Mountain Shop getting gear, snowshoes and boots in order. Tasc provided the members of the media with a super soft bamboo merino wool base layer while Zamst distributed their newest product, the Filmista, an ankle support with a second skin feel, to test out during our trek. TriggerPoint provided their NANO Foot Rollers and the new MB5 Massage Ball for some pre-snowshoe self-massage. After downing a couple Justin's nut butter squeeze packs (a generous personal contribution from Justin), we were transported to the trailhead.
Melissa Arnot and Jeff Evans were two special guest to join the group and snowshoe with the media and members of Zamst, tasc, TriggerPoint and SMACK! Media. Guide Mike Caldwell (father of climber Tommy Caldwell) led the way into the Rocky Mountain National Park, taking time to explain park features and points of interest. At Nymph Lake, we learned that as the lake freezes over during the winter, the large population of frogs that live beneath its surface also freeze completely through, allowing for the ultimate winter hibernation complete with cryotherapy benefits. We trekked up to the far end of Dream Lake, marveling at the frozen surface of the lake  and practicing some downhill "runs" (i.e. try not to somersault down the hill) before looping back to the parking lot to conclude the 2-hour excursion. The pace and dynamics allowed for everyone to interact with and become familiar with each other while having fun. During breaks, we took out some KivaSun Foods bison jerky which made for a perfect mountain snack.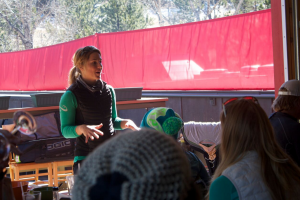 After snowshoeing, we headed to Ed's Cantina for a taco and fajita buffet. We occupied the upstairs room that opened up to a warm afternoon and beautiful views of Estes Park. With ample chips and salsa and a round of margaritas, everyone was feeling happy (and full!). Zamst, TriggerPoint and tasc provided the authentic backgrounds behind their brands and shared some of the latest product developments coming down the pipeline. The opportunity to experience the product on the mountain and then learn about it made for great feedback and engaging conversation amongst the group. Five-time Everest Mountaineer, Melissa Arnot (pictured above), then shared her story of how she became a mountain guide, began summiting Everest and eventually found her purpose using mountain climbing as a way to support local mountain workers and communities of Nepal through her foundation, The Juniper Fund. Jeff Evans, also a well known Adventurer and Mountaineer, followed suit, discussing how leading a blind man up Everest eventually led to the founding of his organization, Soldiers to Summits, which helps military veterans unleash the potential of the human spirit through adventures and collaborative experiences. Through their emotional and authentic speeches, both Jeff and Melissa captivated and moved the audience as they explained how their desires to give back are primary drivers for their climbing missions. The group was left with an incredible respect for the process of mountaineering and a challenge to seek opportunities to improve others in the pursuit of a passion. Inspired and a little teary eyed, the event concluded as editors, writers, athletes and bloggers that had only known of each other through social media, departed as friends exchanging numbers and making plans for the next meet up.
Ultimately this special event reminded everyone that the moments that move us occur when we ditch the expectations and authentically connect with each other through shared experience.
Read the SGB review of the event here.
The SMACKANISTAS, Eli, Joanna and Nicole Valentine, take on the backcountry with big smiles!