The Holidays are here! While there are still a few days left to see our clients in final Gift Guides and seasonal press, its also an important time to slow down and spend time on the most important things in life like family, health, traditions and making memories.
We took a few moments to reflect and share our favorite Holiday memories and traditions with one another:
Sarah
My favorite Christmas memory is from when I was a child and each Christmas we would drive to my Grandparents home in Hermann, MO to celebrate with our family. The drive was literally over the river and through the woods and oftentimes was covered in snow. Seeing their house lit up as we drove down the long driveway to greet them will always remain my favorite snapshot in time.
Sarah's dog Samson is also in the Holiday Spirit!
Sara
A newer tradition that my family began about 5 years ago is a Yankee Doodle Gift Swap on Christmas Eve. It's a fun game where everyone brings a wrapped gift (we do gag gifts) so you can't tell who brought what and then you pick a number out of a hat. #1 gets to choose from any gift, #2 gets to choose from any remaining gift, or they can steal #1's gift, and so on, This year we will be celebrating Christmas with both my family and my fiance Mike's family (pictured with Sarah below), and I'm so excited to merge this tradition between the two!
Joanna
My mom makes killer cinnamon rolls and our family tradition is to have them for breakfast on Christmas morning before opening presents. Normally I limit my wheat intake since it doesn't settle well with me, but I always make an exception for mom's cinnamon rolls!
Joanna is en route to visit her family and enjoy those Cinnamon Rolls this week!
Morgan
My family is predominantly Swedish and Dutch and we incorporate these cultures into our Holiday traditions. My favorite is a Swedish celebration called St. Lucia's Day on December 13 when my sister and I got to take turns wearing a traditional costume (white dress, red sash and a wreath with candles) and serve hot chocolate and Lussekatter Buns (made with saffron and raisins) to our family. (We recreated the tradition in college, pictured below.) Another favorite memory is setting out our Dutch wooden shoes for Sinter Klaus (Dutch Santa) on Christmas Eve who would leave us chocolates and oranges for Christmas day!
Eli
We love making sugar cookies and having a big cookie decorating party with family. It's fun to bake together and see who comes up with the best designs. Now with kids and extended family, the party gets bigger.
Eli's beautiful family is pictured below during another family tradition–skiing in Park City.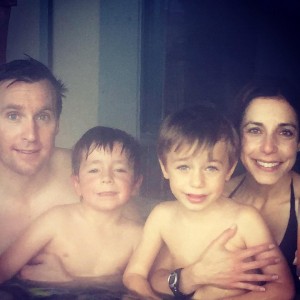 What is your favorite Holiday memory or tradition? This week we encourage you to slow the pace down, cherish what you have and create some new memories.
Happy Holidays from the SMACKANISTAS!
Eli, Morgan, Sarah, Sara and Joanna