For anyone that works in the world of Marketing and PR, the ongoing joke is that the holidays begin in July, as that's when most media begins to work on Holiday Gift Guides. So while we certainly look forward to this time of year for its spirited festivities, family time and great food, we also eagerly anticipate the fruits of the work from the previous months. It feels like unwrapping all of the gifts that you hoped to receive.
Perhaps you may discover something you would like to find under the tree amongst these press hits, and we don't blame you–these health and fitness inspired products are sure to bring you joy immediately and throughout the upcoming year!
1. BuzzFeed is King! If you haven't found yourself lost in their hilarious lists of toys and TV shows from your childhood or taking a quiz about what country you should really live in, you're probably not on social media! So when they post a list of 32 Perfect Gifts For The Healthiest Person You Know, we listen! They even named The GRID® by Trigger Point Performance, "Only The Best Foam Roller Around, NBD."
2. Men's Journal Gear Of The Year can double as the ultimate Holiday Gift. With credibility that strong how can you go wrong? The Marc Pro proudly takes the award as it services the needs of serious athletes to prevent and rehab injuries while improving their performance.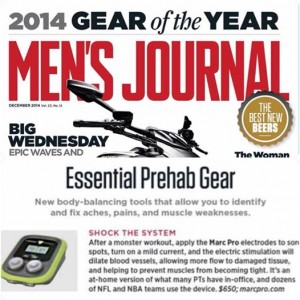 3. Admit it–holidays can be stressful! Oprah of course encourages you to "Roll with it," and to do so literally by using the Trigger Point Performance Ultimate 6 Kit to work out those tension driven knots!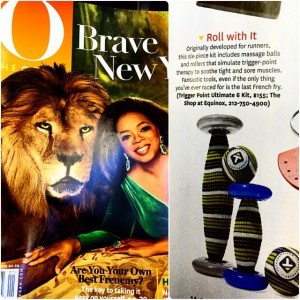 4. The golfer in your life will love to work on their short game at home or in the office with the Accelerator Pro by SKLZ according to CBS Sports Gift Guide for Golfers.
5. This season's "Gotta Have It" Gifts? According to Competitor Osmo Nutrition and the Trigger Point Performance GRID STK Foam Roller  must be included on the list!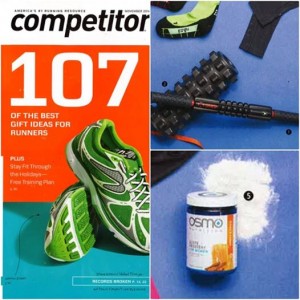 6. What are "The Best Fitness Gifts For Every Athlete"? According to Men's Health, no athlete should be without the Trigger Point Performance GRID STK Foam Roller.
7. Attention Runner's: Skip injury, dehydration AND boredom during your next training cycle with the Runner's World Top Nutrition and Health Gifts which include Red Fox EDGE Bluetooth Wireless Headphones, the NEW Clean Bottle Square and SKLZ AccuBall.
8. We always love Gear Patrol's drool worthy stories, photography and layouts, so we swooned when they included the SKLZ AccuBall in their Holiday guide entitled "12 Guys Of Christmas: The Athlete."
9. You don't have to give a cyclist a brand new bike to bring a smile to their face! Bike World News offers extremely affordable alternatives in the currexSole BIKEPRO, SKLZ Accuball and Massage Bar.
10. If you're looking for the ultimate Stocking Stuffers that triathletes and endurance athletes will love (all for under$25), Aerogeeks has you covered recommending Osmo Pre-Load Hydration, SKLZ AccuRoller and Trigger Point Performance GRID® X Foam Roller. For a splurge that's worth every penny, look no further than Marc Pro to make any athlete happy. This magic little device used my most NFL and NBA teams, and triathletes and runners alike will give them a recovery and injury prevention edge over the competition!
11. It's hard to beat socks for the holidays, but the currexSole BIKEPRO get the job done by giving your feet the comfort and performance they crave. Adventure Cyclist tested and approved them for their Holiday shopping guide.
12. For the Health and Business-minded person on your shopping list trust Forbes to give you the brightest ideas, such the RebelDesk and Rebel Treadmill which will help to transform your health and work habits by eliminating hours of harmful sitting from your life.
Whatever gift you choose for your friends and loved ones these year, remember that anything that encourages good health and happiness is always a plus from the SMACK! Perspective.