We are not shy about bragging about a great press hit, and phenomenal article or a superb athletic performance–so we are busting out our cowbells to celebrate our good friend, SHEEX Sleep Ambassador and hero Rinny (Mirinda Carfrae) winning her second Ironman World Championship Crown this weekend!
Originally from: http://www.ironman.com/triathlon/news/articles/2013/10/kona-womens-race.aspx#ixzz2hjg7aBFN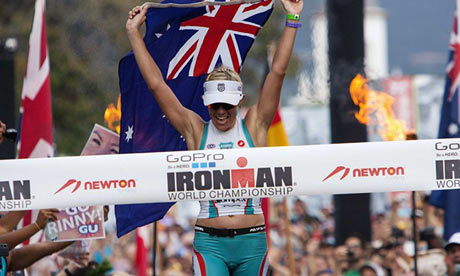 Not only did Rinny win, she did so with an overall course run record (2:50:35–HOT DAMN we bow down!) AND because that is not awesome enough, an overall course record of 8:52:14.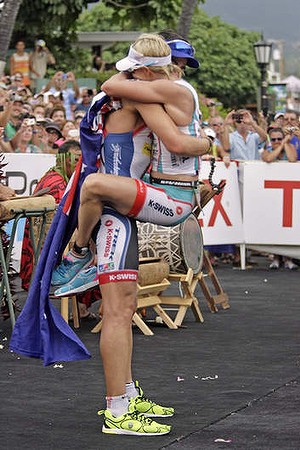 Our favorite part of the event had to be her fiance Tim O'Donnell embracing her at the finish line after his fifth place finish (above)–that is a smokin' fast couple! In the world of sports does it get more romantic than that?
Little known fact: Eli is the proud owner of Rinny's old tri bike and we can bet she is trading her cute beach cruiser for aero bars on her commute to yoga this morning to celebrate! This is a bike that Rinny won many races on and although it's been in Eli's garage for 2 years, she plans to bust it out to ramp up for some triathlon races in 2014.
Eli also has a little nickname for Rinny…she calls her "WHEELS."  Why?  After running a 2:50, I think it's obvious.  We love you, Rinny!