What a day! The 2014 NYC Marathon is in the books and although not my fastest, it was an absolutely amazing day. I was very worried (and scared!) about the brutal weather forecast going into it – not the actual run – rather the 42 degree weather and that little "wind gust icon" that shows up on your iphone when you check the forecast. It was one of those things I just had to accept because that's just what mother nature had in store for us and that's part of running and competition. I kept telling myself, "It is what it is, and just go with it!"
Below are some highlights from my day:
The morning was pretty simple as I stayed in the same hotel as Runner's World and was invited to ride their VIP Bus. What did this mean? It meant, roll out of bed, put on and pack as many layers as I could and go down to the lobby to be greeted with breakfast and some great friends.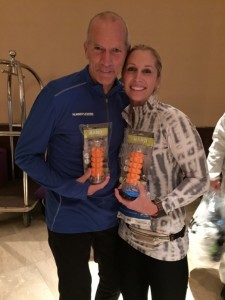 TriggerPoint donated several of their new NANO Foot Rollers to the Runner's World VIP's which were pretty popular on the bus to the start. Here's Runner's World's Bart Yasso and his other half, Stephanie Freeman with their new foot rollers.
I rode the bus and spent most of the morning with Stephanie at the start area where we did what we could to stay warm, although standing still and sitting just made it worse. We both shivered and jumped around and compared notes on pre-race breakfast and on course nutrition. She's an incredible woman with an emotional and inspiring story (she suffered from Tramautic Brain Injury as a child as was told she would never walk again, not to mention, she had to re-learn how to do everything again) and now is a marathoner (BQ'er too!), mother, model and speaker.
I wasn't quite ready for the race gun as my wave was delayed and they pushed us through the corrals pretty quickly, which was a good thing, except that my shoes weren't properly tied yet and I had to stop 5 minutes into the first mile, take off my gloves, and tie my shoes with numb hands. I kept a good attitude and laughed at how I was still wearing my "throwaway" pants which came in handy during the super windy start.
It wasn't until mile 10 that I finally found a porta-potty without a line to use and then it was time to strip the pants, which was a comedy act in itself because I couldn't get the pants over my shoes and refused to take off my shoes. After a bit of dancing, stepping around and finagling, the pants were off. Lost time but again, it didn't really matter. I was happy to just be out there and not be freezing as the sun came through and the weather really wasn't that bad anymore.
The Greensboro Bridge at Mile 14 is a tough one but the end of it is SO worthwhile at you turn into Manhattan right after mile 16. Miles 16-20 are surrounded by crowds and it's an absolute high.
My BRF (Best Running Friend) and ultra athlete, Andrea, told me that mile 22 was a tough one because you go into Harlem, it gets kind of lonely and it's when your body starts talking to you. I thought about her during this entire mile and it's incredible what inspiration from friends and family can do.
The last 3 miles were tough but so much fun back into the park. I cannot say enough about how special the running community is from those on the course, to the volunteers to the finish line crew. Everything was so well organized and I was SO happy to finally receive the bright orange poncho after the long walk up out of the park which is again, hard, but in retrospect, probably the best thing for the body.
I met up with my brother and sister in law and they greeted me with more warm clothes and a warm soft pretzel that tasted like heaven.
After a long hot shower, some phone calls and some downtime, I met up with my twin brother, my sister in law and got to meet their 2nd little boy who is named after our dad, Henry. That, along with some sushi and a cocktail from Nobu capped off the night perfectly.
A big thanks to Deena and Andrew Kastor for some warm pre-race goodies that saved me! Morgan is coached by Andrew and I had heard nothing but incredible things about this duo – such incredible human being – and we are so proud of Deena's run. Talk about one badass mother runner and legend.
Also, a shout out to two of my San Diego friends and superbloggers, Kristin Stehly (@stuftmama) for running yet another marathon in 2015 (check her track record – she ran 26.2 two weeks before NYC and 13.1 last week!), and also to Kate Buntenback (@socalrunnergal) for her BQ!
I definitely would love to run NYC again – a MAGICAL day with a respectable 3:54 finish and I feel so fortunate to have had the opportunity.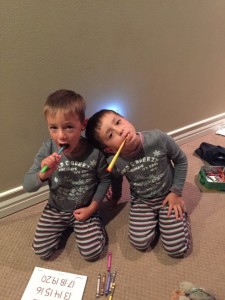 Now I head home to these little dudes and I had a laugh this morning when TSA stopped me at security to examine my MarcPro and recovery goodies. It turns out that the agent is a runner and he wanted to know all about how the unit worked. I love how authentic our clients are and how without them, we, as SMACKANISTAS, can't get through our own athletic endeavors without them.