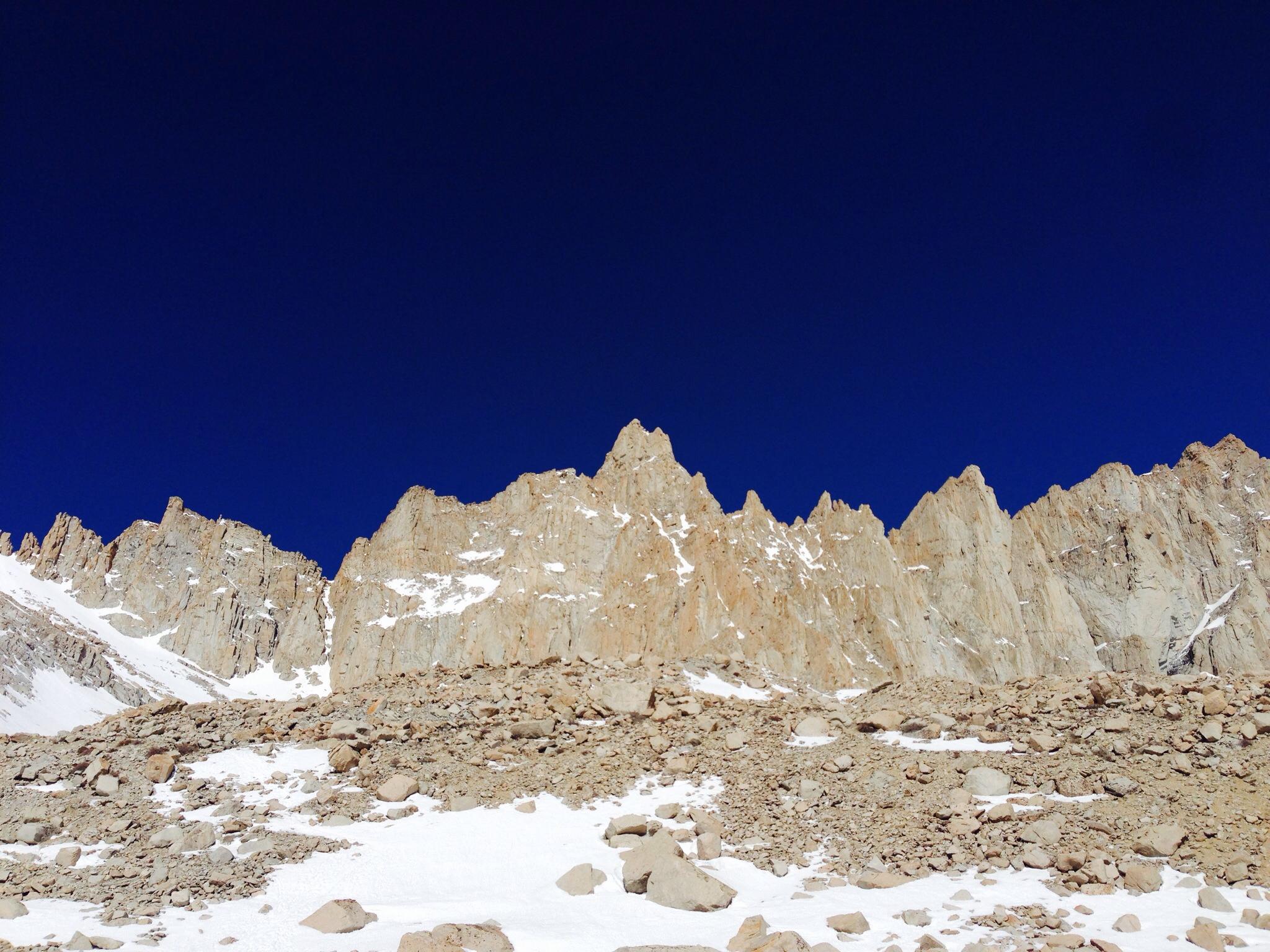 Following a successful track season that included reaching two of my major goals: personal bests in both the 5K (16:49) and 1500 (4:36), I found myself with an opportunity to take on one of my other lifetime goals–to climb Mt. Whitney. Standing at 14,497 feet high, Mt. Whitney is the tallest mountain in the continuous United States (lower 48) and a challenge I have had in the back of my adventurous mind since I was a child. While it is generally accepted that someone as fit as me is very capable of taking on such a task, I was still quite nervous because my training this year focused on speed and racing at vO2 max effort for 4-7 minutes, and not the 22 miles of long, slow endurance and climbing with a heavy backpack that this mountain would require. With no time to prepare or over-think things (I raced 1500 meters two days before the climb), I faced Mt. Whitney head on with optimism and healthy respect.
This outlook, along with the determined grit it takes to race track, served me well as Mt. Whitney dished out far more than I originally expected. During the month of May, snow pack is still several feet high which means you cannot take the straightforward hiking route. Rather, the trek becomes a mountaineering adventure that includes snow and ice climbing at a 45-60 degree angle, traversing icy cliffs and glissading down a 1,330 couloir between rocks! Of course this was all new to me and I relied heavily on trusting my team, staying in the moment, remaining ready to react to whatever might possibly come next and staying fueled and hydrated.  The hardest task of all was not giving up, as the entire journey took 13+ hours, all during which I had to face my biggest phobia (heights) directly. Naturally, once you start climbing, there is only one way down–so there is nothing like circumstance to force you forward!
Climbing straight up "The Chute", ice axe in hand!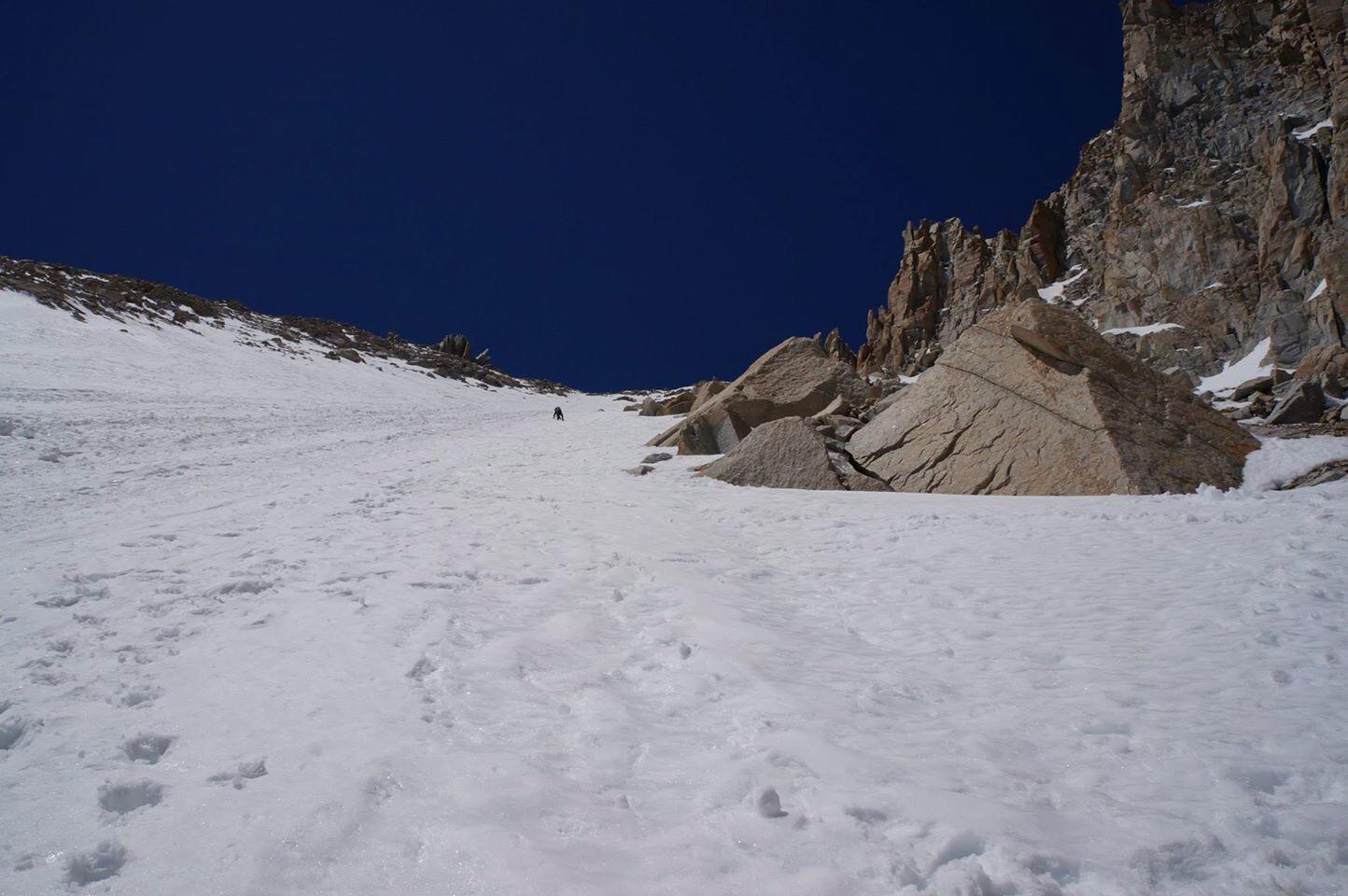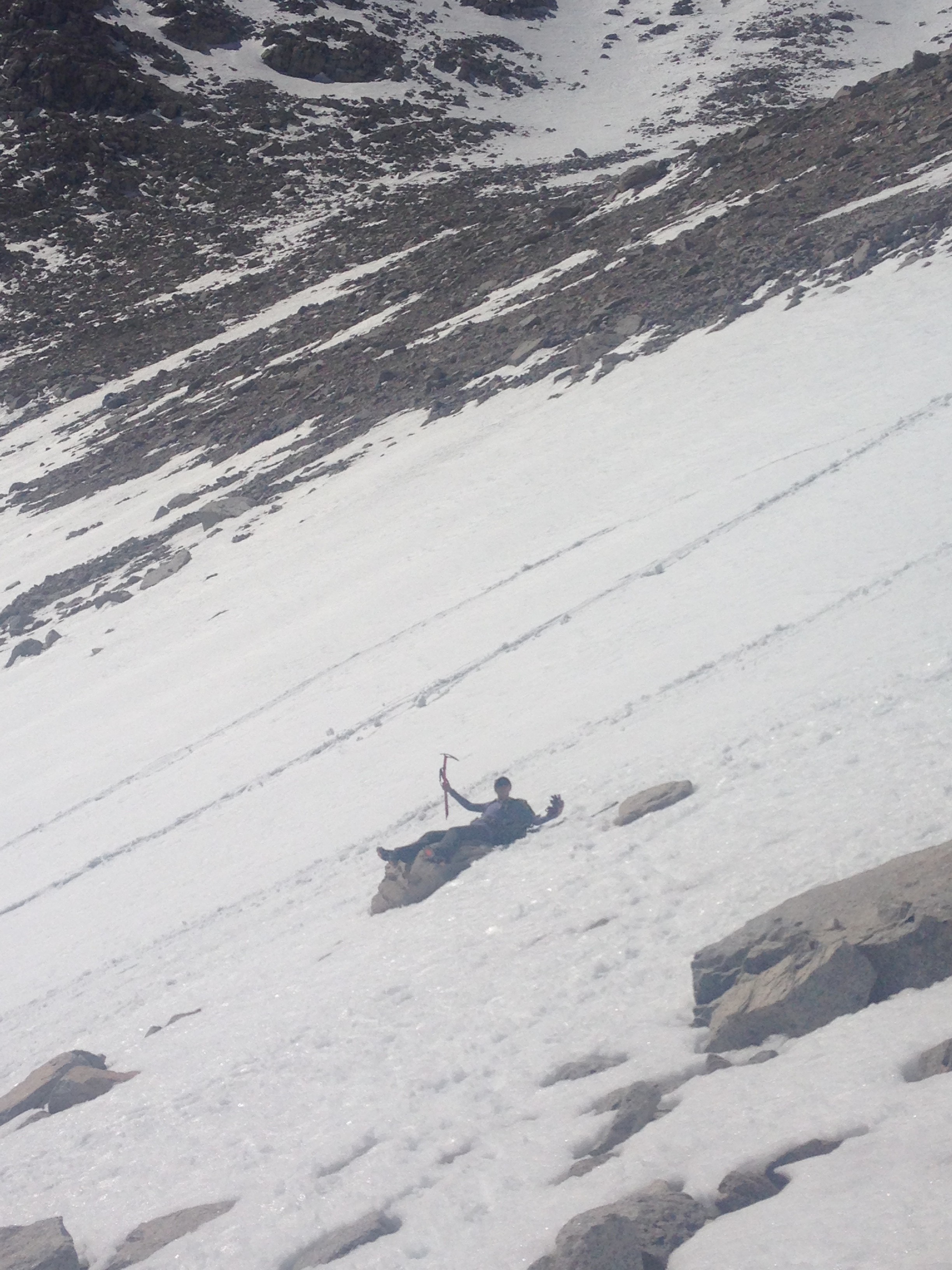 Dangerously picturesque cliffs overlooking Sequoia National Park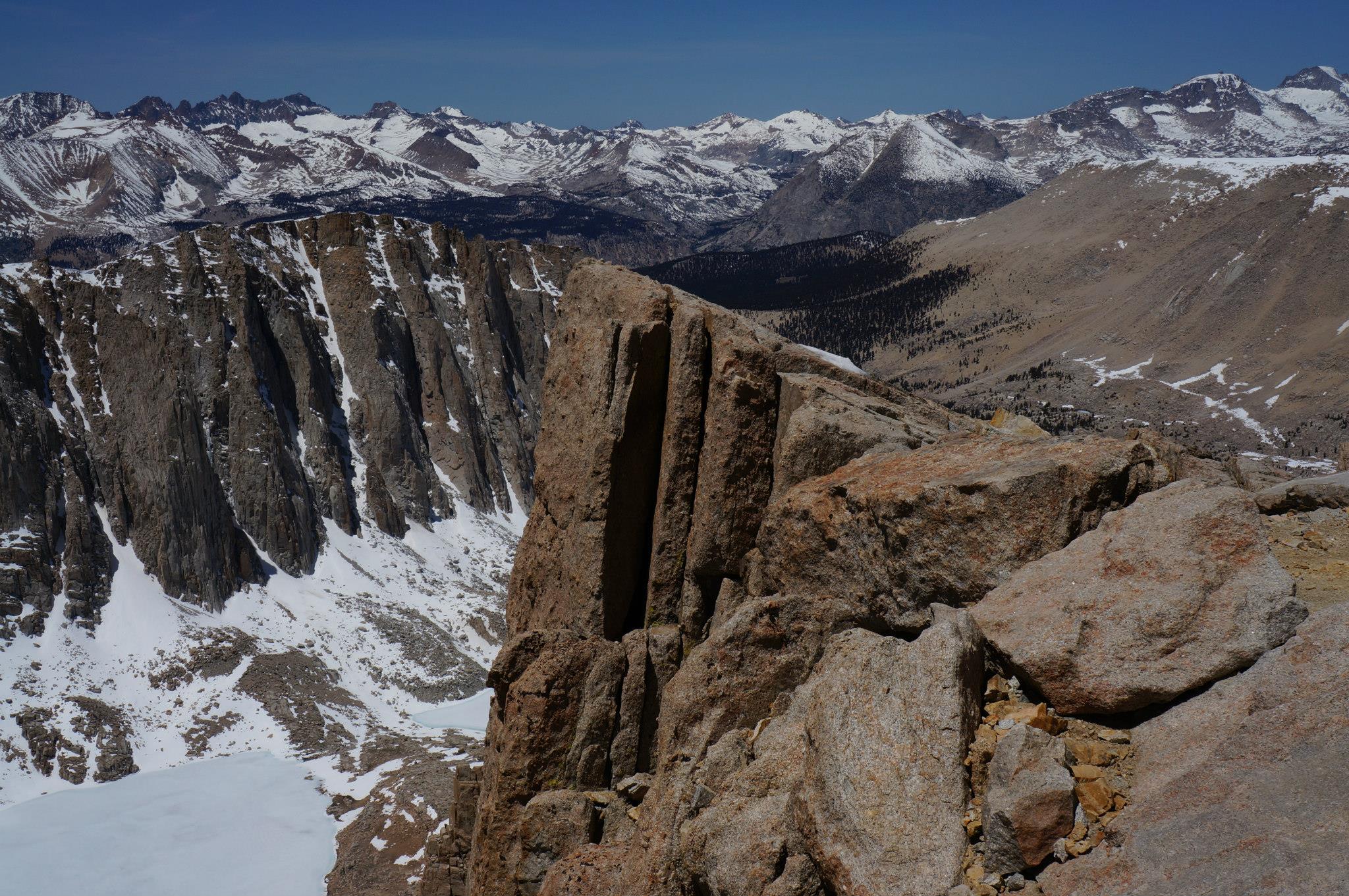 The view on top of the continuous U.S.!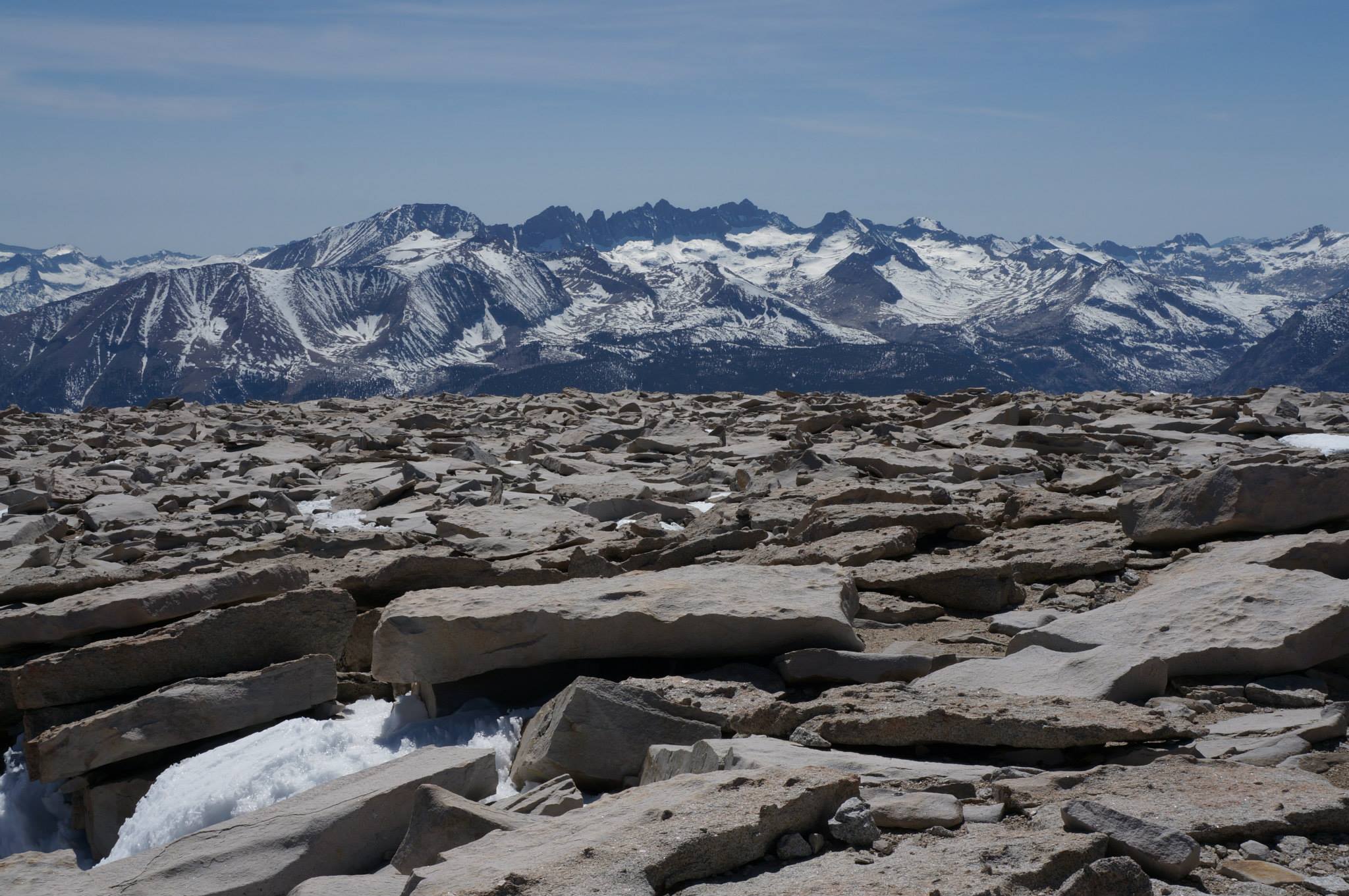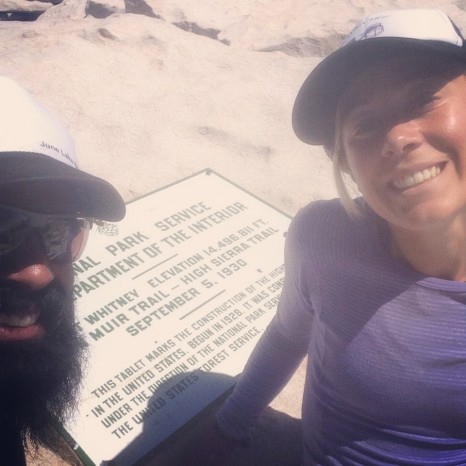 The only way down–1,330 foot glissade!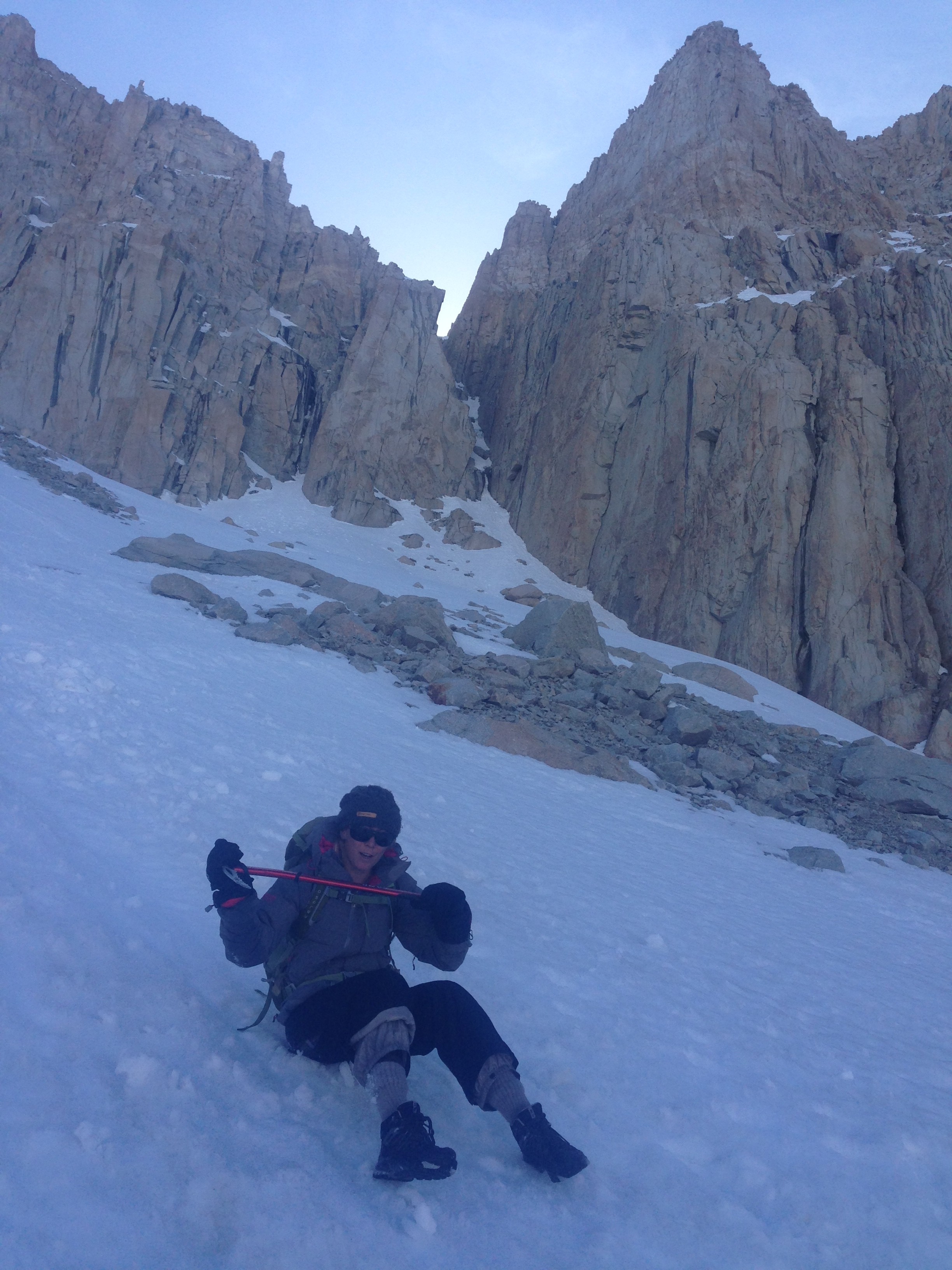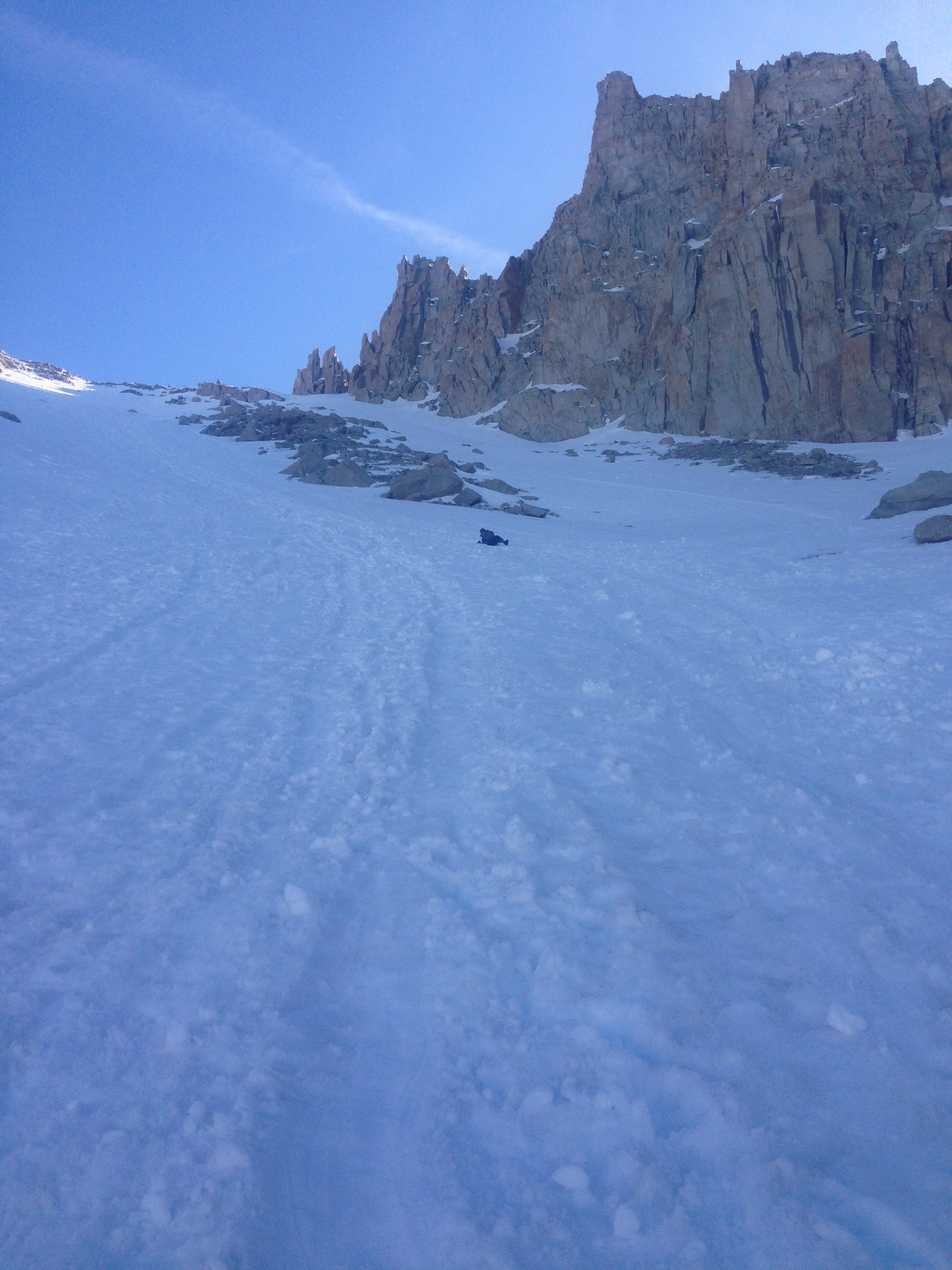 Despite the many challenges, an event like this requires far less gear than you anticipate it will. By the time you pack water (3 liters minimum), food, ice axe, crampons and extra cold weather gear you are looking at 15-20 pounds of stuff to haul up with you! Fortunately for me I was able to transport a few luxuries that made the hard work and yes, suffering, more manageable. Below are my top picks for gear that you should not leave behind to save a few ounces: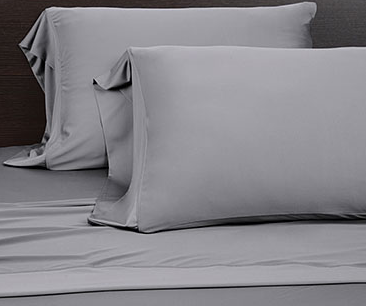 A luxury pillow case on a backpacking trip? YES. Use it to pack and separate your extra clothes or jacket from the other gear and let this double as a pillow at night. After an exhausting day on the mountain, you'll be so excited for this silky soft pillowcase, that also wicks sweat and regulates your temperature, to rest your weary head on!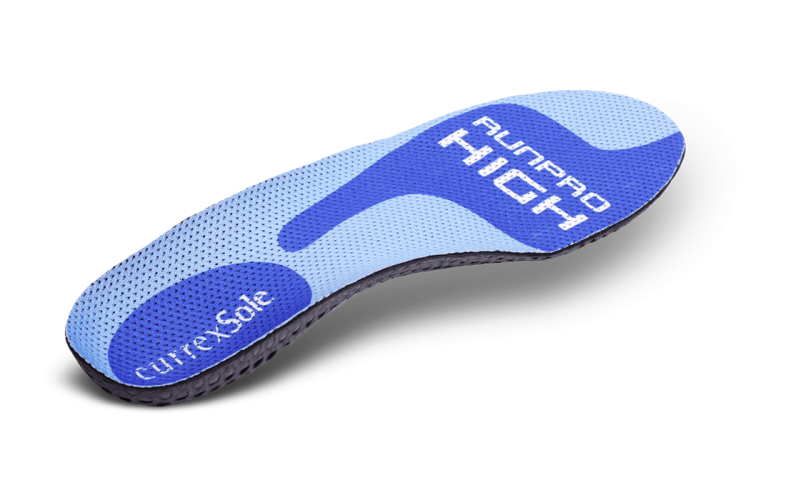 My trusty well-worn hiking boots I trust to keep me blister-free were well-equipped with my equally trustworthy currexSole RUNPROS inside. They have travelled with my feet on every workout this spring and I knew they would be up to the task of protecting and supporting my feet for hours on end while still allowing my feet to flex and move naturally. (Note: currexSole does make an EDGEPRO designed for hiking, however I stuck with the pair I have worn most frequently.)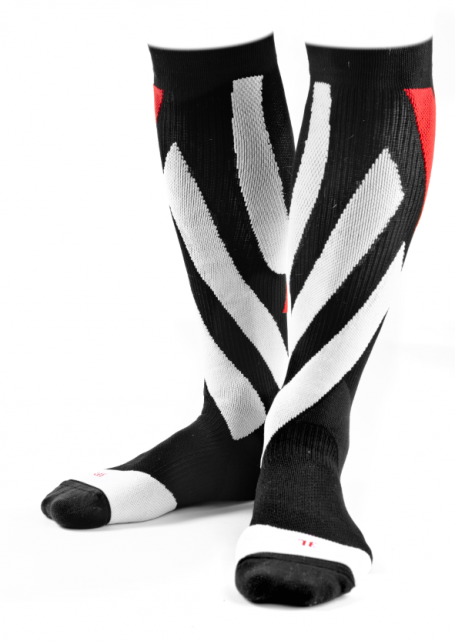 I scoffed at my husband a bit when he told me to pack compression socks (lest they weigh down my pack), but 13 hours later I was thrilled that I wore them. They provided a thin layer under my hiking socks to prevent blisters, keep my feet and lower legs just a tad warmer in the 30 degree temps and most importantly prevent swelling and inflammation so that I could keep moving at a quality pace.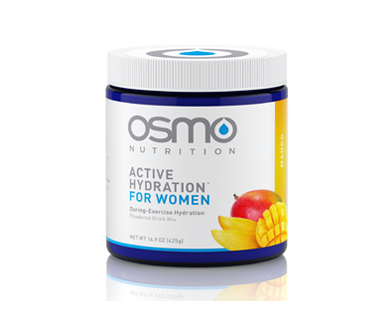 You can't climb while drinking water alone. I felt secure knowing that Osmo Nutrition has been designed for optimal sex-specific hydration. At high elevation, your body dehydrates at a rapid rate just to stay alive, let alone during the physical activity we demanded of it. I went through 4+ liters and made a conscious effort to drink frequently all day to ensure proper absorption. Despite living at an altitude of 8,000 feet, I still felt the effects of 14,497 feet and I am certain that hydration is the only thing that stood between me and dangerous altitude sickness. Had it been a warm weather climb, I would have also included Osmo PreLoad Hydration into my routine to aid in "hyper-hydration" and address the effects of estrogen and progesterone on my athletic perfomance.
Sunscreen and Sunglasses
With higher elevation comes increased sun exposure. Spending time on snow increases this, as it magnifies the effects of the sun. Wearing a quality sports sunblock of SPF 50 (and reapplying often) kept me from burning to a crisp! Also high quality sunglasses to prevent "snow blindness" are a must. I highly recommend connecting with the experts at SportRx, who can customize a pair of sport specific sunglasses to meet both your performance and prescription needs. You don't want compromised vision, and safety, at any point!
Believe I Am/Dear Kates I Am Strong Performance Undies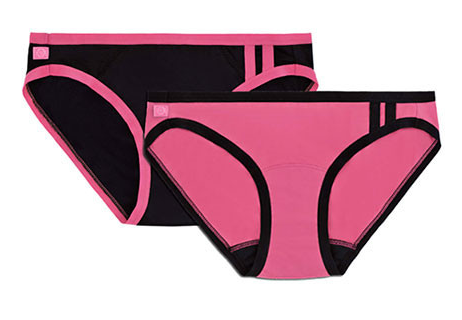 These cozy performance undies were lifesavers. When you are making frequent outdoor pit stops (without TP!) these breathable lined undies made all of the difference. What's more, the "I Am Strong" mantra served as a great reminder of the power I have within and to get through the toughest moments.
Snacks
I ate about 1,700 calories during the climb–more than anyone else in our group, male or female because I was determined not to bonk. The high level of exertion made it tough to get calories in later in the day but I still forced myself to eat what I could, even if it meant opening everything (ProBars, beef jerky, Cliff Shot Blocks, fruit snacks and Pop Tarts) I brought and taking one bite of everything! Mountain climbing is no time to be worried about cutting calories nor typical dietary choices–if Pop Tarts sound good, Pop Tarts will help you climb up and down the mountain safely and well fueled.
Beer at Camp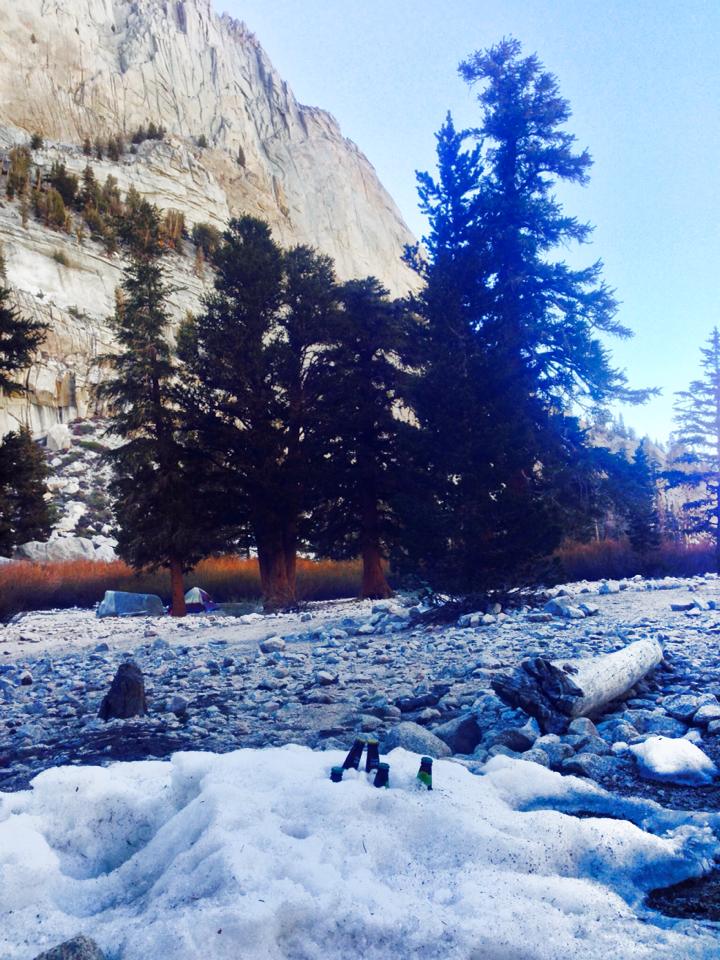 Knowing that there is a cold beer, or treat of your choice, waiting for you at camp is MAJOR motivation (especially when you are on your 4th energy bar of the day)! Mountain climbing is not like a running race–there is no cheer squad, finishers medal nor camera crew at the end. The reward is intrinsic, but creating a celebration for yourself makes the moment even better!
Friends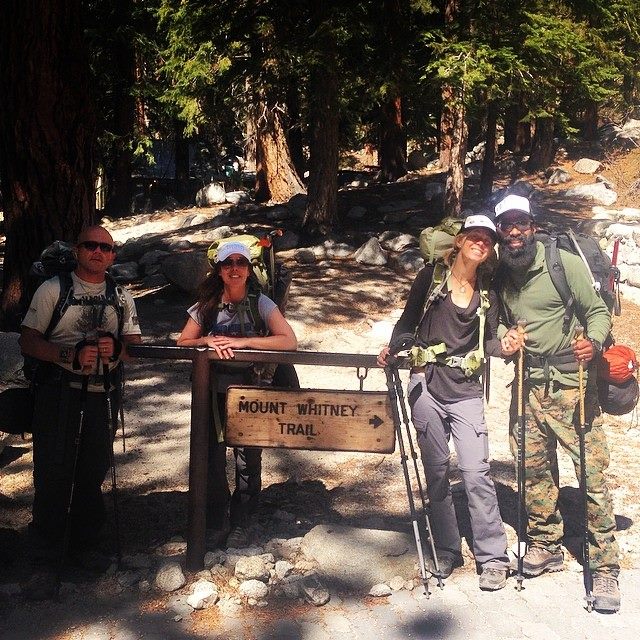 I can't imagine taking on Mt. Whitney by myself. Not only would it be dangerous, I am certain I would not have experienced the memories, laughs and triumph in the same capacity. Everyone came in with strengths and weaknesses, but the team element lifted each one of us up to move forward. The bond I now have with my husband Sergio, and friends Keith and Melinda is indescribable.
Climbing Mt. Whitney is by far the hardest physical and mental challenge I have ever taken on and completed. Many times I felt my body give out, while my mind helped it find a new gear to keep going. And when my mind panicked, my body turned on its spectacular "fight or flight" mechanism to lead the way. I am humbled, grateful, inspired and in awe of life both in terms of the human body and spirit, as well as the natural world in which we are merely a tiny part of. While this is certainly not my last big adventure I am absolutely enjoying a bit more time with my legs elevated and connected to the Marc Pro, rather than running races or climbing mountains. I know in this stillness I am building up the power and strength to take on the next climb, whatever that may be!