When it comes to working with bloggers to help promote brands and products, there are as many strategies and tactics out there as there are bloggers—It's a VAST ocean! However, just because someone can create a domain space on the internet does not mean that their work, or influence, is high quality. Over the years, the team at SMACK! has meticulously honed in on the art of blogger outreach and strategy behind working with them. Throughout this process, we have developed amazing relationships with some of the best health and fitness bloggers in the business, all while keeping our fingers authentically in the craft of blogging (check out Morgan's blog Running [Dharma] Bums).
What we recognize first and foremost is that the bloggers are REAL people with REAL lives, and therefore our expectations must be as REAL and REAListic as the products we offer them. The truly influential bloggers are not just pouring their hearts out on the internet, rather, they are creative business people with brilliant PR and Marketing tactics of their own. One of our favorite bloggers, Jacqueline Newton, the author of the hilarious and very real Skinny Chick Blog, took it upon herself to open up about the blogger-side of the PR world. At this point, Jacqueline knows exactly what she wants out of blogging and has chosen to stay true to her core values and real life–a perspective she does not find limiting, but rather one where she narrows her focus to be truly authentic so as to create a real experience for Jacqueline and her readers. Read the full post, "A Blogger's Advice On Working With PR Companies" and check out our highlights below:
Choose your partners wisely.

Jump on board with products that make you THIS excited! (Jacqueline is pictured kicking ass with the Perfect Fitness Multi-Gym)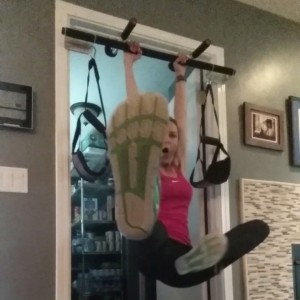 RESPECT your audience

Remember YOU are in the driver's seat!

Be sure to read her full blog post for some honest and helpful guidelines to help you reach your blogging goals by creating meaningful relationships with PR firms and brands. If you are a creative and hard working blogger interested in partnering with SMACK! Media on a project, please do not hesitate to reach out by sending Nicole a note at Nicole@smackmedia.com. (Yes, no robots on this end, just real people.) We are always excited to develop new relationships and work together to create content that people are inspired by and excited to read!