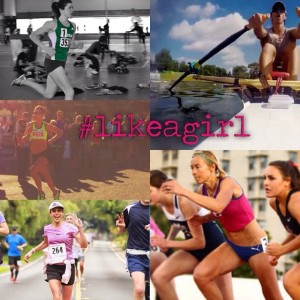 We loved the Always commercial at the Superbowl that challenged viewers to think about what running, throwing and doing anything "like a girl" truly means (watch here). It was an especially powerful and inspiring message as we all headed into a week filled with important races.
While having fitness and personal goals can motivate us on a daily basis, there is nothing like competition to enhance our efforts and pull more out of ourselves than we often believe is possible. Morgan puts it this way:
"Why race? There is a unique set of challenges presented when racing, some from the power of competition, others course obstacles and, while mostly unseen, the challenges of your mind. You have between point A "the start", and point B "the finish" to work your own shit out in such a way to launch you into the flight of desired performance. While the outside composition is what most will see, I find deepest satisfaction from the race within. Times are forgotten, medals fade, but our own developed internal superpowers will stand with us long after we hang up our spikes from this past time called racing."
This week all of the SMACKANISTAS used their weekends to test themselves amongst the best competition and the most challenging conditions. As a result we all stepped into the office this week fired up to continue to reach for our goals that range from meeting client objectives, making World Championships teams, testing our mental fortitude and fueling our bodies in the best way possible. Here is a re-cap of the amazing performances of the SMACKANISTAS:
Two weeks ago Natasha competed at the Cardiff Kook 10K where she not only won but also set an all-time course record of 33:44 (smokin!!!) on a course that has rolling hills along the coast! Her goal was a win, course record and to finish a high mileage week on a great note–mission accomplished! The highlight of the event was the San Diego fans cheering for her, as they should–Natasha will next race at the 10/20 10 Mile race in San Diego next week and then on to Colombia for the Pan American Cross-Country Championships with Team Canada!
Sara has been in New Zealand for a beautiful (and we mean beautiful, see the picture above) training and racing block. This weekend she tested herself in a both a pair (2-) and single (1x) race and came away with 5th place in the (2-) and 4th place in the (1x) final amongst all scullers and feeling super pumped about how much she is learning and improving from the event. While the (2-) race did not quite meet the goals that Sara and her partner put in place, Sara put herself in an uncomfortable situation (she is not a 1x sculler!!) to test her racing abilities. She far exceeded her own expectations, stepped up to challenging conditions, made the A final in a fast qualifier, and then threw down a near black-out level performance to finish 4th. Sara's racing highlights continue to be focused on growth and improvement and she is using these results to help shape the focus of her next phase of training. In the 1x, she gained a lot of confidence in her racing instincts and ability to dig deep!
Sara had this to say about the race and experience in New Zealand, "I'm home from New Zealand after a great month of training and racing. Learned quite a bit about myself as a person and a racer while we were down there. It's the waves you ride on the journey that make this path very difficult but oh so worth it. Starting to figure out that old beast the 1x as well, which has been a ton of fun. Thanks for everyone who made this trip possible!"
This past Saturday, Joanna and Morgan toed the line at the U.S. Cross-Country National Championships and crossed the finish line with their best finishing places to date in their pro careers! (Photo via Runnerspace.com)

Joanna placed an outstanding 16th place overall among truly the best distance runners in the nation. She has been training for over a month in Boulder with her New Balance teammates at an altitude of 5,400 feet and the hard work has certainly payed off! Since she is primarily focusing on outdoor track and getting some good performances in the steeple and the 1500 this spring, the USA Cross-Country Championships was an opportunity to build strength and get experience racing against some of the country's best women. Her goals were to run smart, be tough and have fun–mission accomplished! Joanna will remain in Boulder for the rest of the month in order to prepare for outdoor track where she is aiming to get a USA National Championships (Outdoor Track) qualifier in the Steeplechase.
Morgan signed up for the race just two weeks ago with some encouragement from her teammate Deena and husband Sergio, following a fast workout on the grass, and feeling personally motivated and excited to challenge herself in the tough conditions despite the short notice. She set a goal to finish in the top 50 and came away with just that finishing 44th after sprinting past several girls at the finish line. During the race she channeled one of Perfect Fitness CEO Alden Mills' Navy Seal inspired tips from his book "Be Unstoppable" to always have a "Swim Buddy"–she latched on to the Army girl pictured with her above and committed to staying with her and passing as many girls as possible before the finish line, which they did! Best of all, she enjoyed watching several of her friends qualify for the World Championships while feeling super proud of her own mental strength and fitness. Next up Morgan will get back on the track to chase after fast times and personal bests!
Eli also did a bit of last minute racing and decided to run with and help pace her friend Brandy at the San Dieguito Half Marathon (they are both pictured above with friend Catherine). The goal was first and foremost to help her friend run 8:50 pace, which she did, and as a result Eli ended up surprising herself to run 1:54:47 on one of the hilliest and challenging courses in Southern California, despite not having been running much. What a confidence boost! The two enjoyed sharing songs from each other's playlists and Eli's husband Matt and sons Andrew and Luke were cheering and waiting for them at the finish line. Eli wants to work on her speed and race some shorter events this year and will test herself at the flat and fast Coronado 10K next weekend.
Post-race Eli threw on her favorite t-shirt from Another Mother Runner and we could not agree more with the message–any day that you are healthy and able to get outside and run, race or workout is indeed a GOOD day!
The endorphins are strong and run right into our work as we inspire each other to be the best at what we do in the world of marketing and promoting our clients at SMACK! (Virtual SMACK! High Fives all around!)